"Kundalika River is about a journey that unfolds the true essence of nature. It invites you for a voyage to go beyond the human limitations and be a part of it."
I and Kundalika river (Kolad) have known each other since last 2 years. However, we never got a chance to meet. Not just me, even my friends were interested to meet the famous Kundalika River of Kolad. So after going through various cancellations and change of plans, we finally formed a group of 18 adventurers from Mumbai with one common wish to quench our thirst for River Rafting.
As we depart early morning, the journey to the destination had a heart soothing view for the window addicts. After Pali, the road turned into a vivid journey of zipping through endless greenery on both the sides. At a far distance, mountains could be seen overwhelmed as they shed streams of tears that glittered elegantly. But the mountains might be amazed to see a bus full of crazy travelers shouting their lungs out to the tunes of Bollywood!
Clothes, bags and valuables secured, action camera mounted, and we were all set to rock!
But wait a minute, this seemed to be soooo good  to be true when we realized that the battery of our camera was dead! Our only action camera, on which all our hopes were pinned upon, came crashing down like a house of cards. The only option left was to depend upon the camera used by the raft instructors who would sell it later for a whopping 2,000 bucks per raft.
We signed our obvious 'no responsibility' disclaimer forms and gathered for our instructions.
A warm greeting and a loud cheer filled the air. We were introduced to the place, individual raft instructors, equipments and safety gears. We later formed groups of 9 along with 1 instructor per raft.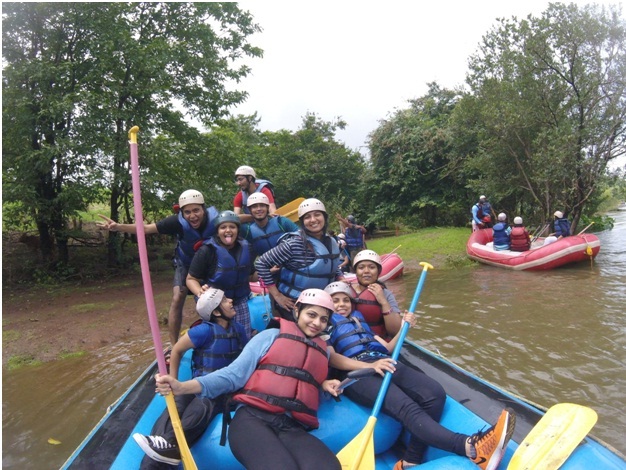 The banks of the river were muddy and the waters were still with the mosquitoes feasting over our legs. We rowed mindlessly towards the direction our instructor suggested. I wondered for a second, did we expect too much?
Within few minutes we entered a flowing water channel that restored our faith. The channel serpented through the wild bush of the green jungles and the sky above just guarded us with its bluish white overcast. There were more than 20 rafts like ours.
"Guys check that out!" my friend shouted.
Our first current was nearing. It was very small, but we couldn't hold our heart fueled by excitement.
Everyone shouted in a sync. "Ayeeeeeeee…….WhooooooHaaaaaaaaa!!!!!" the cold water bounced our raft forward and splashed inside. It was so refreshing, I could literally feel the vibe of enthusiasm and energy in everyone's aura.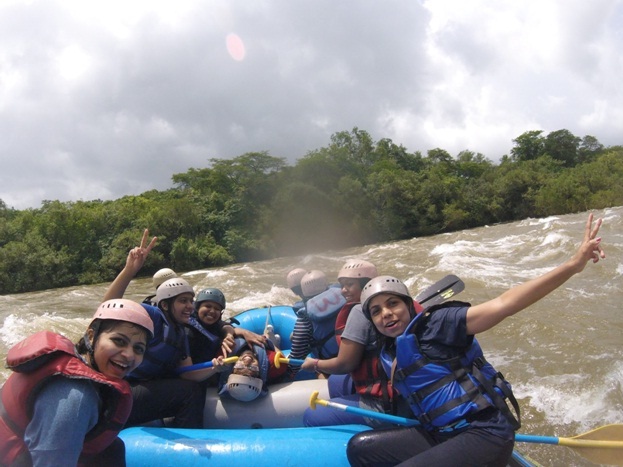 I finally shredded off the anxiety of unfinished tasks back home and tasted the true sense of being close to mother nature. I suddenly realized that we were flowing in solitude with the river flow. For a few hours we got a chance to experience what it feels like to be amongst the rushing water.
Everything became so simple, my anxious eyes were noticing happy faces around after a while. My stressful ears cheered up to the gushing sound of the river. The otherwise cribbing mouth, was shouting its heart out. My skin felt the dampness in the atmosphere and my lungs were filled with unadulterated air. We paddled, we sang, we shouted and challenged other rafts to race!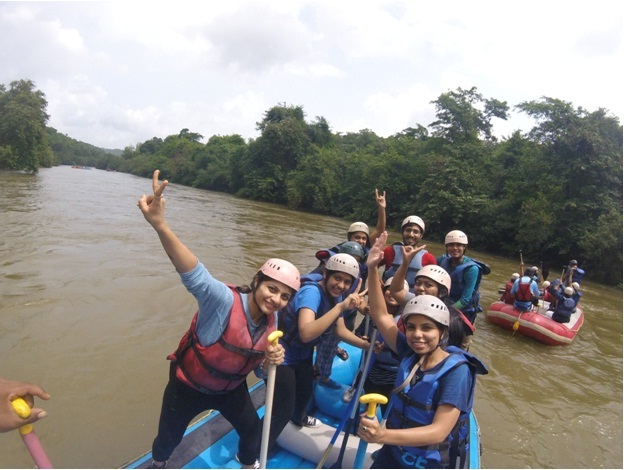 Later, our raft reached to a portion of the river where the waters were still. Our instructor suggested us to lean half outside the raft with our stomach facing the sky. I popped out and touched my head to the chilled waters. Everything seemed so different, watching the world over turn gives an interesting perspective. The best current of all came after an hour of rafting which looked freaking scary. But after rafting through so many currents, we seemingly crossed it with ease. The best adrenaline rush we had!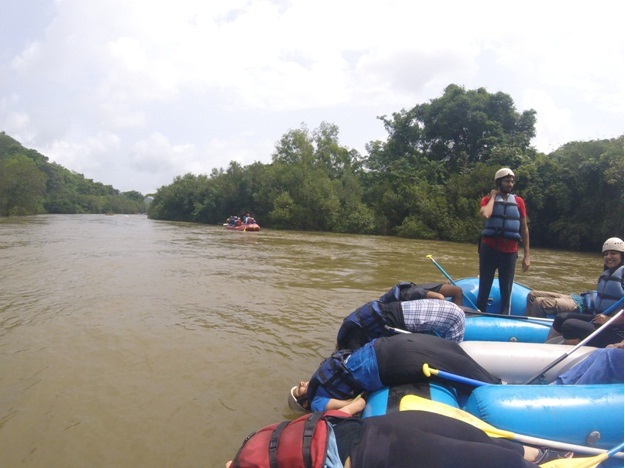 Once again, the water stilled and we were asked to jump into the water for leisure and for the freedom which we enjoyed for an hour. The non-swimmers were reluctant to set them free, but after they were assured of their safety with the life-jackets, they happily entered. Well, the water was cold, friends were around and we had time, what do you expect? Water fight! Splash attack!
I think our instructor had a previous occupation of being a photographer. He would constantly ask us to get clicked in different poses. We ended our 2 hour of rafting with hot Vada-pavs and Chai. Now it was time to get hold of the captured memories that we clicked and shot during rafting. Our excitement was up to the brim which made us drive for around 24 kms all the way back to the starting point just to get them.
Picture This Scene –
"Hi, we wanted to buy the pictures and videos clicked during our rafting"
"Umm…sorry sir, I guess the memory card has got corrupt. It is not displaying anything."
"What! You must be kidding, how did this happen?"
"No idea sir, this has happened for the first time and unfortunately only with you guys."
Everyone's face went pale blue after hearing this. But we decided to still buy the corrupt memory card from them for a lower price with the 'HOPE' that we may be able to recover the files.
An empty battery and corrupt memory card, put our 500+ photographs and memories at stake when we realize that our luck would respond only on the next day!
Few Tips to keep in mind –
Someone who has done river rafting before might enjoy less as the rapids are of just Grade 2.
The road from Mumbai to Kolad has dozens of tolls waiting to make a hole in your pocket.
The start point and end point are different and 14 kms away.
Your vehicle is sent to the endpoint to pick you up, when you start rafting.
There is a washroom at the start point, but not at the end point.
No food facility available, only few snacks available at the end point.
There is a changing facility available at the end point for Rs. 20 per person.
If your vehicle is big (27 seater bus or bigger), than you will have to walk 2 kms to reach the parking area of your bus.
Lunch can be done while returning at Pali or Khopoli.
If you are planning to buy the pictures and videos shot by the instructor, ask him to format the memory card before clicking. This will prevent the card from getting corrupt.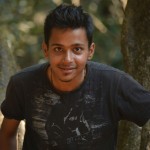 Comments
Comments