"I believe in God, Only I spell it Nature." - Frank Lloyd Wright
Have you ever heard the story of Gupta Uncle? He had never drank or smoked in life but still got cancer. Who all do not want to say this as Rani said in movie Queen, "Mera haal na Gupta uncle ke jaise ho gaya hai. Gupta uncle ko na cancer ho gaya tha. Unhone kabhi sharab nahi pi, cigarette nahi pi, phir bhi cancer ho gaya. Isse achcha toh pi hi lete."
In the hustle and bustle of life, we sometimes forget to enjoy small things in life and by small things I am definitely not encouraging you to drink and smoke but you understand what I am saying right? You know how I decide whether I want to do something or not? Simply by asking myself this question, "Would you regret not doing this on your deathbed?" If the answer comes out to be a yes, I simply go for it without giving it a second thought.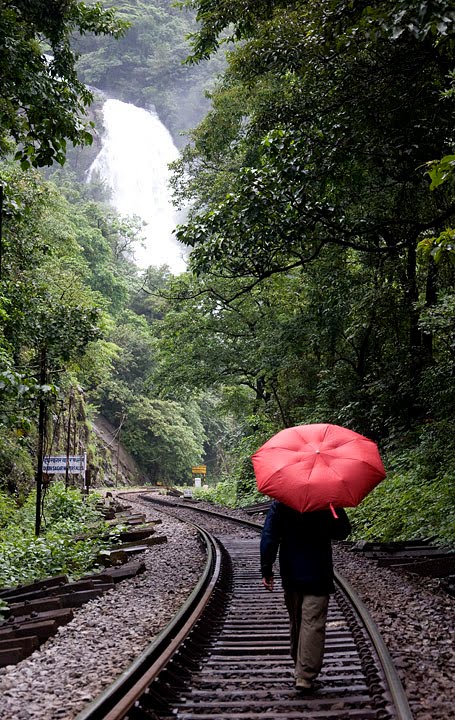 Life is very small and doing routine work is lethal and toxic. So every once a while, answer to the calling of nature and visit a serene place to reboot and refresh. Dudhsagar falls is one such place where nature stands in all its glory and gives you the most amazing memories for the lifetime. Trust me this would be one of the thing you would regret not doing.
The Dudhsagar Falls a.k.a the Sea of Milk is a four tiered waterfall situated on the Mandovi River. One of the most prized possession of Western Ghats, it is 60 km away from Panaji by road. Located on the Madgaon-Belgavi rail route about 46 km east of Madgaon and 80 km south of Belgavi, it is amongst India's tallest waterfalls with a height of 310 meters. The waterfall forms a border between Karnataka and Goa. The area is covered with lush green deciduous forests.
Ways to Reach to the lap of Nature
The waterfall is calling and you must go. There are many ways to enjoy this splendor of nature.
By Trek – This is the difficult and a lot more adventurous way. There has been a lot of mayhem around Dudhsagar treks and is being claimed to be closed for general public but that is not true. There are two ways to go on this trek. One is beginning your trek from Kulem and following the jeep trail until the bottom of the waterfall.
The second option is via the railway track. As they say, all difficult roads lead to beautiful destination, the trek to Dudhsagar Fall starts from Castle Rock. It is a 14 km trek which takes almost 7 hours to complete. This is most beautiful trek and would make you feel like walking towards the heaven with your heart still beating (wink). Most of the area passes through Indian railways as well as numerous tunnels so you need to be little careful in your steps.
By Rail – The Vasco Da Gama to Londa train journey is a 3 hour journey starting from beautiful beaches giving a picturesque view of the Arabian Sea and an incredible glimpse into Goan villages to the curves of Western Ghats offering the breathtaking view of Dudhsagar Falls. The railway track is so close to the falls that you could feel the wet breeze touching your face whilst you cross.
Earlier the train used to take a halt of 1 or 2 minutes here where passengers could climb down the steep ladder of the rail compartment. From here, it was a 1 km trek to the Dudhsagar falls. Recently Indian Railways has banned this halt. So, now If you are planning to go by rail, you can simply enjoy the view whilst you pass the fall but could not deboard at spot.
By Road – You can also reach to this heaven with the help of  Bhagwan Mahavir Wildlife sanctuary Taxi near a Goan Village called Molem. They take you on jeep with lush green forests and some heavy flowing streams on the way. As of now, this is the only way to reach the waterfalls except for trekking.
The advantage of taking this means is that you can go have a complete view of Dudhsagar falls which is not possible in case of going by rail. In the train, you only get half the view of the fall. One jeep carries maximum of 7 passengers and would drop you to the same place back at the end of the day. This is the best way if you planning to take up your kids to the place as well.
Best Time to Visit
The best time to visit Dudhsagar Falls is monsoon as the nature is in all its glory at that time. The flow of water is at its very peak making the place simply a marvel to be adored and captured in your heart for life. The lush green environment due to rains would make you feel like you are actually in heaven.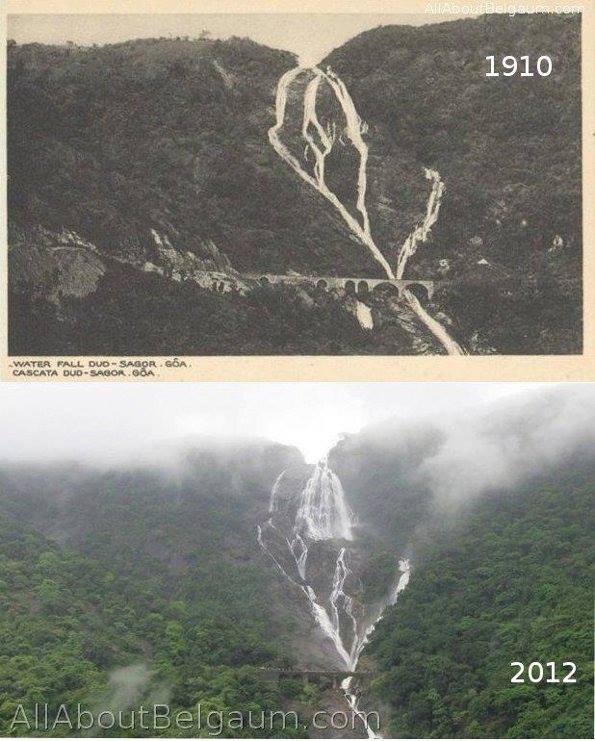 But visiting during Monsoons have many challenges as well especially when you trekking your way to the falls. You need to extra careful of leeches and I would suggest you to carry salt with you in order to get rid of them. Dudhsagar Waterfall is rightly said a heaven on earth. Away from the rushes and nuances of life, this place is something of a must in your bucket list. This place gives you the most breathtaking views which you can capture in your camera and cherish for the rest of your lives. So plan your trip to Dudhsagar falls this coming monsoon, as life is too short to postpone things forever. As Albert Einstein said, Dudhsagar Waterfall
"There are only two ways  live your life. One is as though nothing is a miracle . The other is as though everything is a miracle." I leave the decision to you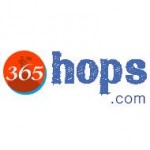 Comments
Comments