Valley of Flowers needs no introduction. VOF is one of the most popular treks in India, many of you might have even visited this place. But there are other hidden treks nearby which do not find its way into the itinerary of trekkers and tourists.  The forest department is now trying to promote these new treks around the valley. So bring in the wanderlust in you and explore this less taken path far away from the crowd.
1) Lata Village to Debrugheta
Lata is a small traditional village which has houses built with wood and covered with stone roofs.
Permits are required to be obtained to enter from Forest Department, Joshimath which is restricted to only 5 people per day. A trek to Debrugheta from Lata is perhaps the only trek that allows one to venture close to the World Heritage Site of Nanda Devi Sanctuary. The high meadows of this trek Is undiluted and beautiful. The abundance of un-spoilt flower is a proof of meager human presence. The views of surrounding Garhwal Himalayas are jaw dropping.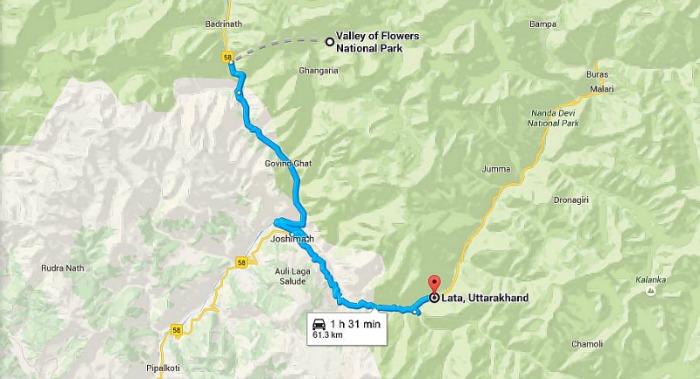 How to reach – Drive down to Joshimath which is 256 km away from Rishikesh. From here, Lata village is just 25 kms away via Lata road.
Once you reach, a simple 1.5km trek will bring you to Lata village.
A 5 day to &fro trek will take you through The Eco tourism village of Lata Kharak, Dharansi Pass from where you will get beautiful views of surrounding mountains and finally to Debrugheta.
 One is not allowed to venture any further than Debrugheta, as the Inner Sanctuary is off limits.
2) Khiro Valley
Khiro Valley is for those who want to experience the magic of the Valley of Flowers without any crowd! This valley is said to be spread across an area of about four square kilometers. According to officials of the Nanda Devi division, this valley too has more than 300 species of flowers growing in it.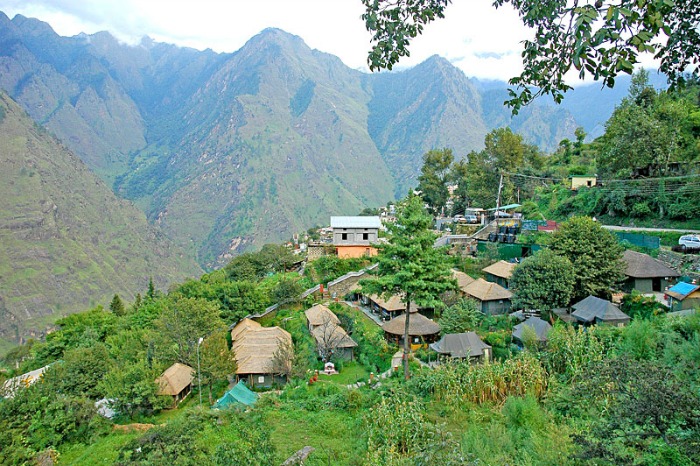 Pics @ http://goo.gl/TdPL58
How to reach – Tourists will first have to reach the Benakuli village from Joshimath, through a motor able road that runs for 25 km on the NH-58 that leads to Badrinath. From Benakuli one has to trek to reach Khiro valley, where adventure enthusiasts will be able to enjoy over 300 species of flora.
3) Satopanth Valley
A triangular shaped lake, each side about 1 Km long, situated at an altitude of 23211 ft, this bright green lake exudes grace and serenity.
Satopanth Tal is on the route taken by the Pandava brothers on their way to Heaven. The term 'Satopanth' is perhaps derived from two words – 'Sat-o' meaning of truth, and 'Panth' meaning path or way.
The glacier spreads over a vast expanse of 13 km, this glacier melts into water at an altitude of 3810 meters.
While on trek, you will come across Vasudhara falls and thereon 5 kilometers ahead is the beautiful Satopanth glacier. Natural Caves along the path are used as the night shelter.  The trek can be undertaken in summers (May – Oct). One also gets some stunning views of the famous Himalayan giant peaks like Chaukhamba, Neelkanth, Swargarohini, Narain Parbat enroute Satopanth Lake. It is a very hard trek and a well experienced guide is advisable.
How to reach – The Satopanth Glacier near China border can be approached from Joshimath by following the Badrinath and Mana road. From there on after Mana you take the route along with the Alaknanda river.
4) Chenab Valley
Located in the midst of rich vegetation, the Chenab Lake is an ideal place where you can camp for hours and hours! It is one of the easier treks in the Indian Himalaya region that can be reached from Joshimath. The trek rises from an elevation of 2050 mts to 4000 mts and involves a gradual and gentle climb.
Pics @ https://goo.gl/nbPExV
The valley is known to offering breathtaking views of the extensive meadows covered with a wide variety of flowers. The Tourists can witness a great variety of flowers including primulas, marigold, brahmakamal, orchids, daisies, poppies and anemones.
How to reach – In order to reach this valley drive to Vishnu Prayag and start trekking to Thaing Village which is above 5 km. From here, a climb of about 12 km through forests gets one to the Chenap Bugyal.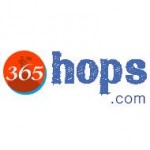 Comments
Comments