Paintball is one of the most exciting activities that can be played by people of any age group. Young generations love it and so does the elder generation too. The sole reason for this joy while paintballing is the thrill one goes through. Just before the test series with the Australia, the English team decided on taking paintball as a recreational activity. It surely did bring the team together with laughter all around. It is no less than the actual feel of being on the ground and attacking the Aussies.
Fun and frolic with a tinge of competitive feeling added to the excitement. Paintball is said to unite a team and therefore considered as one of the best games for enhancing the bond in the team. The team had gone to Adrenalin Plus Paintball located in Townsville to finally bring some action.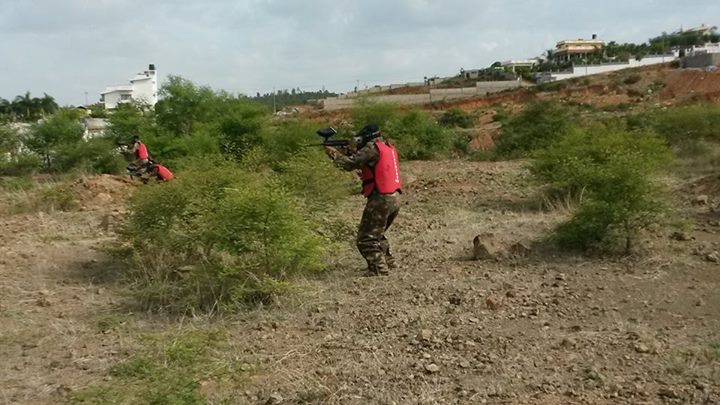 It is going to be exciting just before the match on Wednesday. The warm up will gear them up for the match ahead of them. Every player looked and seemed excited about the match as well as the paintball activity. Paintball brings out the child in you and that is exactly what happened with these cricketers. The team had also clicked photographs and all the players were happy to be clicked.
Stuart Broad; however, was hurt while playing paintball with his colleagues. Eventually, he hit his right arm bruised. Still, he didn't mind posing for a perfect photo. Not just the right arm, the bruise was seen even on the left thigh. Everyone was equally engaged and every minute was thoroughly enjoyed.
Just like Townsville, there are paintball destinations in India too. If you are fond of this activity and you want to be a part of this madness and fun, you should visit the places that are mentioned.
Places to visit in India for paintball
Yelagiri: Being in the southern part of India, you get an opportunity to explore the beauty of the part of India and also enjoy paintballing in the serene and quite close to the real environment.
The arrangement is exceptional with other activities in the list too like angry bird fight, bungee jumping, shooting etc. You can book your package by choosing two days and one night which is enough for a pleasant stay as well as for enjoying the game. If you are in South India, the place is best for weekend getaway.
New Delhi : There are many places in Delhi where you can play paintball with your friends and family. You can come to Delhi from any part of the country. Moreover, the travel to Delhi is quite convenient from any part of the country. This makes it easy for people to come and enjoy the beautiful places around Delhi NCR and also enjoy paintballs in Delhi and Gurgaon specifically. You will fall in love with the place for the life it has. You can enjoy exploring places like Rishikesh for adventurous sports while you are in Delhi.
Goa : Who doesn't know of Goa as one of the most happening cities in India? Anjuna is a popular destination in Goa that welcomes people to try paintball activity that helps you learn combat with no real arms in hand. You get the enthusiasm of being a part of the activity and the icing on the cake is the location. Goa is a preferred destination by youths of college and offices. Every year people are seen flocking to the city for some adventure and personal time. You can paintball too if that has been on your mind for long.
There is another place in Goa by the name of Nuvem. Even this place is famous for paintball and has many visitors every weekend. Other days, the number is lesser. The fee for the activity is also quite affordable. You can buy it for INR 600 per adult. The best time to visit this activity is 9 am till evening 5. There is no worry about the equipment as everything will be taken care of.
Damdama Lake, Gurgaon : One of the IT hubs in India, Gurgaon is not only famous for its fancy official buildings and workplace but also hosting activities that attract the crowd every day. Paintball in Damdama lake is one of the favorite activities tried by every youth. Try it this weekend if you live in Delhi NCR and taste the flavor of excitement that comes your way.
Bangalore : This city is also known for many paintball activity centres. Holiday Village resort is a place that gives the facility of playing paintball at a budget friendly price person. It is one of the most favorable places for paintball as per the residents of Bangalore. Located in the outskirts of the city, it becomes the best place for a family holiday too. You can enjoy paintball till 11 pm here.
There are more places in Bangalore, Delhi-NCR and Goa that can give you the pleasure of enjoying paintball as an activity that will leave its memory in you forever. There are also places like Rewari, Jaipur, Coorg, Chennai etc. that have started to host paintball seeing the craze and excitement among the people.
Paintball is not just an activity; it is quite tactful in nature. It improves your focus and strategies that should be applied time and again. It enhances one's will power and the ability to defend oneself in tough conditions. It is not necessary that you visit one particular place mentioned. You can make your choice as per your convenience, budget and the desire to visit a state or a city. Everything amalgamated you can come at a decision. You will get the best feeling when you go to these amazing places at the peak season. This may vary from one place to another. Depending on the weather conditions and other factors like holiday etc. the peak season varies. You can have your homework done in this regard so that you face no problem when you reach at your chosen destination.
There are health benefits too related to paintball. They are mentioned below-
It breaks the monotony in one's life and makes your day just different from any other day. It gives you the much-needed rejuvenation of the mind and body
It is also considered to be an activity that providers benefits like that of a dull-body workout
Your endurance ability is increased
Your self-confidence gets a boost and so does your interpersonal skills
If you want to lose weight, it is one activity that will help you get the output achieved without dragging yourself every day
Team work is honed when a group plays this activity apart from promoting excitement to one and all
Fun is one of the most important factors for which people like to try paintball after their busy schedule
So after knowing so much about this wonderful activity; what is your take on this? The English players must have taught you how the game can bring the team together. If you have a team and want some fun out of the monotonous routine, paintball is what you can consider. By not spending a fortune, you get the desired result.
Comments
Comments