Some would know it for the spiritual land it is, some knows it for rejuvenation of inner self through yoga it offers and yet others know it for the adrenaline rush, excitement, the thrill and many more. Yes, I am talking about all in one land, Rishikesh because it has something or the other to offer to everyone that comes to its shores.
Today, I am here for the third kind of people who visit  Rishikesh for the adrenaline rush especially river rafting. Our holy river Ganga is not just to wash off all your sins after all. It's rapid currents challenges you at every step so navigate these tricky waters and have an experience of a lifetime.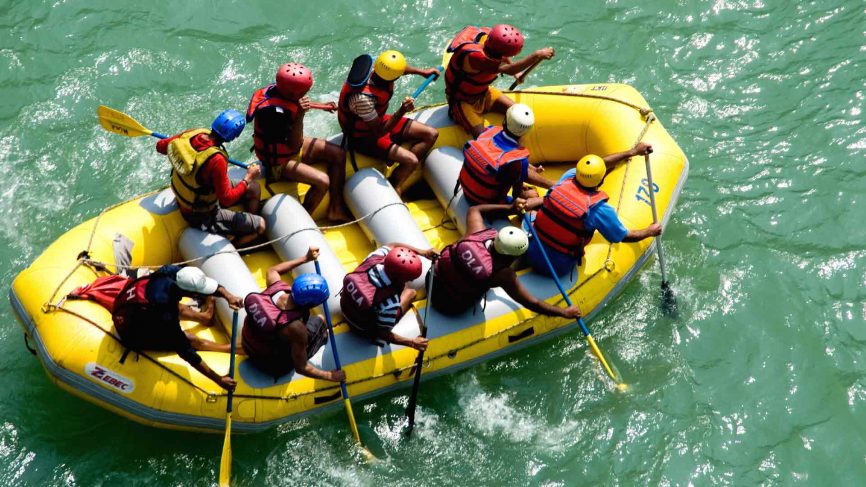 Best Time to Go
The river rafting in Rishikesh is open all year round except for the monsoon season that is June to September when the water flow is above danger level for rafting. The best time however is from February to May and October and November.
Different Grades of Rapids in Rishikesh
Classified on the basis of difficulty, rapids are of 6 grades 1 being the easiest and 6 being the most dangerous. In Rishikesh, you will come in contact with these 5 grades of rapids:
Grade 1 involves mild streams and hence almost no risk involved while navigating the raft.
Grade 2 include certain obstacles which can easily be overcome.
Grade 3 are hard rapids and would need good amount of strength and skill while navigating these through.
Grade 4 is strong enough to topple over your raft so be very careful and follow professional instructions.
Grade 5 are the risky rapids and are  strictly reserve for experts and professionals.
The Easy Stretch Brahampuri to Rishikesh – This is a stretch if you are going rafting for the first time. A perfect options for  elderly, kids and families, it has mild nature of water splashes that are fun and excitement but are not dangerous. It takes approximately 2 hours to complete and has Grade 2 rapids.
The Physically Difficult Stretch Shivpuri to Rishikesh – This stretch has approximately 7-8 rapids which are a mix of Grade 2, 3 and 4. There are two Grade 4 rapids known as 'Roller Coaster' and 'Golf Course'. These are perfect for those who have come for that adrenaline rush, thrill and adventure and for those who are young, fit or have done this sport before. It would take you almost 3 hours to complete this one.
The Physically Enduring Stretch Marine Drive to Rishikesh – Although, it has rapids of Grade 2 and 3 levels, it is longer and has around 14 rapids in total. It would take you almost 5 hours which would be full of excitement, adventure and would test your physical patience at every level.
The Hardest Stretch

Kaudiyala to Rishikesh

-

This is one of the toughest rafting stretch of Rishikesh and is strongly recommended to only experienced rafters. It would take almost 8 hours to complete this stretch. It has rapids of Grade 2,3,4,5 and also one of the most dangerous and  toughest rapid of the world called 'The Wall' which is classified as a Grade 6+ rapid. So be very sure before you take up this ride because it  would demand a lot of skill, strength and most of all resolve to keep going.
Things to keep in Mind while Rafting
Rafting can be a lot of fun if it is done correctly. There are certain things that you need to keep in mind while going for this fun filled yet thrilling adventure:
Wear all the gear that is a helmet and lifejacket at all times.
Listen to all the instructions given by your guide very carefully and keep them in mind at all times.
In case, you get thrown into water, do not panic. Keep your head high so that it does not hit any rock. Try to stay horizontal so that an underwater current does not catch you.
Follow all calls by your guide such as "stay up", "go down" etc.
Most importantly, just let go and make the most out of the picturesque scenery around you.
Other activities in Rishikesh
Rishikesh is not all about rafting after all. There are a lot of other activities that you can do which are equally challenging and adventurous. Bungee Jumping with Rishikesh being one of the best bungee jumping spot of India so take up that long pending after all Read through Bungee Jumping- Forget The Risk And Take The Fall. The other activities being Camping, Giant Swing  where you are swung like a pendulum, Flying Fox, Cliff Jumping, Rock Climbing because, where there is a mountain, you would want to climb it and my personal favorite Trekking.
Comments
Comments