"Everyone should have their own escape for days on which they don't feel like being found."- Noor Shirazie
Sitting on my desk and looking outside my sky tower, the only thing I want to be is rise above everything there is to this world and be a bird for a while. Well! Too philosophical right? But sadly this is the story of all the people running to catch that overcrowded metro or waiting for their company cab to pick them up. There is only one thought that excites people in the metro, "ESCAPE"
Have you heard of the song "Take me Away" by Natasha Bedingfield. The dreamy escape in that video has  always given me goosebumps and I have always asked myself, "Is it really possible to escape forever?" To be frank, no it is  not impossible but sure is a difficult step to take. So, till the time that does not happen, how about a temporary escape to the clouds and see the city Gurgaon from above everything. Oh yes, that is right, I am talking about  actual flying in the air and watch city beautiful from bird's eyes.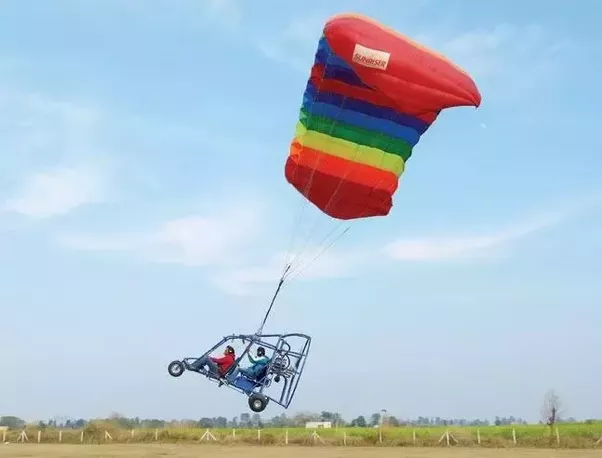 So stop dreaming about an escape and go have one by not travelling much. Get that much needed dose of adrenaline rush by taking up this thrilling and wonderful activity of paramotoring. There could be any occasion, this activity would be just perfect. Be it that long awaited family picnic or that anniversary present to dear Mr. "I have this big project coming so we won't able to go on a vacation this time."
Just go high in the sky and experience the aerial view of Gurgaon city. Enjoy a perfect morning sun or a beautiful evening sunset whilst among the clouds and have an experience of a lifetime.
In paramotoring, you rise high in the air with a help of glider. With proper expert help and use of safety gears, this activity can be enjoyed to its fullest at the same time can be done by any age group at all. The pilot wears a motor on his/ her back and would provide the needed thrust to fly off using a paramotor wing or an adapted paraglider wing. There is very less assistance required as the paramotor can be launched by the pilot alone on level ground or while in air. So keep calm and glide on this weekend in Sohna Road Gurgaon.
Comments
Comments