While the rest of the country is still celebrating the onset of winter season, the residents of J&K are struggling with the challenge of extreme weather. With the entire state having been gripped by the cold wave, the Kashmir division has already experienced its lowest temperatures. With the temperatures dipping below freezing points, people are struggling with even the simple task of getting water from the tap in the mornings. In fact, people lighting small fires to de-free the exposed taps that become frozen during the night, has become a common sight.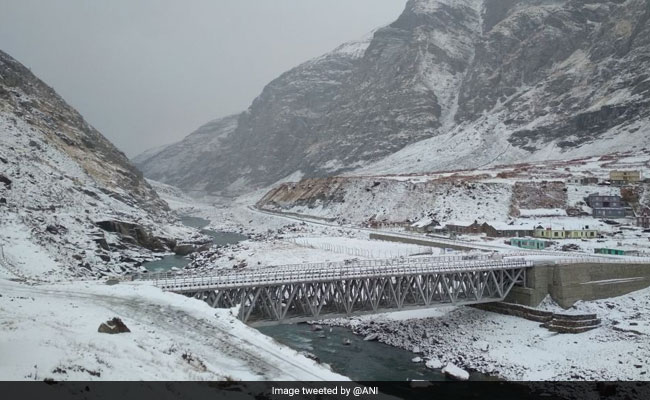 Minimum temperature dropped to minus 1.7 degrees Celsius in Srinagar.
Coldest Nights In Decades
The nights have become extremely cold over the past couple of weeks with the temperature showing a continuous downward spiral. During this period the average minimum temperature recorded in the various towns of Kashmir division have remained below zero degrees. According to the meteorological  department, the temperature recorded in Srinagar city on the night of 28th Nov 2017, was -4.8 degree, which is the lowest ever temperature of the city for the month of October. With such sub-zero temperatures, it is not surprising that the life in Kashmir division has more or less come to a standstill.
Leh

& Ladakh Also Affected
Not surprisingly, the cold wave has also affected the towns of Leh and Ladakh located in the upper reaches of the Himalayas. In fact, Leh became the coldest place in the state when the temperature here plummeted to -10.2 degree centigrade. It was also the coldest night of the season so far for the residents of this tourist town. Another town of Ladakh district, namely Kargil has also been experiencing sub-zero temperatures although it is still within the range of -6.2 and -6.6. However, with the met department expecting the cold wave to continue for the next few days, the entire region might soon be facing a further dip in temperature.
The only relief for the people of Kashmir and Ladakh has been that there has been no snowfall during this time. The met department has predicted a dry yet extremely cold weather over the next few days, which many experts feel will further intensify the severity of cold in the region. The people have been advised to take the necessary precautions to keep warm and stay indoors.
Comments
Comments