"To Fly, you don't need Wings.
You just need a Spirit, Courage and a Paraglider."
- Mariyam Iftikhar
When was the last time you Mumbaikars did something for the first time? A month back or a year back or for some may be a long long time back, Right? Well! If that is the case, it is time to add a new adventure in your done list. How about, I throw you off a mountain? With a paraglider on as well as with an instructor if it is your first time
Paragliding is becoming a most sought after activity for the people finding solace in mother nature and a break from their crazy and busy lives.
A small township located 110 kms from Mumbai and 45 kms from Pune,the original name of  Kamshet is Karmakshetra that is the land of your Karma. With a suitable environment for paragliding, it is soon becoming a favorite destination to just chill out and jump off the mountain and fly in the relaxing Sahyadri Range. From an annual north trip to whenever you get a weekend off, Paragliding is now becoming a hotspot for adventure seekers.
On a clear day, you will get to see a lot of paragliding pilots like the streaks of ribbons across the sky. It sure is an insta-worthy moment. With such a scenic beauty, paragliding in Kamshet is receiving a lot of dedicated customers who come very often. This adrenaline rush is becoming more like an addiction for many and is sure turning into a hobby. After a hectic week at work, flying in a picturesque valley, with a harness strapped to your back and big nylon canopy above your head, is the best recreational activity you can imagine.
Many people are using it as an escape from theri daily monotonous life and are sure feeling a change in their energy levels in work as well. A Juhu-based digital marketer Apoorva Talwalkar claims that paragliding adds to the zen quotient in her life. She says, "Paragliding gives me the calmness of meditation and the adrenaline of an adventure sport. The moment I have a spare weekend, I'm running off to Kamshet to get more 'air' time."
Sanjay Rao, who introduced the sport to this place started with just a handful of people which has now increased to almost 200 regular visitors. He says, "It's the closest you can get to flying like a bird. And people from Mumbai love this hobby, as they get to do something that goes beyond the movie-and-mall routine during weekends. Some even say that it has changed their perspective towards life."
As they say, "Never get so busy making a living that you forget to make a life." Paragliding in Kamshet has become a scapegoat for the people living in city. The calm environ and picturesque beauty of the place is what attracts people towards Kamshet. An Andheri based cinematographer, Agrima Gupta, says that ever since she has developed a hobby of paragliding, it has been fuelling her sense of adventure. She says, "I've been paragliding for a few months. On my last flight, I flew just before sunset and it seemed like I was gliding down with the sun. It is a moment I'll never forget; it connected me to nature more than ever. I'm now planning to become a paragliding pilot."
Many people think this to be an extreme adventure sport which only heroes can perform, but that is so not the case. On this, Sanjay Rao says, ""As long as you have no heart condition or suffer from epilepsy, anyone can try this.If you can climb a hill and go for a trek, you can fly."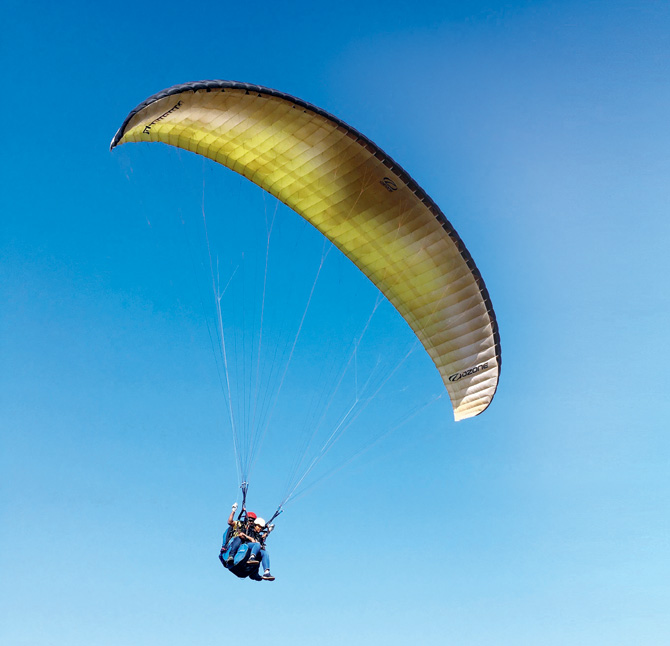 So what are you waiting for, rush now and book your paragliding flight with the instructor and fly high, really high in the sky and I can promise you one thing, you would not want to come back ever. After all, "In the end, it's not the years in your life that count. It's the life in your years."
Difficulty : Easy To Moderate
Capacity : 20 Seats
Max Altitude : 670 m (2,200 ft)
Trek Highlights Here : Paragliding, Lakes, Caves, Temples
Distance From Mumbai : 110 KMs
Distance From Pune : 45 KMs
Comments
Comments