One of the most fascinating activities in adventure sports is Rappelling. It consists of controlled descend, down from a rock patch. It is one of the ways to reach the bottom of the rock patch in an interesting way from the top, instead of taking the longer, conventional way of climbing down slowly.
The main equipment used in this thrilling sport of Rappelling are high quality ropes, descenders, seat harnesses and helmets and gloves for safety.
Rappelling as an activity also involves a belay, which has a person holding the rope slack to help control the climber's descent at the first sign of trouble.
The best thing about rappelling is that there is this amazing flow of waterfall just beside you as you slowly rappel down or on top of you! The feeling is indescribable. It definitely gives freshness to your being which will last for days to come.
Generally, there is a weight restriction for a person to rappel, which is to be between 35-95 kg.
Always make sure to see that there are experts and experienced people to supervise you and guide you when you undertake this.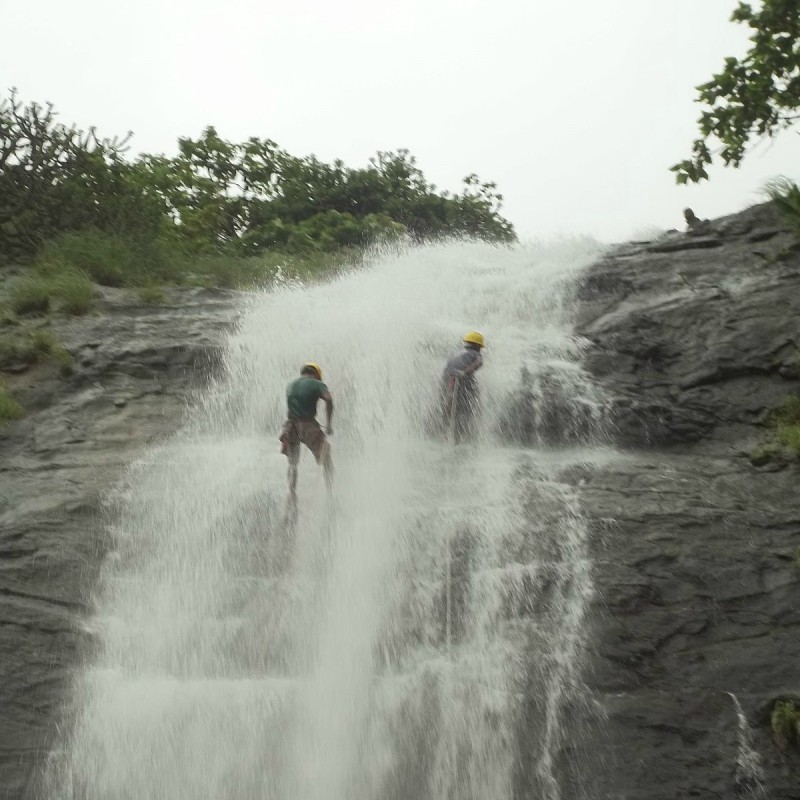 This waterfall is in Lonavla which is close from Mumbai and Pune too. This refreshing waterfall is at a height of 135 ft. The base village is Dudhiware which can be reached from Lonavla station by local transport. There is a small trek of half an hour to reach the waterfall. After a first 10 minutes of putting your harness and getting ready, you are good to go.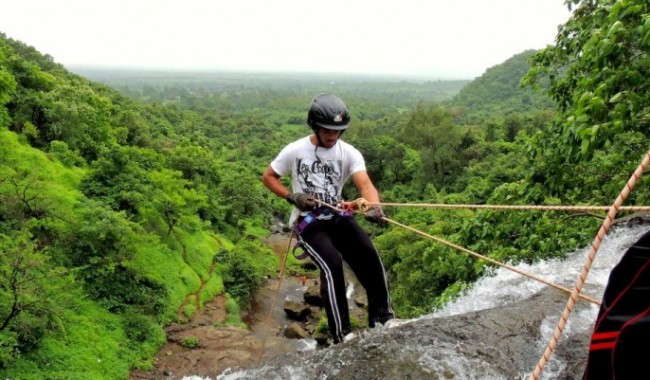 This picturesque waterfall lies just above the Kondana caves near Karjat, giving a thrilling view of the caves as a person descend down. This waterfall which starts at the height of 120 ft lies on the path towards Rajmachi fort. To reach the waterfall, you have to get off near Karjat station and take local transportation to reach here. The trek of roughly an hour to reach this waterfall is also a memorable one as it goes through a dense, beautiful forest giving a prelude to the rappelling that is going to come up. After the rappelling, you can even enjoy the details of the Buddhist caves of Kondana and take a walk through them. There are locals near the waterfall, selling local food, which you can relish once you finish your adventure!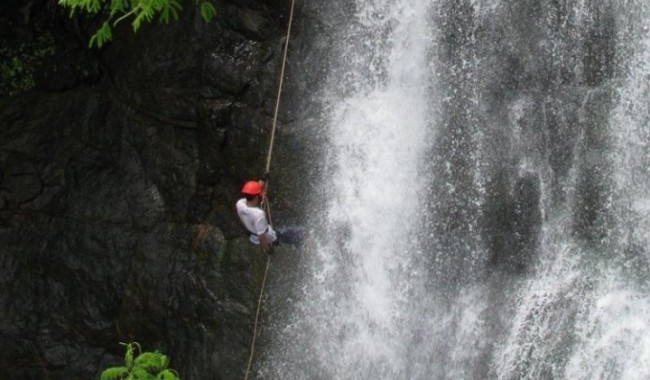 Dodhani is situated in Panvel area at the base of the Matheran hills and is at a height of 70-75 ft and is a seasonal waterfall which flows only during monsoon. From Panvel, it is only 2 kms away. From Panvel station, there is a short hike up to this hill having the waterfall. The experience of rappelling down a waterfall through slippery rocks, water at speed, height surely constitutes for an adrenaline rush to remember.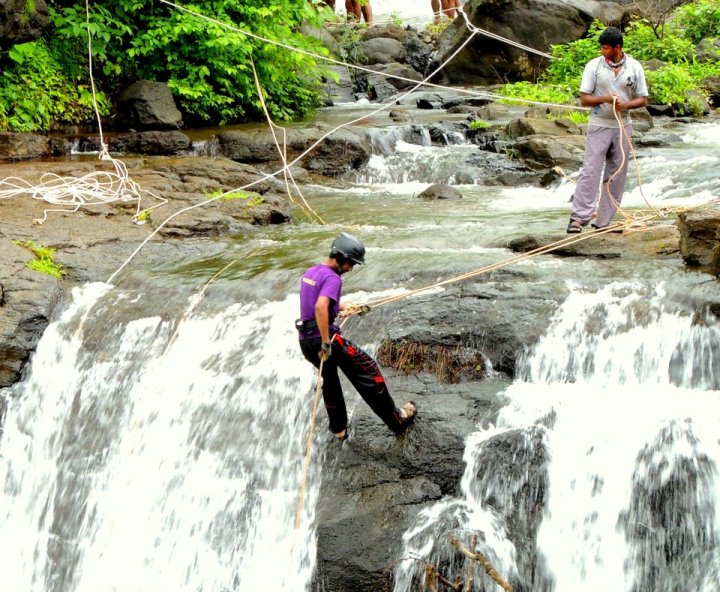 Bhekre waterfall is definitely one of the interesting rappelling spots around Mumbai. The gushing waters of Bhekre flows from a height of 70-75 ft. Rappellers are advised to get off the Bhivpuri railway station, take local transport and reach Bhekre village and then trek for half an hour to reach the waterfall. The gushing waters making a roaring noise and hitting your helmet and face as you rappel down will surely make a memorable experience.
When you see the Dudhsagar waterfall for the first time, you will be awe-struck. The giant waterfall looks like a great cascade of white water, bursting its way down to the earth, thus giving it the name of 'Dudhsagar', a 'sea of milk'. This waterfall is at an immense height of 1017 ft and makes for a breath-taking sight. You slowly realise when you take in its vastness that you are only a tiny speck in front of it and this makes you feel humbled.
Although this waterfall exists in all seasons, it is gurgling with a powerful force during monsoons.
Located in the Sanguem Taluka of Goa, the area around the waterfall is covered with forests and is a part of the Bhagwan Mahavir Wildlife Sanctuary.
Kulem railway station can be reached by road or rail. Once you are here, you trek to the waterfall. You can also hire a jeep with a driver to enjoy this wonder of nature even more closely. Home to a number of birds and animals, you might witness some if you take up a jeep ride to reach the waterfall.
In case you want to trek it out, it would start from the village of Kuveshi. However, due to safety reasons one is not allowed to take up this in rainy season as the trail crosses over the Mandovi river which is swollen and dangerous during the monsoon months. Also, as you pass through a forest, there are chances of you getting loaded with many blood-sucking leeches and the constant danger of slipping and your feet getting stuck. Therefore, it is best to avoid this route during this time.
Another trail for this trek begins at the Kulhem/Collem railway station and is 11km long offering a picturesque view of the Western Ghats and valleys.
One of the most popular routes among tourists is the one that starts at Castle Rock station in Karnataka which spans over 14 kms of rough terrain.  In this route, you walk along the railway tracks and eventually meet the Dudhsagar waterfall. The plus point is that you don't face the hassle of slipping and can trek in a rhythm. This is an enjoyable route as you see a lot of interesting vegetation and hundreds of mini waterfalls cascading down to the railway tracks and making for a pretty sight.
The itinerary which a lot of travelers follow is as follows:
Day 1 : Travellers from Mumbai and Pune board the Goa Express (12780) towards Kulem around 4 pm.
Day 2: Reach Kulem by 4:35 am (approx), start trekking towards the Dudhsagar Waterfall (14 kms) by track route. Reach Dudhsagar by 09:00 am (approx).  Enjoy the scenic view of the Dudhsagar Waterfalls and the journey too.
Have Breakfast and start the trek back to Kulem. Reach Kulem by 03:00 pm. Have lunch. Proceed towards Madgoan. Get ready to board Mumbai Express.
Day 3:  Reach Mumbai in the morning by 09:30-10:00 am. The tour ends here with lot of excellent memories of Dudhsagar Falls.
PS – waterfall rappelling does not happen at Dudhsagar waterfalls.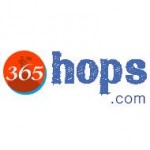 Comments
Comments