Havoc rains pour down furiously as my train arrives at Panvel station. The raindrops hit the rooftop like a needle, drilling my ear. The blurred vision outside and thunder lightning, create doubts in my mind. I step down at the platform wondering how we will travel and then trek in such weather.
As I walk down the platform, a woman with folded hands wait for me. It is Vishaka, my senior leader. In a world of stereotypes, this woman is unique in all the senses. Her 'I don't give a damn' attitude and excellent leadership skills make people follow her. In her leadership of 5 years, she has seen all the ups and downs. She stood there not even giving a hint of smile after seeing me. Maybe that's the way she is. But it doesn't matter anyways.
In no time, everyone gathers and we march towards the bus stand to catch the bus for Dodhani. The rains luckily subsided. We find the local transport bus empty. It is like getting the evening Virar local train in Mumbai empty! The bus arrives at the base village of Dodhani waterfall, which itself is known as Dodhani village. We have hot and freshly made Poha to energize our self before the trek.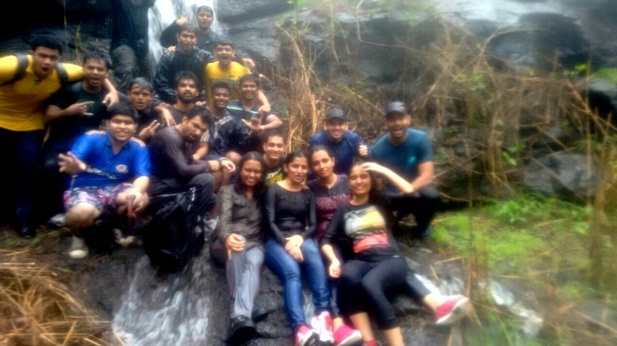 Armed with our bags and shield with our wind cheaters and rain coats, we enter the heavy rains to start our trek. The trail to Dodhani waterfall is different from the usual Matheran trek to Sunset point via Dodhani. We walk through the gentle path with occasional steep climbs.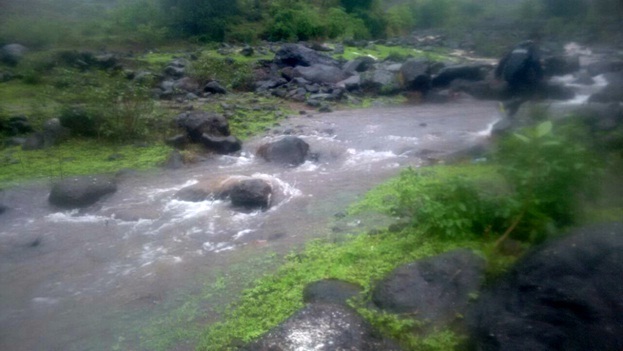 The monsoon rains make everything lively. The colorless terrain of summer sketches itself into lush greenery. From trees to rocks, everything is damped with the layer of water. Every element shines in the reflection of the Sun. The polluted city lung feels the earthly smell refreshing. The ground seems to have its own hair as the rice paddy fields grow on both the sides. Walking on the bordering narrow path in between is little tricky. There are numerous boulders on the way. They block the path quite irritatingly. But the same boulders prove to be helpful for support while traversing.
Numerous waterfalls flow out of the mountains in a sleek vertical line. It looks as if they are weeping continuously. The waterfall then flows down, forming streams, making their own paths in all the directions.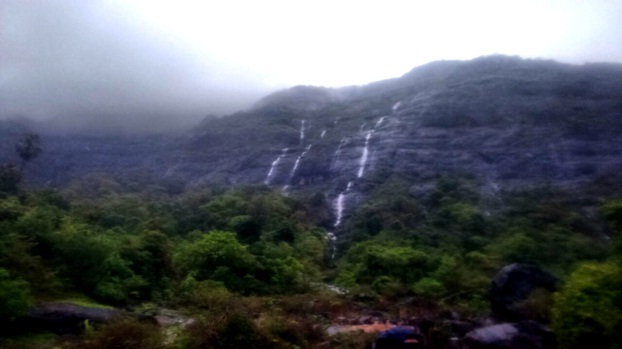 The strong force of the stream can sweep away anyone standing. The flowing water is also knee deep. We realize the risks and instantly form a chain across holding hands. The team work helped tremendously for everyone to cross the stream. But there is not just one stream. As I said that it flows in all directions, we cross it several times.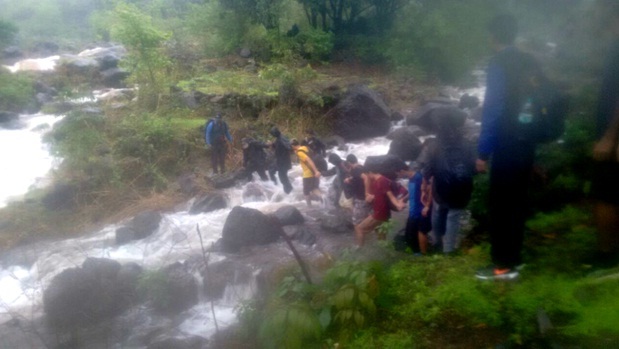 After trekking for an hour, we reach at the crest of the waterfall. Due to continuous rains for the last 2 days, the force of the water becomes much stronger than what it should be for rappelling down. It is quite risky for us to rappel in such a force. We start looking for an alternate waterfall.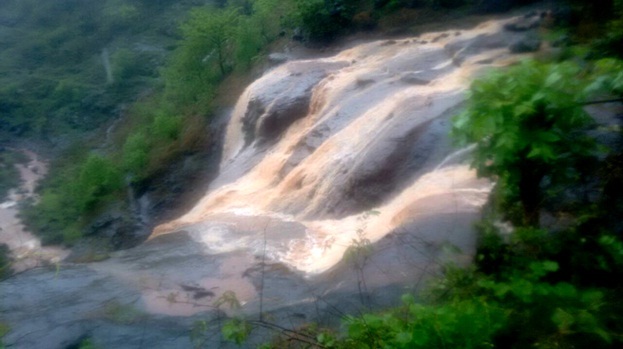 Meanwhile Vishika gives clarification for waterfall rappelling. "Double rope, harness, Belay, helmet and other mandatory gear ensure your double safety. The rope is checked twice after every interval."
"Now Gunjan will give demo on rappelling down" We choose the adjacent falls which have less force of flowing water and safe. Removing my wind cheater and wearing the harness, I stand at the crest of the falls, shivering in the winds blown through the surrounding mountains.
My heart is not pumping fast or skipping a beat. I am not anxious, nor there is any fear in the mind. Instead, I realize the adrenaline rush coming. I feel confident and a cure of smile gets on my face. I brace myself to get down. The instructor gives me a green signal to start. Holding the rope, I tilt my body back.  As I start taking my foot backwards, 100s of thoughts run into my mind at once. I do not want to slip like in my previous rappelling experience, and so I am getting down very carefully. I remember to look down as I need to see what is there below and put my foot accordingly. The water hits my face like continuous slaps. My head instantly feels light and refreshing. As I continue to rappel down, the wall suddenly vanishes. There is a cave in (Airbag). I am literally hanging with only rope attached. It is thrilling! I quickly feed my rope to get down. Voila! Rappelling finished in just few minutes! I took no time and I am craving for more! Maybe I was too fast.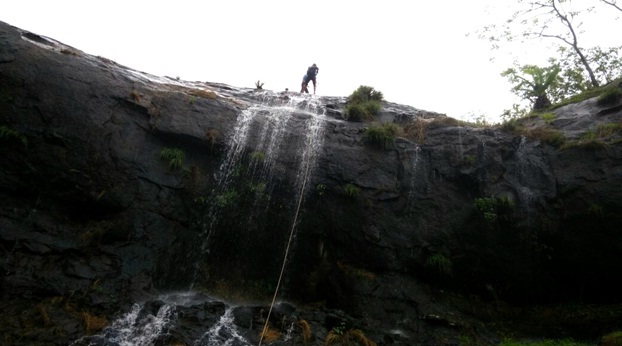 The participants start rappelling down. Some are slipping more than rappelling down while others are doing it like a pro. Their confused state of mind in the middle of the falls blunder the instructions given. One thing that amazes me is that, no one is giving up while rappelling out of fear. Everyone is trying and giving their best shot. After rappelling, I could see the excitement on their face and I could not stop asking each of them "So how was the experience?"
I got all range of response like
"The best experience I had in my life"
"Hell! I can't believe I actually did it!"
"Oh! I slipped a lot, but it was fun!"
"It was awesome, Can we do it again?"
After all the participants descend down, we start marching back. Our shoes soaked in a lot of water in last 6hrs. I especially want to get out of my shoes desperately. We get down amidst the splendid views of the mountains. The fog on them looks as if the mountains are smoking. I looked at them for the one last time before leaving, promising to come back soon!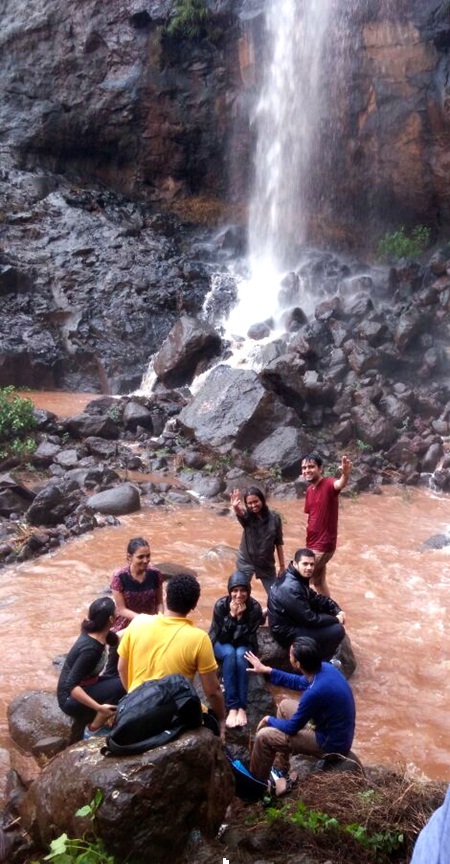 Few Tips –
Waterfall rappelling is an adventure activity where your life is at stake. Go only with trusted groups.
The force of the waterfall completely depends on the rains, so don't be surprised if you find no waterfall for rappelling.
Wear good shoes. A participant's shoe was worn out and got torn, and another participant's flip flop got washed away while crossing a stream.
Cover all the stuff in your bag with plastic.
Expect getting dirty in mud, you cannot avoid it.
It is ok to fear, slip or giving up in the middle of the rappelling, just attempt it!
Waterfall rappelling is the best activity to overcome your fear of heights and water.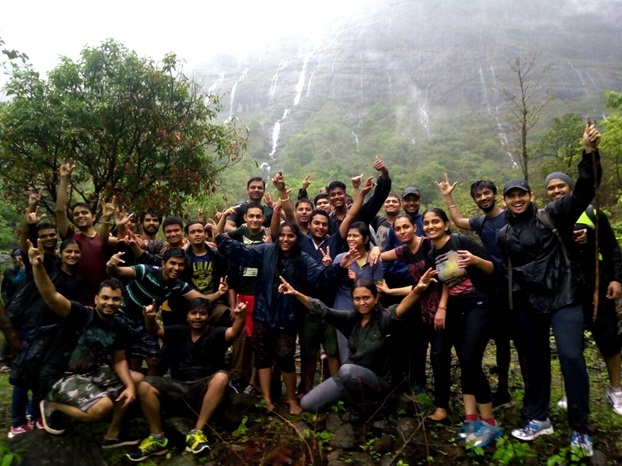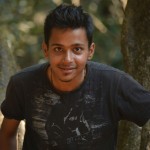 Comments
Comments