Kerala, often referred as 'Keralam', lies wedged between the Western Ghats on the east and the Arabian Sea on the west. The quaint and charming place is perfect destination for relaxing and rejuvenating in the beauty of palm fringed beaches and lush green undulating hills. A combination of tranquil backwaters, distinctive culture and traditions, attractive temple festivals and exotic wildlife makes it a complete holiday vacation.
1. Sail down Alleppey backwaters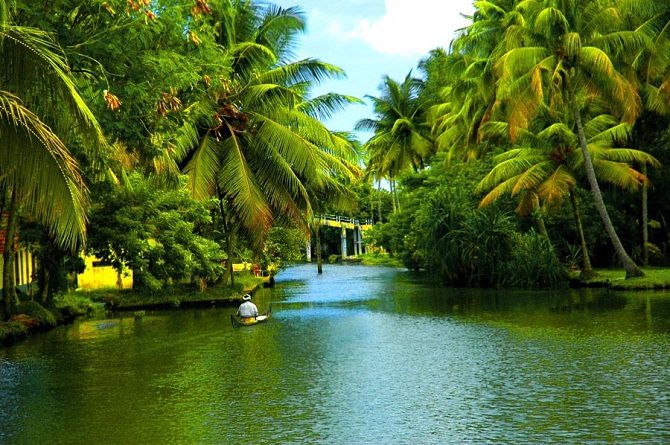 Source- http://bit.ly/1zgkaGn
The luxurious house boats, bent coconut trees, fisherman fishing around and the splendid views can leave any person awestruck. Alleppey is the most popular destination to explore mesmerizing backwaters. The sight of backwaters and houseboats that are equipped with every modern day amenity will blow your mind.
Location: 62kms to the south of Kochi, 155kms north of Trivandrum
Best time to visit: September-March
2. Visit Periyar National Park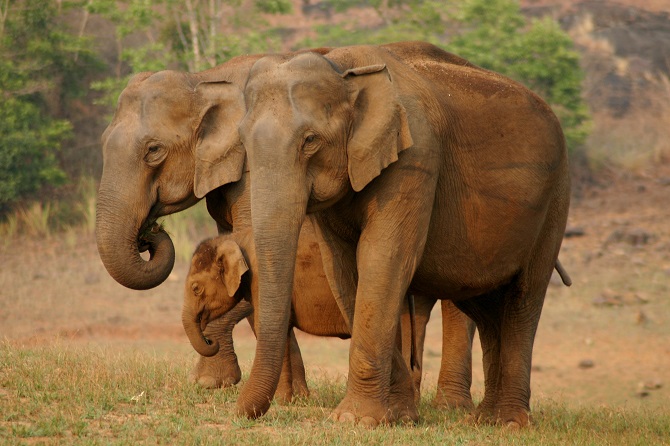 Source- http://bit.ly/1u4f9R2
Periyar National Park is an amalgamation of nature's beauty, with a great scenic charm, rich bio-diversity and providing kosher visitor satisfaction. A total of over 40 species of mammals,320 species of birds,160 varieties of butterflies and 45 species of reptiles offers immaculate beauty of bewitching flora and fauna situated at the heart of Pandalam hills and Cardamom hills of Southern Western Ghats.
Location: 118kms from Cochin, 170kms from Madurai
Best time to visit: October-June
3. A Relaxing Massage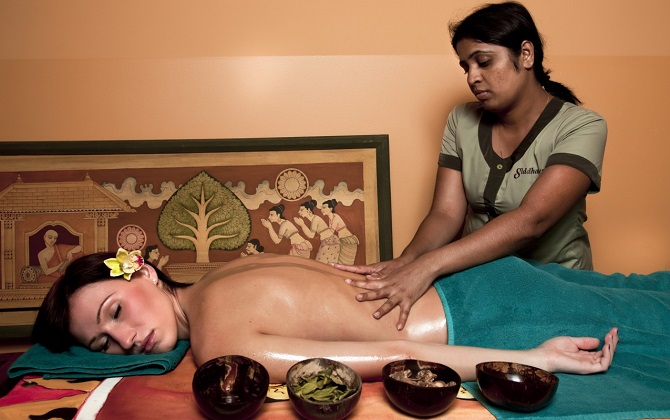 Source-http://bit.ly/14lbrsD
Revivify yourself with a massage. Surrender to the magical fingers of specially trained masseurs to rejuvenate everything from lost luster of your skin to calm and tranquil body. A combination of meditated bath, yoga and herbal diets will replenish and revitalize your body parts.
Duration: 1-3 hours depending upon the type of massage
Price: Rs.1000-4500
4. Catch the Kathakali Dance: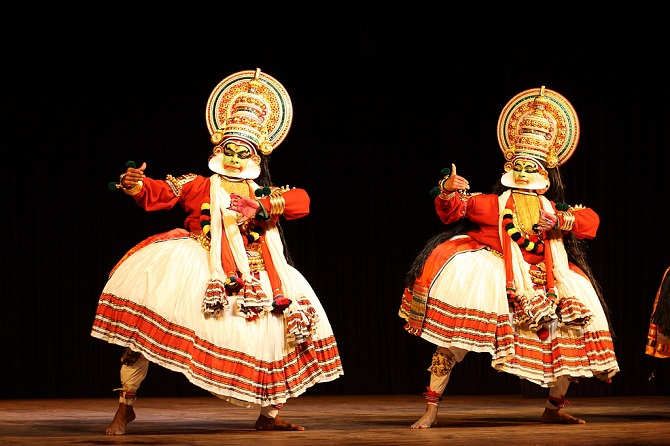 Source- http://bit.ly/1zIxjem
Kathakali is one of the oldest theatre form in the world consisting of a group presentation in which dancers take up various roles in performances traditionally based on themes from Hindu mythology is acted out. If you love to explore bold and amazing costumes, colorful make ups and traditional culture of Kerala, seeing the Kathakali performance will be best grabbed opportunity.
Duration: 1-3 hours
Price: Rs. 200-450
5. Gaze Theyyam Performance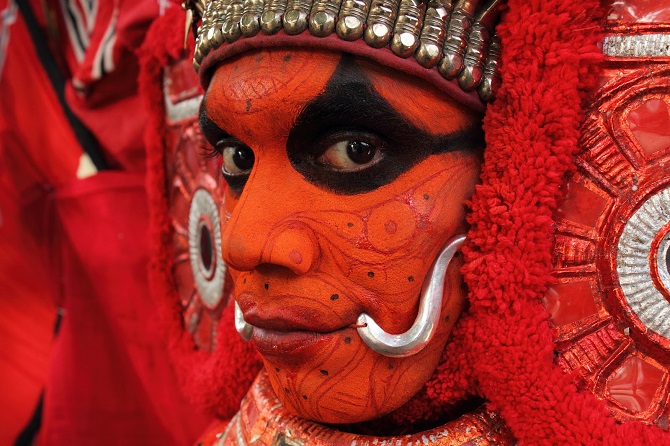 Source- http://bit.ly/10PXZuh
Theyyam or Theyyatom is one of the oldest indigenous and mystic ritual art form of North Kerala particularly now found in the traditional Kolathunadu of the present Kannur and Kasargod District. The performer accoutre the costumes and make up of a fierce warrior.
Other Names: Kaliyattam & Thirayattam
Best time to see: November-March
6. Quaff the Coconut Water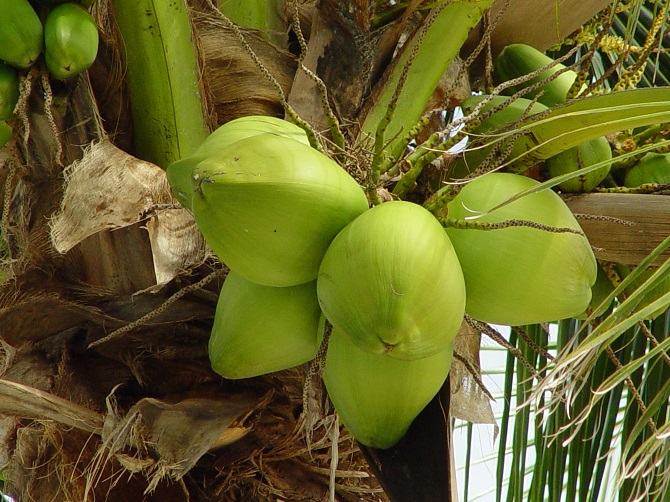 Source- http://n.pr/1zJ88IH
The name Kerala is now widely explained today as the "the land of coconuts", derived from Malayalam word "kera" which means coconut. Sipping the coconut water plucked from coconut tree is an alluring experience for the visitors.
7. Chill at Sun-warmed and gleaming Beaches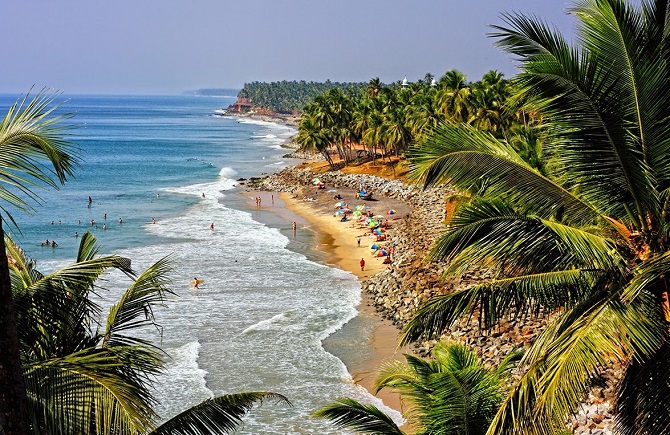 Source- http://bit.ly/1tB6SPp
Kerala has countless beaches possessing diverse beauty. Studded with some impeccable beaches that are often marked with swaying palms, quaint lighthouses and multi hued seashells dispense spectacular sight with fabulous view.
Best time to visit: October- March
Famous Beaches:
1. Kovalam Beach- 10kms from Trivandrum airport
2. Varakal Beach- 51kms from Trivandrum airport
3. Kozhikode Beach- 1km from Kozhikode railway station
4. Bekal Beach- 60kms from Manglore airport
5. Payyambalam Beach- 2kms from Kannuar railway station
8. Witness a thrill of Snake Boat Race
Source- http://bit.ly/1tWN1O4
Snake boat race will create the excitement bubble in you as the teams of 100's oarsmen row their snake boats with their bodies swaying in unison to the fast rhythms of full throated singing in one of the most exhilarating water sports which is an enthralling pleasure to watch. Four main snake boat races (and as many as 15 minor ones) are held each year, in and around Alleppey.
Best time to see: July-September
Famous Races:
1. Nehru trophy- Held at Allepey's Punnamda Lake
2. Champakkulam Moolam- Held at Champakkulam River around 25kms from Allepey.
3. Payippad Jalaotsavam- Held at Payippad Lake, 35kms from Allepey
4. Aranmula Boat Race- Held at Pampa River at Aranmula near Chengannur,50kms south of Allepey.
9. Glimpse of Chinese Fishing Nets
Source- http://bit.ly/1tWN3Wn
A very unusual method of fishing, operated from the shore. The Chinese fishing nets at Fort Kochi, make up a very popular tourist attraction. They are fixed land installations, which are used for a very unique and unusual method of fishing. Operated from the shore, these nets are set up on bamboo and teak poles and held horizontally by huge mechanisms, which lower them into the sea. They look somewhat like hammocks and are counter-weighed by large stones tied to ropes.
Location: Fort Kochi
Best View: Head to Vasco da Gama Square, the narrow walkway that runs along the Fort Kochi beach.
10. Experiencing Canoeing Sport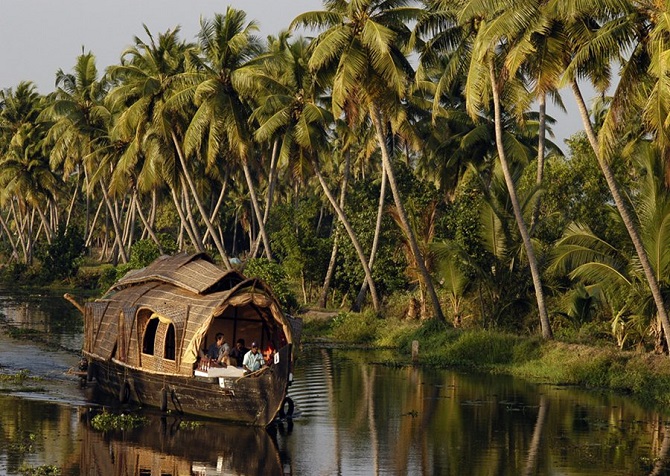 Source- http://bit.ly/1u4g8Rb
By taking up the canoeing sport, one can explore the beautiful lagoons and meandering rivers with enchanting look of mesmerizing scenery to have a real glimpse of rural life on the backwaters. The thrill that one experience when cool water splashes on their face is wondrous.
Best time: Any time of the year, avoid rainy season
Price: Rs. 300-500
11. Cuisine of Kerala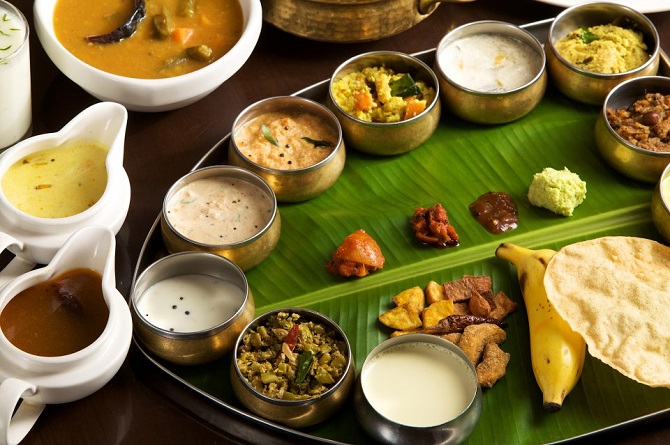 Source- http://bit.ly/1uWrLet
Kerala Cuisine has a multitude of both vegetarian and non vegetarian dishes. The enticing dishes that are typically made of 'Kera' tree (coconut palm) lured the hearts and taste buds of visitors coming from all over the world. The traditional foods of Kerala are Appam & Stew, Puttu, Idiyappam, Steamed Kerala bananas.
12. Relish Salt & Spices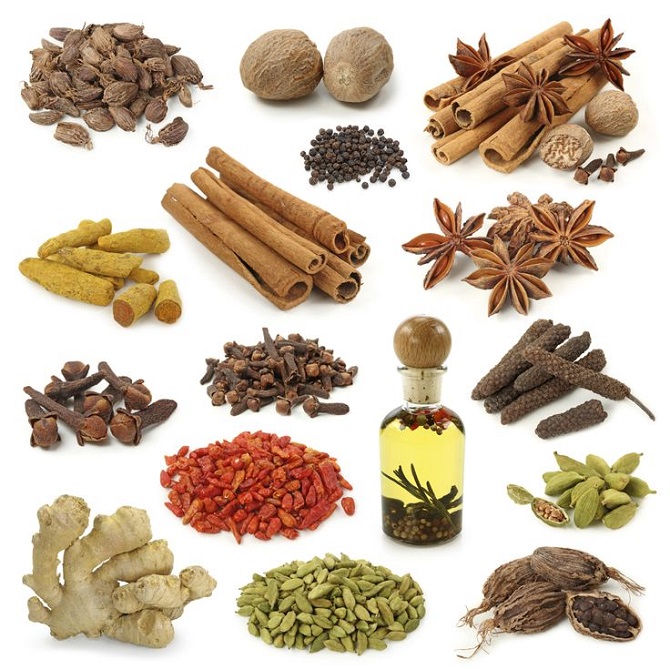 Source- http://bit.ly/1tWNjoc
Kerala prides itself in being the hub of spices in India. Spices add to the aromatic value of any Cuisine and makes it delicious and palatable. Kerala's country side is perfect for producing spices such as pepper, ginger, cardamom, cinnamon, clove and nutmeg.
13. Explore Marayoor Sandalwood Forests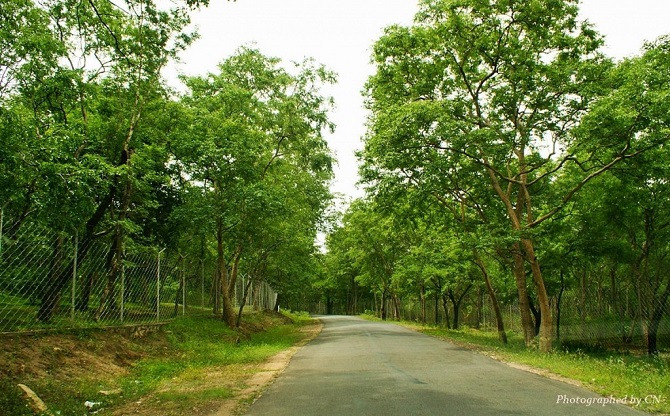 Source- http://bit.ly/10TBiWH
Marayoor, located 40kms away from Munnar is a rain shadow lying in the Eastern side of Western ghats and is the only place in Kerala with a natural Growth of 65,000 sandalwood trees. The unique dolmens, caves & temples, and Neolithic period's stone coffins leads to the historical importance of this place and is found to be a part of Stone Age Civilization. Attala, Ezhuthu Guha, Kovilkadavu and Manala (all nearby villages) are famous for Rock Paintings.
Location: Central Kerala, 150kms from Cochin International Airport
Best time to visit: Throughout the year
14. Look for Thrissur Pooram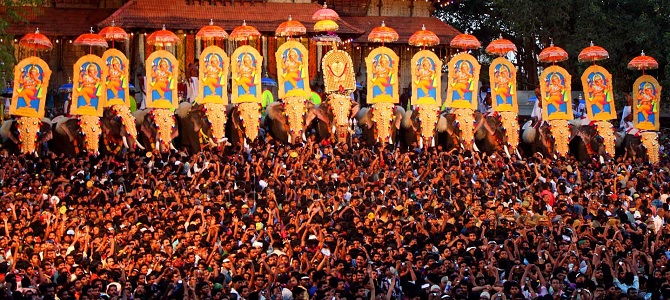 Source- http://bit.ly/1uWslZI
If you love large possessions of bejeweled elephants, drummers, musicians, colorful floats carrying gods and goddesses and fireworks all around, you can't miss the opportunity of Thrissur Pooram which is held at Vadakkunnatham Temple in the Thrissur town, every year on 'Pooram'. Pooram day is the day when moon rises with the Poonam Star.
Location: Thekkinkadu Ground, North Kerala
Best time to visit: April or May
15. Grab the Trekking Opportunities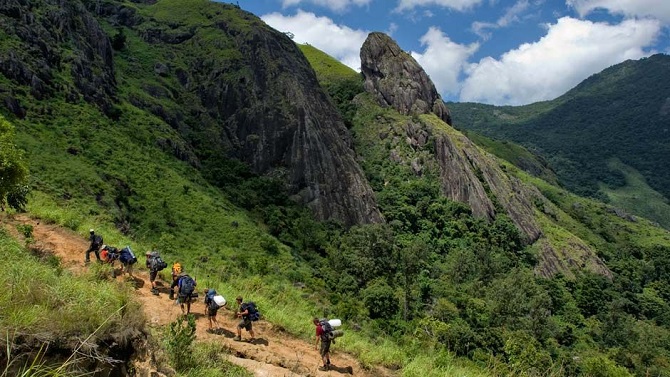 Source- http://bit.ly/1EwjrDT
Trekking in Kerala is one of the famous adventurous sports awaiting the trekking enthusiasts. There are limitless opportunities for trekkers at special points of interest over different destinations of Kerala. The trekkers can also explore the rugged beauty of the lofty mountains romancing the shimmering waterfalls.
5 famous treks of Kerala:
1.Munnar- 1600m above sea level in the Western Ghats range
2. Agastyar Koodam Peak- located in Thiruvanthampuram
3.Chembra peak- located in wayand
4.Pythal mala- hill station located in kinnuar
5. Chimmini-located in Thrissur district of kerala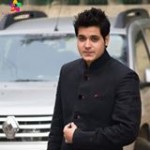 Comments
Comments