Do you eat to live or live to eat? The set of people who fall in the first one, I'm certain that they would change their minds. These coastal delicacies will force your taste buds to try every single one of them. Let's check out what the coastal cities of India have got to give us apart from beaches and bikinis.
1. Pondicherry:
The cuisine is greatly influenced by French, Tamilian and Portuguese culture, evident from their large consumption of red chilli and coconut milk. Needless to say, a large part of South India uses coconut oil as the main base for cooking. The breakfast includes masala dosa, sambhar idli and vada and is incomplete without a cup of coffee. The famous dishes are mostly non-vegetarian and sea food with prawns being the major contributor. Creole Crevette,  a prawn dish, cooked with coconut milk is too tempting to ignore. Cooked with less oil, the cuisine of Pondicherry is rich in proteins. The delicacies of pondicherry are one of the major tourist attractions. Lobster thermidor, grilled crevette, poisson provencale are some of the other exquisite dishes.
POISSON PROVENCALE: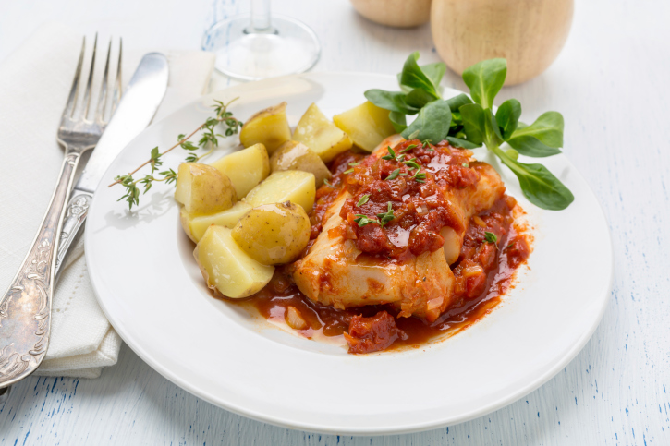 Source- http://bit.ly/1tGK0Sa
CREOLE CREVETTE:
Source- http://bit.ly/1zzAUeG
2. Thiruvananthapuram:
Most used ingredients are coconut and spices, as it is the heart of Kerela, the land of spices. Large varieties of rice are also used. The traditional serving of any South Indian meal is done over a plantain leaf and Trivandrum is no exception. Malabar biryani is an exquisite non-vegetarian dish (mostly made of chicken and sometimes from mutton, egg and vegetables). The spices include cinnamon, cardamom, ginger, garlic, cloves, cumin seeds, coriander, turmeric, red chilli and turmeric. Kallummakaya, Arikkadukka,Nirachathu are some of the other exotic dishes worth dying for.
MALABAR PRAWN BIRYANI: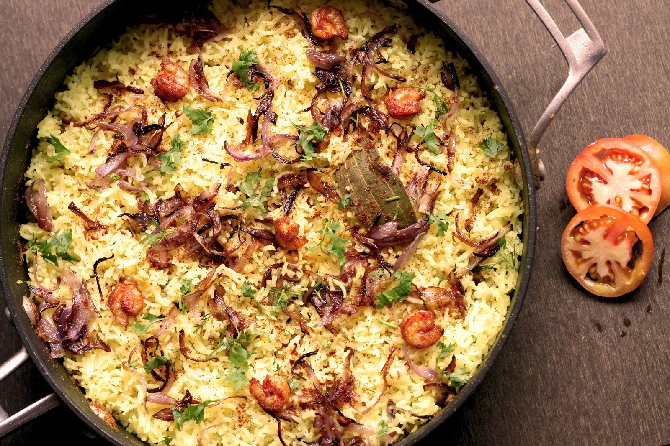 Source- http://bit.ly/1pucv77
KALLUMAKKAYA: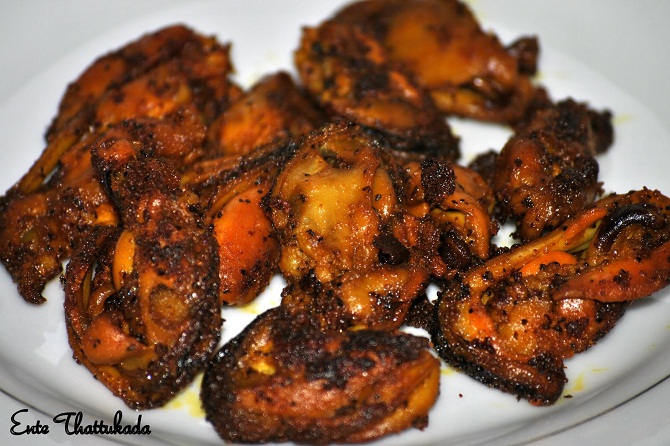 Source- http://bit.ly/1xnbEEf
3. Udupi:
Udupi forms a major part of Karnataka cuisine. Major ingredients being grains, beans, pulses and fruits, the Udupi cuisine also uses local ingredients. It strictly follows the Satvik tradition of not using garlic, onion and non-vegetarian. Udupi proves to the pure meat lovers that there are vegetarian dishes that cannot be compared with any non-vegan dishes. Sambar, saaru, pickles and a banana are the inevitable components of a traditional udupi meal. Masala dosa, idli, bajji, sweet dishes are the everyday dishes served along with chutneys (mainly coconut chutney). Rice is one of the major ingredients and payasam (kheer), a sweet dish made from rice is a great delicacy.
PAYASAM: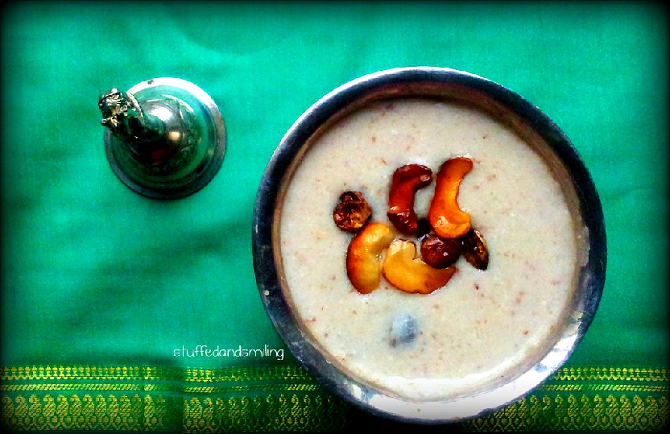 Source- http://bit.ly/1xnekS8
IDLI WITH SAMBHAR AND COCONUT CHUTNEY: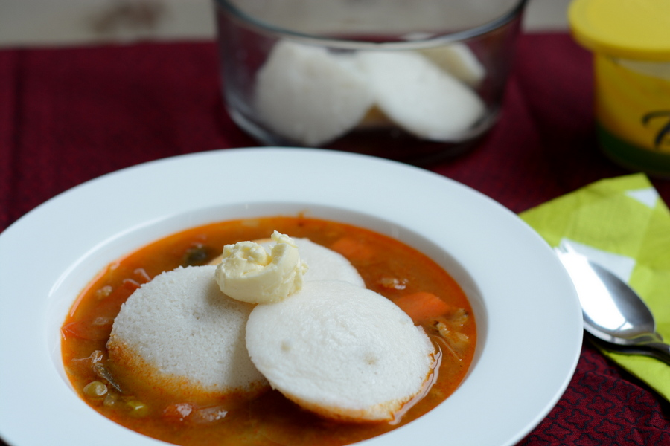 Source- http://bit.ly/1EnNYnb
4. Goa:
The cuisine is greatly influenced by the Portuguese colonialism and presently, modern techniques are also being used. The food is an important aspect of tourism as the place is visited by a large number of people, a major part being foreigners. Rice and fish is the staple food. Chicken, pork, seafood, coconut, rice and spices are the prime ingredients. Tuna, pomfret, shark, crabs, mussels, prawns and lobster are the major products from the sea that are used in cooking. Goan prawn curry is a famous dish all over the state. Chilli is one of the main products brought by Portuguese apart from tomatoes and potatoes.
GOAN PRAWN CURRY: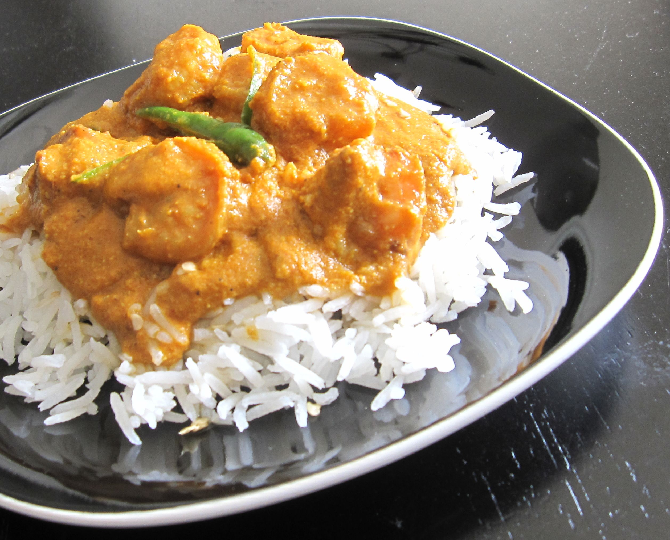 Source- http://bit.ly/1oqNw3T
A GOAN CRAB DISH: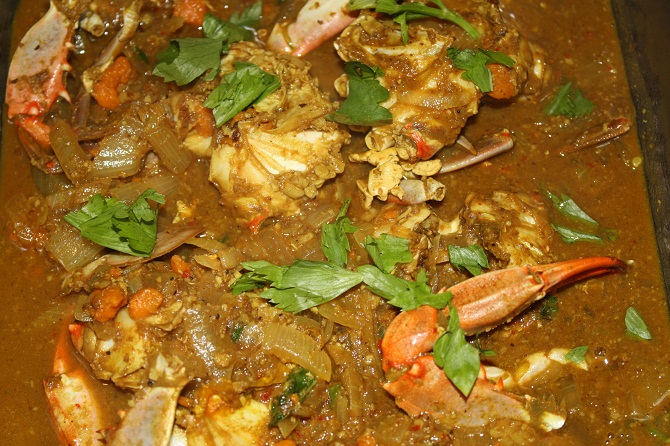 Source- http://bit.ly/13QlRjO
5. Chennai:
Though the city's name changed, its cuisine never did and hopefully never will. Idiyappam and Pongal are the most favoured dishes and are unique to this city and let's not forget idli and dosa, which are a part and parcel of this and every South Indian city. Though the cuisine of Madras is deeply rooted in its tradition, it has also allowed foreign inclusions. Chettinad cuisine is a major part which mainly uses chicken. But the most traditional and important way of serving is Virundhu Sappadu, in which more than 20 dishes are served and the meal is full of proteins and carbohydrates.
IDIYAPPAM: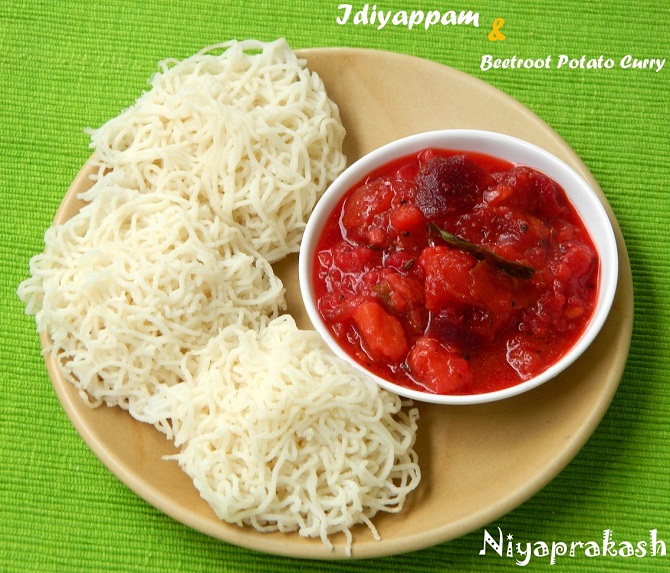 Source- http://bit.ly/1119sZ4
VIRUNDHU SAPPADU: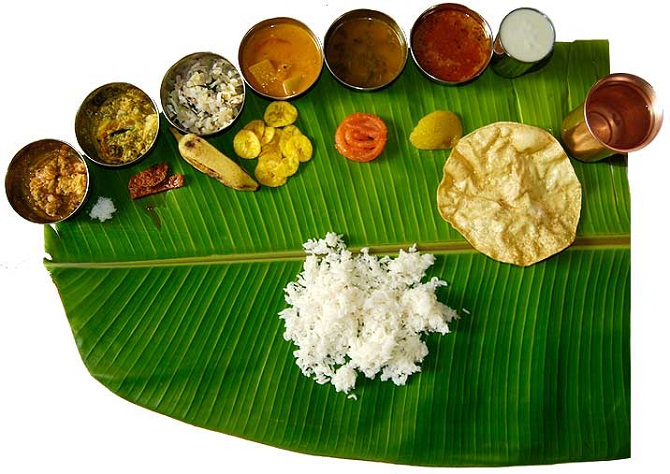 Source- http://bit.ly/10wB5bn
6. Puri (Odisha)
With only 6% of population being vegetarian, the cuisine mainly consists of non-vegetarian dishes and seafood. Mustard oil is the main base and mild spices are used. In festivals and celebrations, the feast is made without the use of any garlic or onion. The kitchen of Jagannath temple in Puri is the largest kitchen in the world with a thousand cooks feeding over ten thousand people a day. The famous delicacy, Rossogolla was actually invented in Odisha but due to renaissance, it was claimed to be a Bengali invention. Rice is widely used and the curries do not have floating oil. Abadha is an offering made to God in the Jagannath temple and the recipe is not available to anyone outside the temple. Khechdi is also a common food. Chenapoda is a baked cheese cake which will lift your taste buds.
CHENAPODA: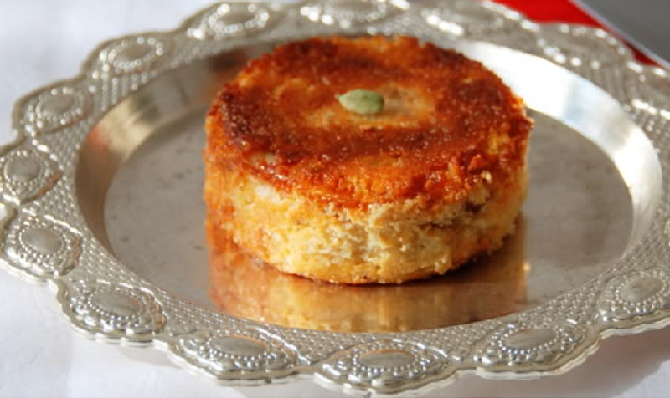 Source- http://bit.ly/1EnWbYE
ROSSOGOLLA: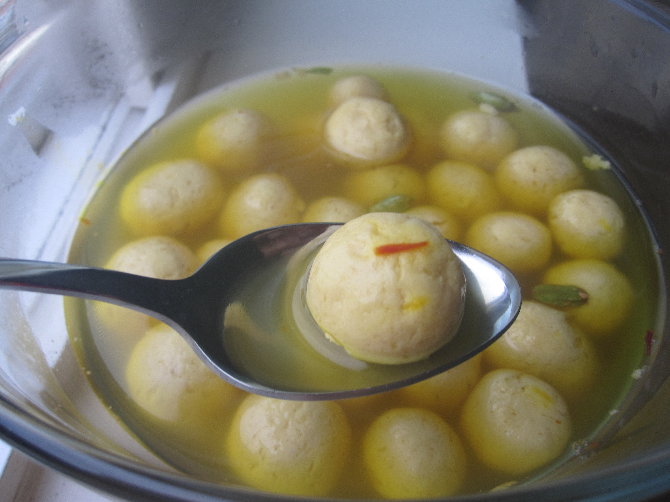 Source- http://bit.ly/13QfyN8
7. Cochin or Kochi:
Kochites generally prefer cooking with coconut, spices and banana. Any visitor to this place takes back with him a pack of banana chips for sure. Due to intervention of foreign culture, the city's cuisine has a unique character. Chinese and fast food have become popular over the last few years. It also has a large number of options for vegans like Kurukku Kalan, a thick yoghurt curry made with banana and rice. Kaalan, Thoran are other vegan dishes. Pickles are made in bulk locally and these are one of the other important things that any visitor would have. Sadhya is a grand feast served during major festivals like Onam. Rice is the primary offering and the feast contains many dishes along with Papadams, which are oil fried round, thin and crisp flour paste cakes.
SADHYA: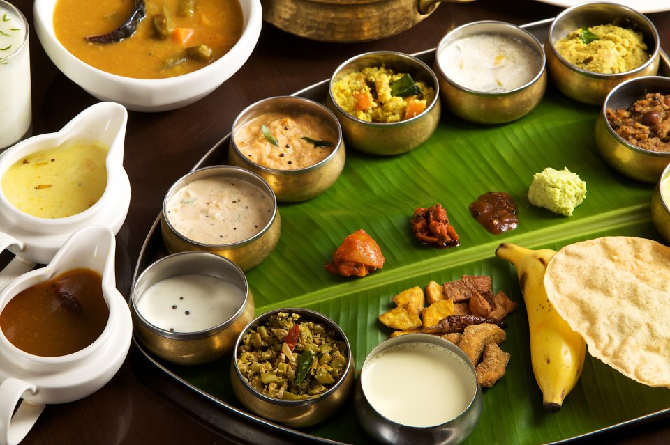 Source- http://bit.ly/1k12vxn
KURUKKU KALAN: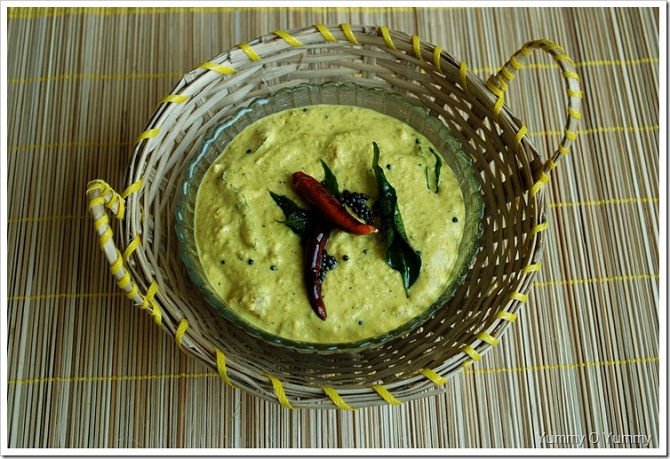 Source- http://bit.ly/1sdlSmd
8. Mumbai:
Street food, that's what Mumbai stands for. Sold by hawkers, the street food of Mumbai invites people of all economic classes. The other best thing about it is that its available all night long, so no wandering round, no messing up kitchen in the night. Many working people like to have a snack in the evening. Vada Pav, obviously, not so obvious for all, is the most popular street food. The other street foods you can have on the go are Bhel Puri, Pani Puri, Sev Puri, Dahi Puri, Rolls, Pav Bhaji, Sandwiches and other Chat items. Kulfi and Gola will be seen on any street. Tea vendors, Pan stalls and sugarcane juice stalls are prevalent too. Keeping aside the street food, the cosmopolitan city has many expensive restaurants also. The city is also famous for kebabs. In India, Mumbai means street food and vice versa.
A STREET FOOD STALL IN MUMBAI: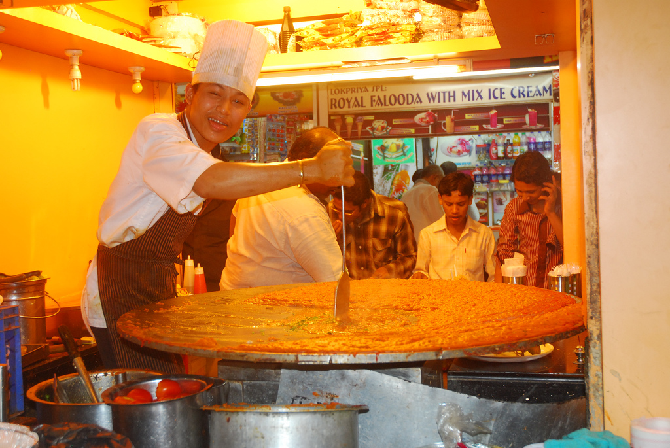 Source- http://bit.ly/1wBtvsZ
THE FAVOURITE VADA PAV: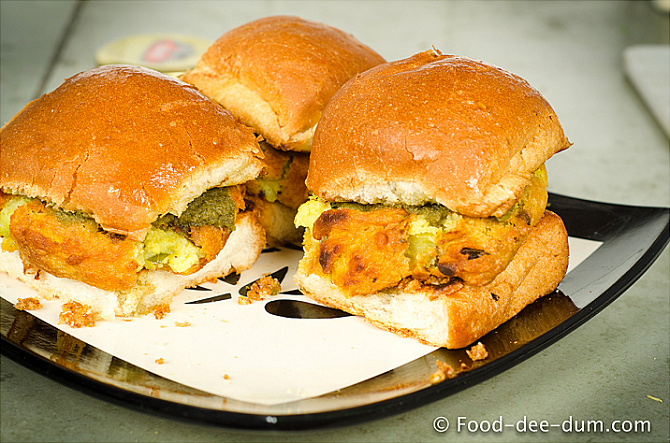 Source- http://bit.ly/10wI3gB
9. Kolkata:
Rice and fish curry is the staple food while Rossogolla is consumed in large quantities and there have been many innovative ideas applied  to the recipe of the same and hence many kinds of rossogolla have come up with different colours, flavours, shapes and sizes. Rasmalai is another version of the same which contains sweet milk instead of sweet water. Street food is extremely popular here which consists mainly of fish cutlets, rolls, chat items and pani puri, to which they refer as Puchka here. Most important, the Bengali meal is incomplete without sweet dishes. Sweets mainly include Rossogolla, Mishti Doi (sweet curd), jalebi (jilipi), langcha, sandesh, rajbhog etc. Yoghurt is largely consumed and it is very difficult to find plain yoghurt as everywhere you go, you would find only the sweet version. Drinking tea in earthen cups is also popular here.
PUCHKA: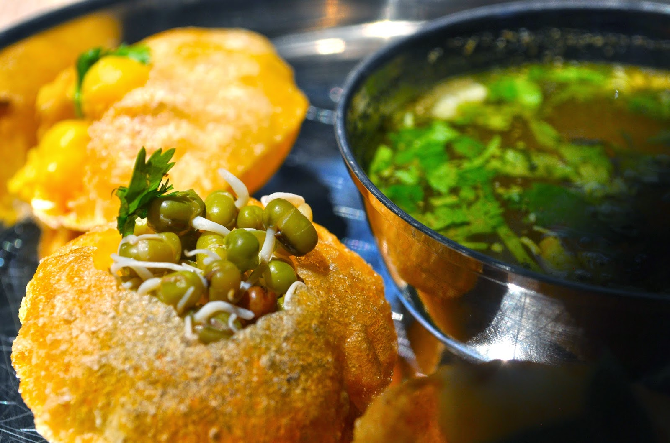 Source- http://bit.ly/1u5GO3K
RASMALAI: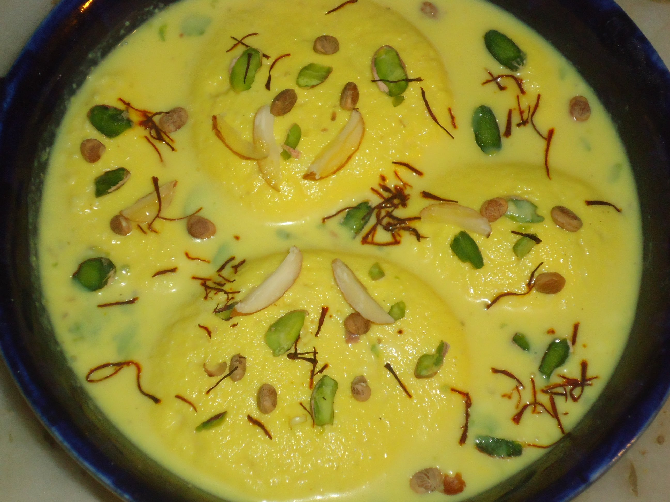 Source- http://bit.ly/1xnG5Kl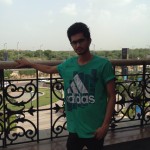 Comments
Comments