Just few hours back I was sleeping peacefully at my friend's place. But now suddenly I find myself chasing rickshaws and metro to catch an overnight bus to Manali!
While talking to my friend….
"There is a batch going for Hampta pass"
 "Wow! Please confirm my participation!"
"You gotta run buddy, the trek starts tomorrow morning from Manali!"
And that's how I find myself running with my backpack tangling between the dusty streets of Delhi.
Day 1 –
After a comfortable overnight journey, I wake up between the hues of mystic fog. I can barely see anything and the bus is at its full speed. I realize that we are driving on the narrow roads besides the deep valley. One mistake of the driver and fifty people sitting in the bus will become tomorrow's news headlines!
The mountains outside the window look quite different from Western Ghats, yet they look so familiar. The river flowing beneath it, just adds to its beauty. After reaching, I meet my trek leaders and fellow participants. We get ready for yet another drive, but this time in a car. Already being at a height, I can feel the cold as we climb through 42 hairpin bends. We drive besides the serene views of Manali to reach the base village of Hampta pass, I.e. Jalori.
We strap our backpack, and get ready to start our trek. I can feel the excitement getting built within me as the trek is above to start. We cover everything since it is raining. There is a tea stall that provides last minute supply before starting the trek.
We put our first leg on the slush of horse shit mixed with rain, mud to enter the forest.  Nevertheless, we cross it and walk through the dense jungle of spruce (pine trees) which then opens up to the beautiful green meadows. There is a patch of a meadow with dark green pine trees at the top, half covered with the fog. I instantly feel the urge to capture the view in my camera. It is raining heavily, but I think there is no harm for a quick click Walking ahead, I look behind and I see a valley with long pine trees draped in the hue of fog. I detach my bag, remove the cover, open the bag, remove my camera, click the picture and then pack again.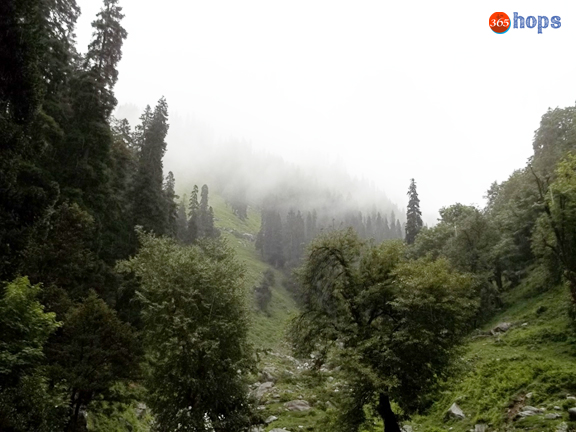 It is a tedious task to do this in rains. Phew! Anyways, as we are descending few boulders to come to a fixed trail, the site is making a good composure amidst the green cover. Once again, I detach my bag, remove the cover, open the bag, remove my camera, click the picture and then pack again. I realize that there are photogenic landscapes all around me!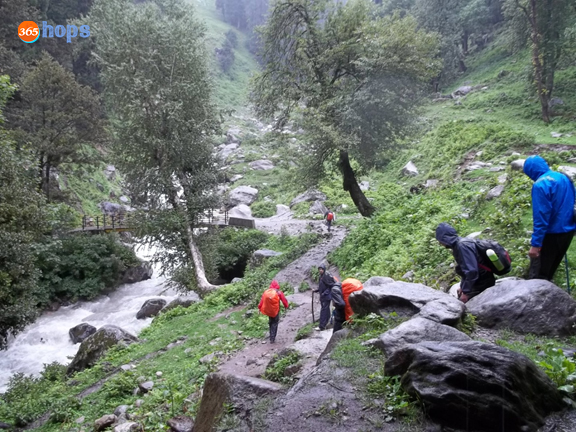 We trek on a gentle path for nearly an hour. Huge mountain walls drenched in rain stand on the right side. Sometimes we trek among the Spruce, while other time we traverse a mountain. We are trekking parallel along a stream called Rani nallha on the right side.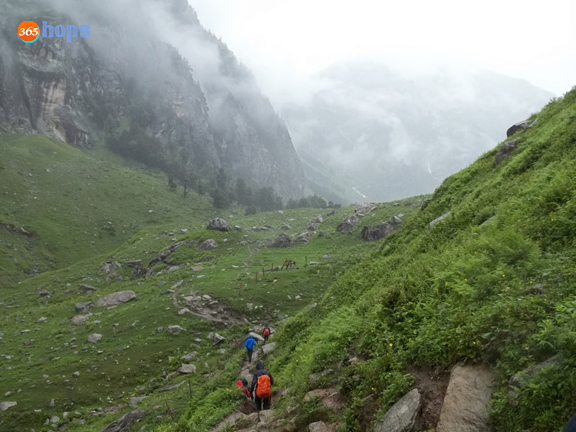 We reach a place called Oching Behai where we took a small halt. What happen when Mountain, valley and a river come together? Let Oching Behai show you that!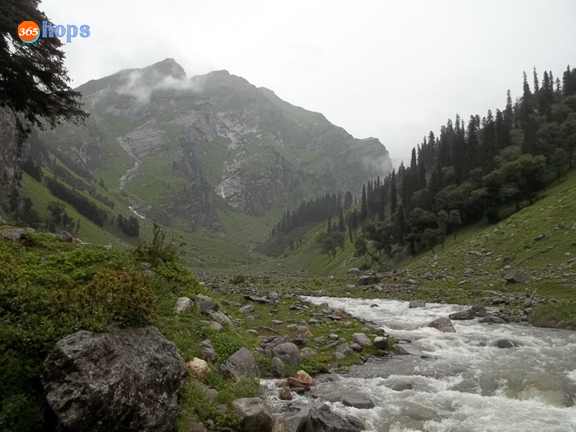 There is a small makeshift tent that provides basic supplies. We can see camp one, Chikla from this place. We cross the stream, Rani Nallah to get on the other side where our Camp was. After crossing the stream, the steep section begins. The heavy bag already weights down my shoulders, and it is difficult to climb with it. I am exhaust in every 5 mins. But the surrounding views keep motivating me. Trees like Spruce, maple, golden/orange Oak dot everywhere.
The cute little flowers in abundance make me remind of Valley of Flowers. Small rocks spread everywhere. Interestingly, they are in various shades of Brown, Grey, Light Red, Partially orange, etc. We reach Chikla where our tents are already erected. The camp is set amidst the picturesque settings.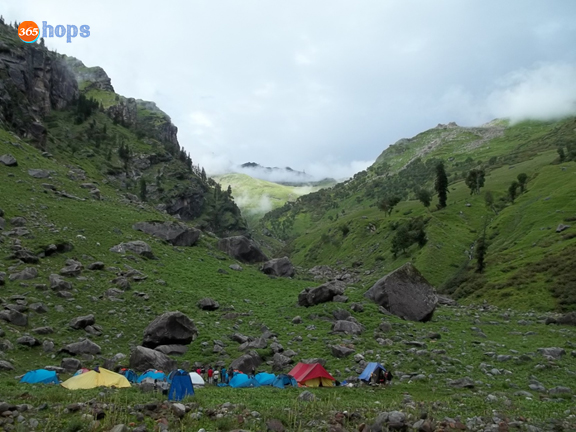 The valley forms a perfect V shape with a mountain in between. Water furiously flows besides our camp. Horse grazes freely on the meadows. Sky turns into a colorful canvas of nature.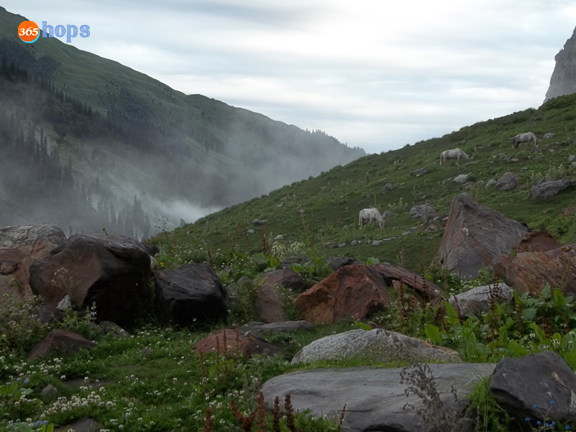 The mist realizes itself from the mouth of the mountain. And in no time it spreads around making everything invisible. I sit beside the stream amused by the place. The cold in the air and the hot cup of tea in my hand just completes the experience of the evening. I am surprised by the arrangements of the organizers. There are different tents for kitchen, hang out, toilet, and my own personal tent! The food is also made royally with Paneer and other variety. Considering that we are among the mountains with no facilities around, I cannot ask for more.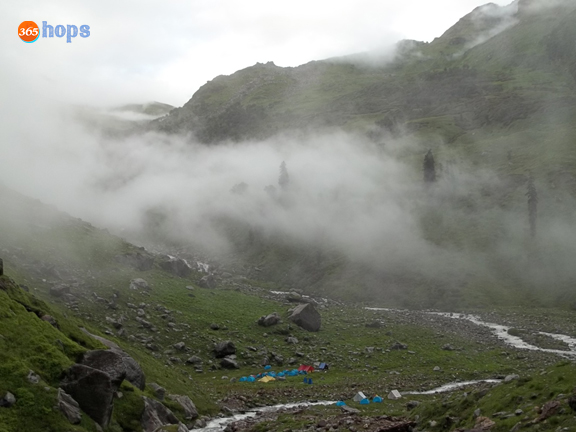 In the night it is pleasant to write the journal under the dim light of a torch. It hangs on the top of my tent from inside. After a long day of a tiring trek, I retire inside the cozy sleeping bag.
Day 2 –
As the Sun rises, I look out of my tent with a smile on my face. I take a quick survey of the surroundings as everything is clearly visible. At the far end, the summit of the mountain in the middle gets visible. I see few white patches on it. I take a close look. I see something that shocks me! I quickly storm into the tent of my trek leader (Bannu), he confirmed to my curiosity. It is a snow capped peak! Never in my life have I seen snow, and the sight of just a snow capped mountain excited me!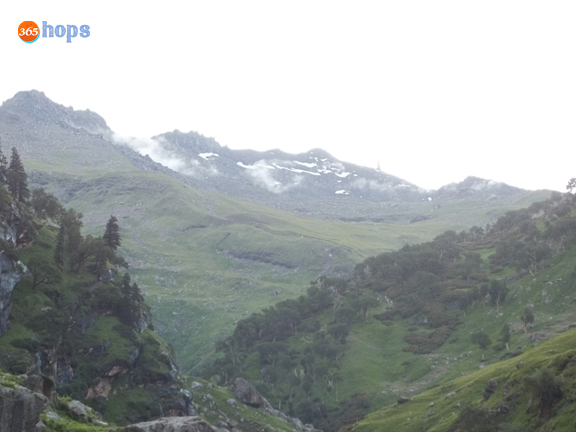 After having nutritious and delicious breakfast, we start our trek on the ridge of the left side of the valley. Our today's trek will also be parallel to Rani Nalla. The trail is very well marked, but gradually steep. After 10 – 15 mins the trail gets extremely narrow and slippery. Today, compared to the dense greenery on the previous day, there are barely any trees on the mountains. There comes a huge bolder on the way that is almost 70 degrees. It is not that difficult to cross with proper care.
After crossing 2 small streams which take around 1 hour, the trail gets into 2 paths. One goes straight up which is as steep as 90 degrees while the other trail traverses from right. We walk from the latter part which is the trail on the right side. From here, more 30 mins of the climb and we end up at a huge stream which happens to be one of the major sources of Rani Nalla. Our trek leader declares that we need to remove shoes, form a chain and then cross the river. We follow as per the instructions and tuck up our pants. I am at the end of the line.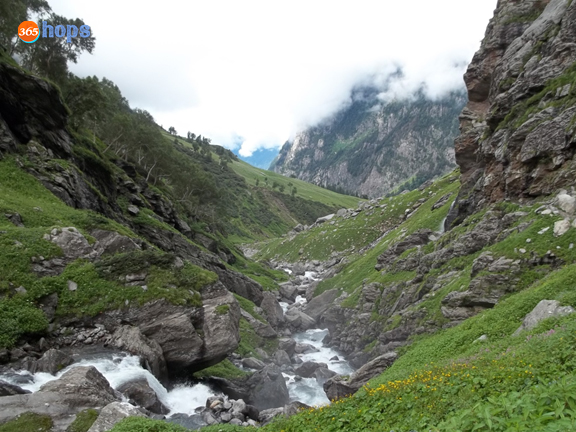 Unaware of what is awaiting me, I dip my leg inside the water. The cold of the snow water instantly penetrated through the skin of my legs and caught the nerves that gave me sharp pain. The body below my waist gets inside the water. It is giving me excruciating pain. I scream everyone to hurry up.  But the line is big and slow. The pain is like burning fire. I want to get back to quit the pain. But my leader (Bannu) shouts to stay where I am and bear the pain for some time. As we are nearing to the other side, the pain gets unbearable and I want to desperately get out. I break the line. Tumbling, I get on the other side and fall down. I can't feel my legs, it has got numb. It takes me nearly 5 – 10 mins to recover. I wonder how no one else complained, maybe I am not used to it or it was not expected.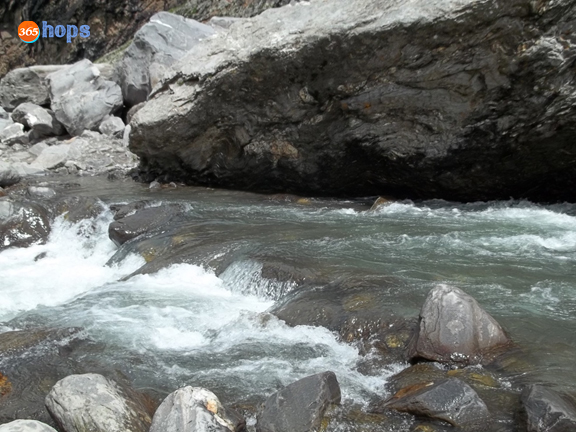 The valley then takes a slight turn to reach a vast meadow full of flowers called Jwara. The little blue poppy flowers and Hill geranium spread everywhere. It can easily give competition to Valley of Flowers. When the exhaustion of the trek overcast the body, the sight of a colorful bed of flowers gives that sweet pinch in the heart and smile on the face. Resting is an excuse to spend some time with them. Flowers are the food for love and color for life.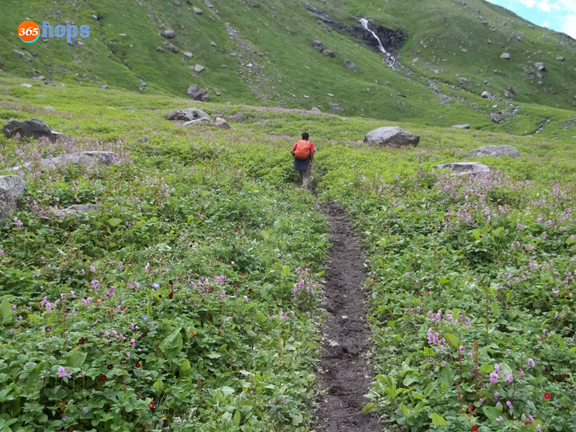 The land is so far and empty that I just feel like running on it. But today, I will just lay my bag down, rest my head on it and adore the surreal land of nature. The clear sky with bright green mountains, pastured land and animals grazing on it is a feast to the eyes. The people of the surrounding villages are very simple. Most of them are farmers and grazers. Many of them are employed by the adventure companies as porters. We spent nearly half an hour resting there before moving ahead.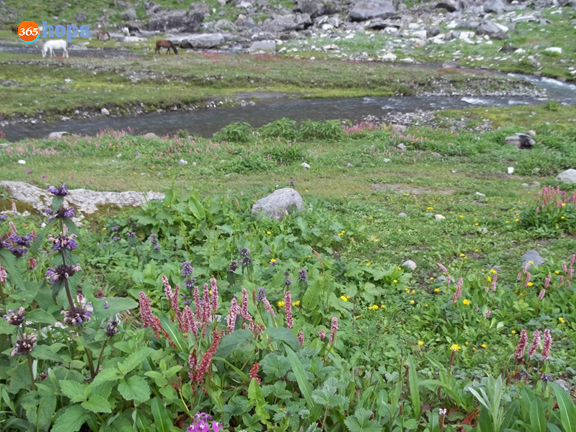 Still being parallel to Rani nallha, We reach our campsite Balu ka gera. We have been climbing a lot today and reached a fair amount of height by now. The cold in the air has increased, and it is hard to get out of the jacket, tent.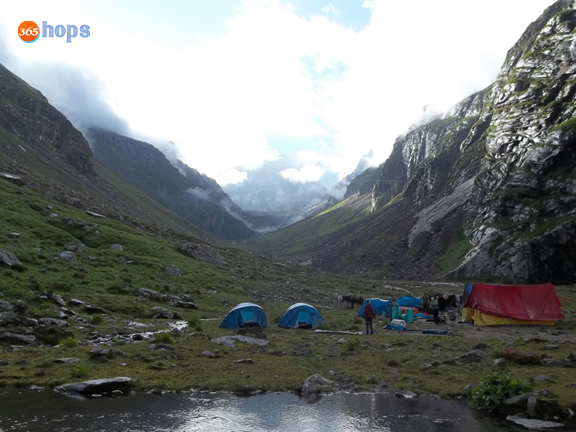 The toughest job is to wash our vessels used for eating in the freezing water of Rani nallha. But it is fun to decide on who will do the job for the particular day for everyone.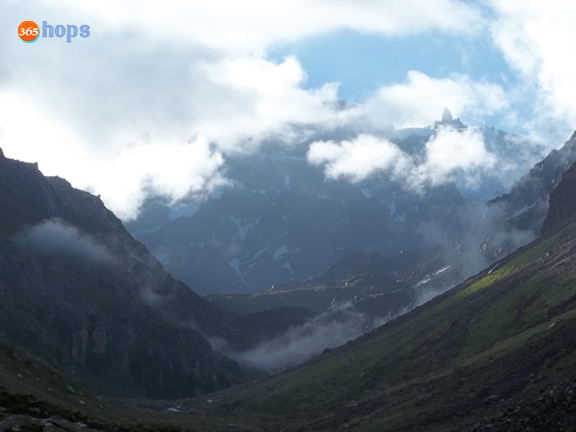 The mountain in the middle looks more huge and promising with its huge snow capped peak. Bannu tells me that the mountain name is Indrasan. People even climb this mountain.
Day 3 –
Today is a big day as we are going to summit Hampta pass at 4200 mts. I know I can do it, but I am anxious. Never in my life have I been at such a height. And Bannu has warned us that today will be the longest day of our climb with the steepest ascents. The feeling of fear, nervousness and excitement run down my body as I tie my shoes and get ready to start.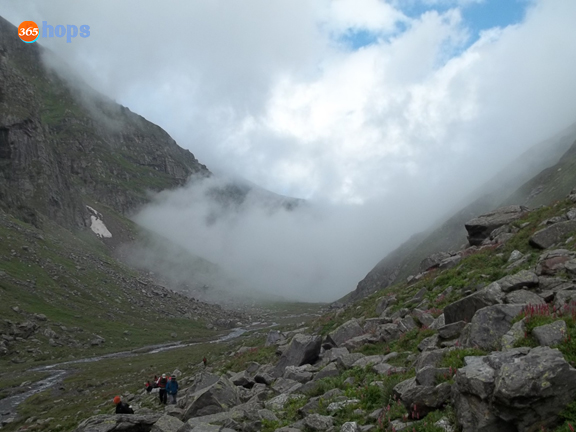 We start our trek on the same trail that we had trekked yesterday. We cross a stream and climb on the left side of the mountain. We no more walk between the valleys of the mountains. The terrain today changes from brown mud to gray shining sand. Most of our climbing is through rocks. A small patch of snow comes in our way. It is not fresh, but black in color and hard. Nevertheless, I am still happy to touch it and take it in my hand. The camps are set perfectly. First day easy, second day moderate and third day hard! I can see the Rani nallha flowing down. The trail is no more parallel to it.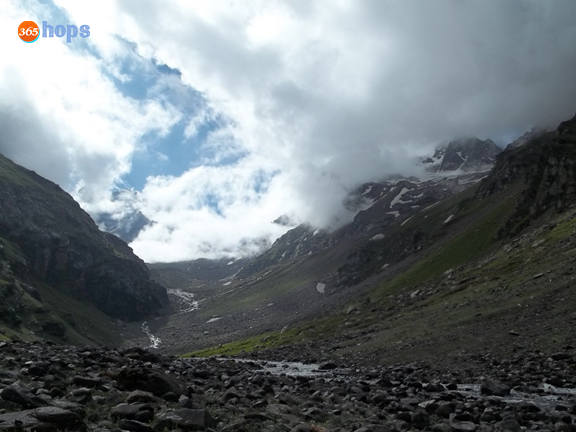 The climb is extremely steep. I take a halt every 10 mins out of exhaustion. Bannu recommends me to trek slowly at one pace without any halt. We walk straight up and then traverse left to go behind the mountain. We then cross a stream and start climbing on the other mountain. It takes a good 3 hour to do this stretch.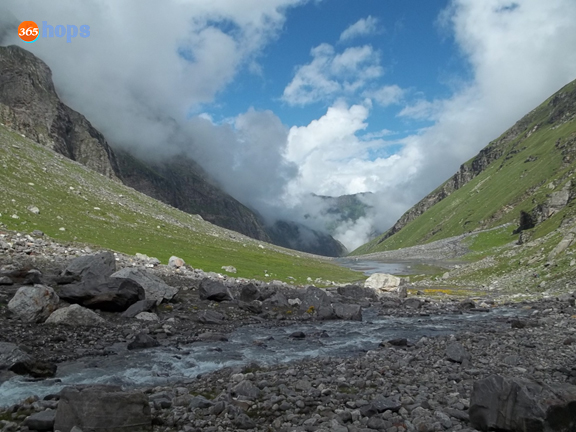 As I climb the narrow trail ahead, I see a huge set of snow below on the left side. There is no land to walk, just snow. Bannu takes us down to walk on snow. Thrilled! I follow him.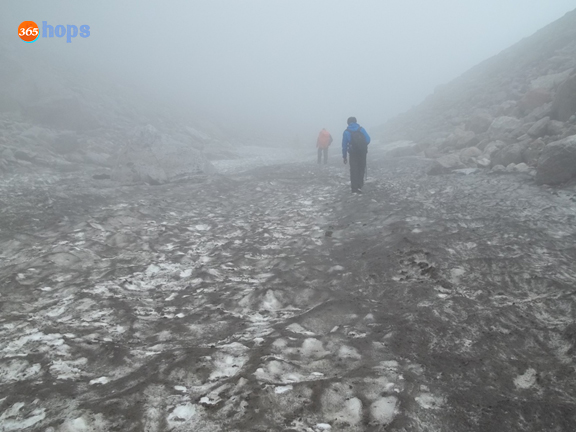 The air is mixed with mist and fills the sky to blur our vision. The oxygen is less and the continues wind is freezing cold. But the whole ambiance is exciting and matches perfectly to walk on the snow. It feels like walking on a land of mystery, unaware, what is going to come next. I can hear Rani nalla roaring below my feet. It flows out of the ice.
From here, the real struggle of the trek starts. The thickness in the air increases and it is suddenly harsh cold. This is due to high Altitude. My nose starts flowing and I could feel the air hitting my ears. I cover my face with a handkerchief. I regret not bringing gloves and Monkey cap. The main problem is about breathing and it is fast making me exhaust. Every step I take, test my endurance. I sit down to rest again and again. I am well aware of the hardships. So I prepare my mind, get up, climb 2 steps, and then sit again to rest. There are no thoughts flowing through my mind as my brain stop working. All I could think of is reach the peak and end this struggle. My whole focus is on climbing.  After nearly an hour, we reach the peak. The peak is just a small cave, small enough to accommodate just 20 – 30 people at a time. Everyone cheers for the success of summit except me. I am more relieved and satisfied. My head starts paining. I start descending on my own.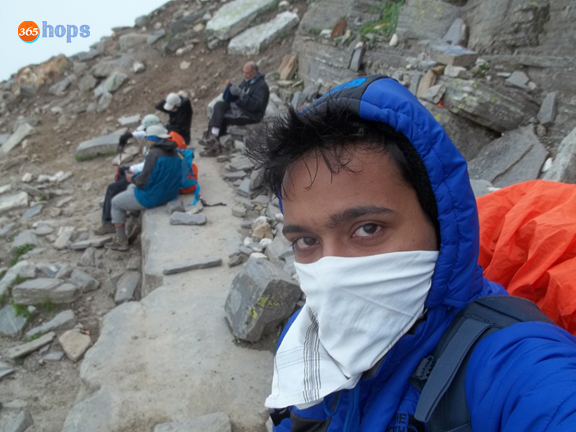 I guess AMS has hit me. I have heard it from various trek leaders that one should keep drinking water at high altitudes. The oxygen at high altitudes is less. The oxygen in the water helps to maintain the body. But the weather is as such that it doesn't feel like drinking water. Maybe that's where I went wrong. As we get down, a snow patch comes at the base which needs to be crossed.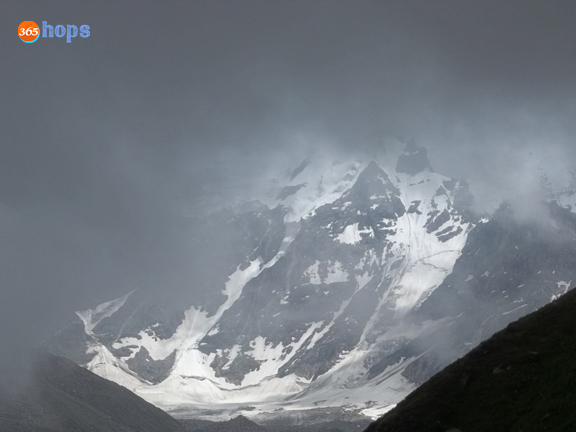 Everyone is crossing on it with extra care as it is super slippery. When my turn comes, all eyes on me, I take my step forward. Instead of walking, I slide on the same route to get down. Sliding increased my speed 10 times, but how to stop? Oops! I find snow all over my body.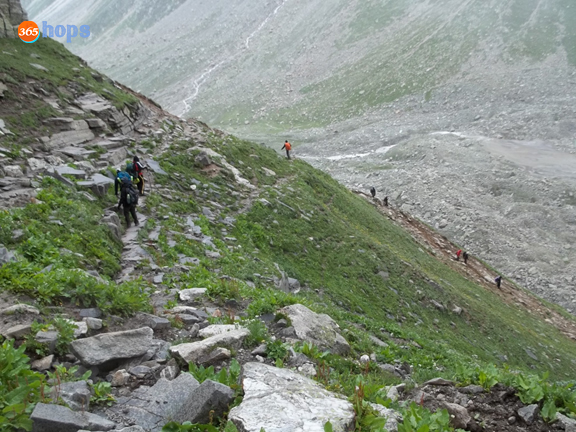 The camp site, Chatru, is more 2 kms ahead. This is the most dreadful walk in my entire trek. It feels like never ending! My headache increases sharply by now. The rain starts, my shoulder pain due to my heavy bag. I am half wet, clothes have got all dirty and my face tired of the whole day trek. I am hungry and my legs are paining badly. To add to my stress, every time I break, the sharp pain in my head feels like the brain is tilting inside.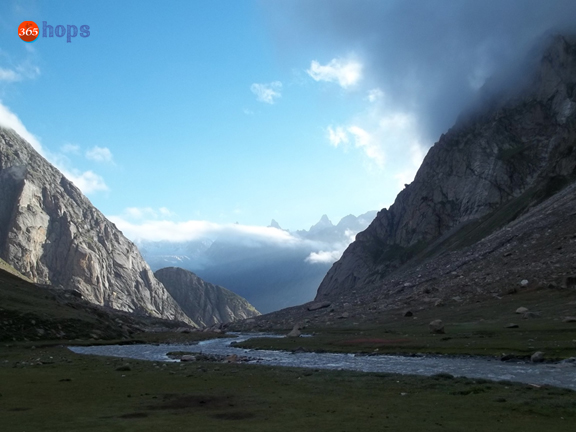 After reaching, I sit inside the hangout tent holding my head low. Eventually I even get a fever and my situation is worse. The feeling is unbearable. I enter my tent and lay down without even changing my clothes or taking any sleeping bag. The cold is spine chilling and I can't stop shivering. Drowned in my pain, I think about my family, friends and close ones. I miss them. I missed being at home and feel homesick. Slowly I go into sleep.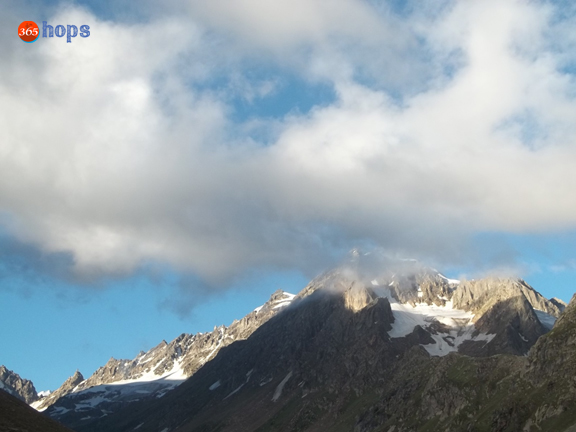 I wake up after 2 hours in the evening. I feel lighter and more comfortable. The headache luckily vanished and I also recovered my strength. As I get out of my tent in the evening, I see the mountain which we descended in a perfect silhouette of moon light. The water stream shines elegantly. The cold is also bearable. I sit inside my tent reading a mountaineering book by Jon Krakauer under the dim light of my torch.
Day 4 –
Today we have to just descent from the mountain and then go for a ride to the queen of lakes, Chandra tal. As we descend, I write a poem to the nature.
Har Kadam tu tode mera, Har war se tu roke muje.
Tu na aane de apne pass itni aasani se.
Teri hawae dagmagade muje, na lenede muje saas.
Thand se kaap uthu me, mere raumte khade karde tu.
Tuj tak pauchna na assan.
Pahad jaisa shaant tu, saralta teri paani me.
Jab tu gurraye, Tera behta paani todde patthar Ahankar ka.
Leking khus na ho apne iss takat pe,
Me bhi kuch kamm nahi.
Har koshish ho meri iss umid se, ke tuje paalu me pure dil se.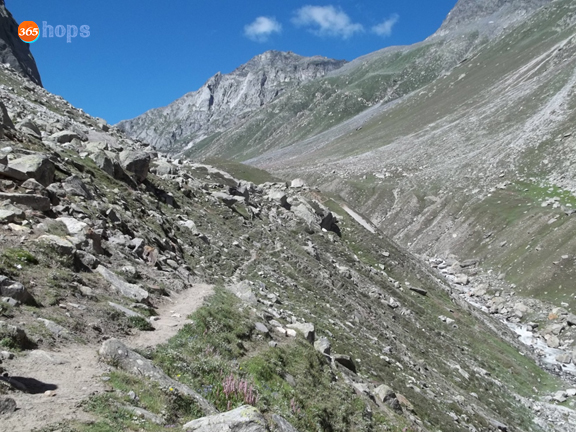 We reach Chatru. I just throw myself in the car without caring about anything. I feel like a small child peeping out of the window who is curious about the new world that unfolds. Rugged mountains and barren landscapes dot everywhere. The fast running landscapes do not fail to charm me. But the roads are pathetic. I can literally feel the pebbles below as the jeep rides like a vibrator on it. As we reach the base of chandratal lake, I realize that we have to again trek. But this is just a small walk of 2 kms.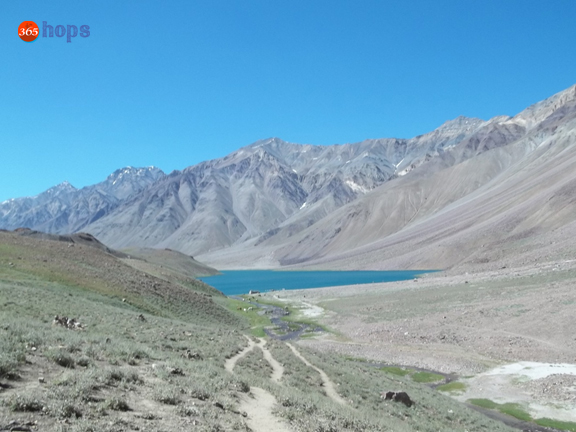 We get the first glimpse of Chandratal with its blue water and bright brown mountains. The water near the shore is as clean as glass. I can see through pebbles beneath. Just a few inches ahead the hue of water interestingly changes to deep blue. Someone tells me that it is shallow only near the banks. It suddenly gets deep where the water changes to blue.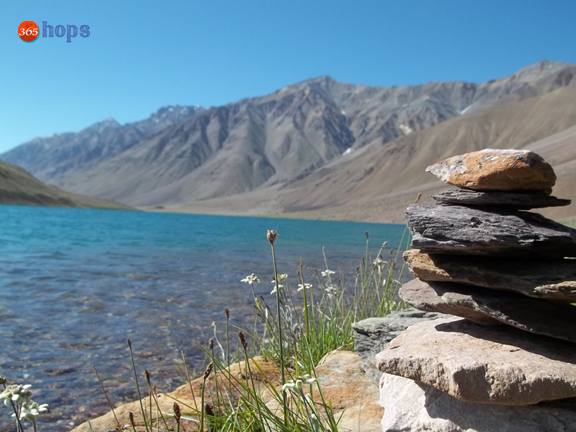 The Mountain surrounding has an unusual pattern with faint stripes of red, maroon, orange and other colors. It glitters like a treasure, washed under the sunlight. Away from the crowd, I sit down and dip my legs instead the cold water. Instead of trying to find words to describe its beauty, I again take out my book and start drawing.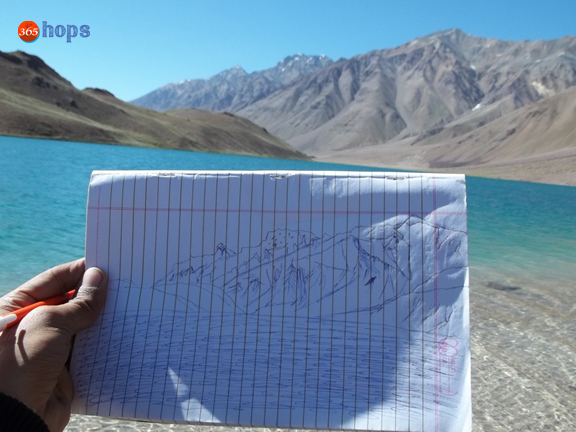 Walking along the shores is an experience in itself. We spend a good 2 hours walking the stretch and then going back. At night, in a 4 man tent we are 8 people sitting inside, high on boisterous conversations.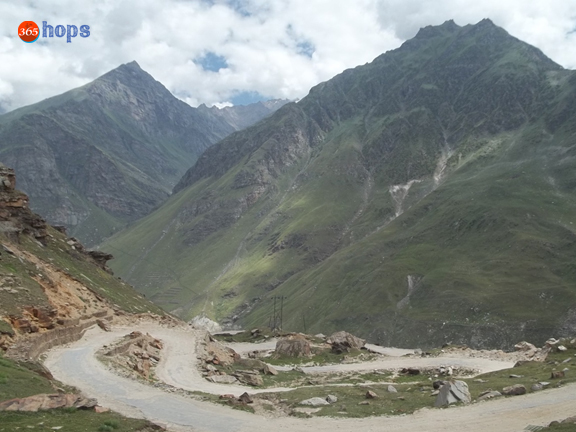 Day 5 –
The next day while returning, we get stuck at the infamous Rohtang pass. Thought the place is beautiful, it is extremely hyped. Singing along to the beats of Punjabi music, we end our trip at Manali.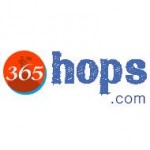 Comments
Comments