Travelling doesn't require a reason, or any explanations. It's the best possible way you can widen your horizons and live life ahead of that one page. But even so, this time we give you another reason to travel. Art!
Let's just face it, we all have a child artist in all of us, and whether we paint or draw or carve or sculpt or not, we at the least like to look, to see. What's better than to be able to look at amazingly beautiful creations from the past and the present whilst exploring another city, a new place? Not much.
Here's a list of places that are the hubs of art forms in India, make a checklist and go on!
1. TANJAVUR, CHENNAI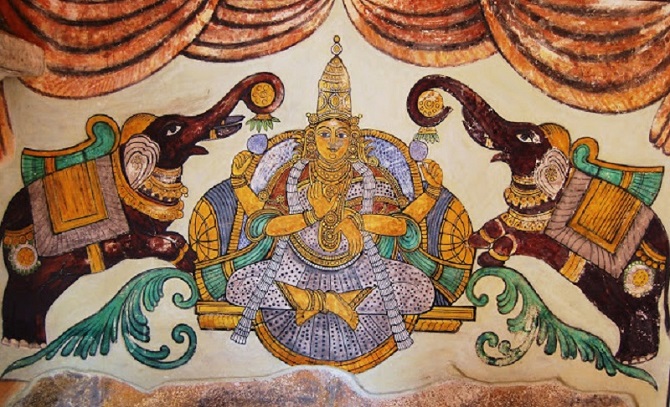 Source- http://bit.ly/14FejkB
'Religious paintings with a royal heritage' is the best possible one-line definition for Thanjavur paintings, now better known as Tanjore paintings. The Tanjore style of painting ranks among the greatest traditional art forms of India and is noted worldwide. With fundamentally mythological themes, these religious paintings demonstrate spirituality as the essence of creative work. Very few art forms match the beauty and grace portrayed by Tanjore paintings. Originating in Tanjavur, located about 300 kms from Chennai, these paintings, once adorned the royal dwellings, have now found their way into every household. Besides being famous world-wide for its paintings, Thanjavur is also very well-known throughout the world for being the home of the Brahadeeswara Temple, the magnificent palace, Rajah Serfoji's Saraswathi Mahal Library, Art Gallery and also for its other exquisite handicrafts like the Art Plate, pith work, bronze icons and the classical South Indian musical instruments.
2. MITHILA, BIHAR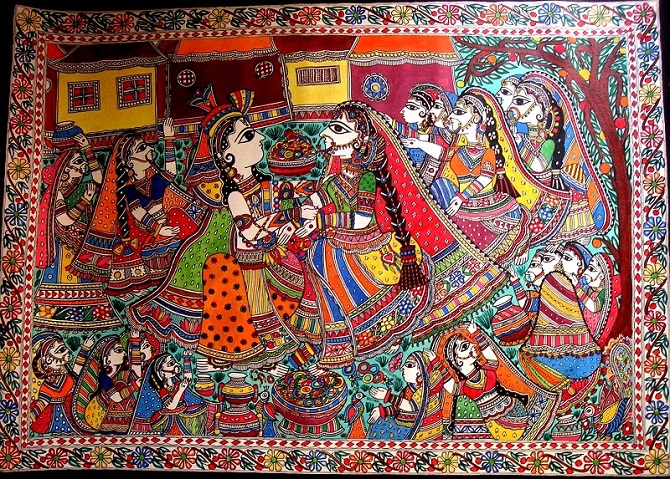 Source- http://bit.ly/1FCt6Nh
Madhubani Painting, also referred to as Mithila Art, flourishes in the Mithila region of Bihar. These paintings are characterized by bold line drawings filled in with bright colors in contrast or matching patterns. This style of painting was traditionally done by the women of the region, though today men are also involved to meet the worldwide demands. These paintings are very, very popular because of their tribal motifs and the use of bright earthy colors. These paintings are done with mineral pigments prepared by the artists themselves. The work was traditionally done on freshly plastered or a mud wall, but due to commercialization of the art and the increasing demands, the paintings are now produced on paper. The birthplace of Maa Sita is also believed to be Mithila, and hence, this place also has sound religious and spiritual significance for travelers.
3. WARLI, MAHARASHTRA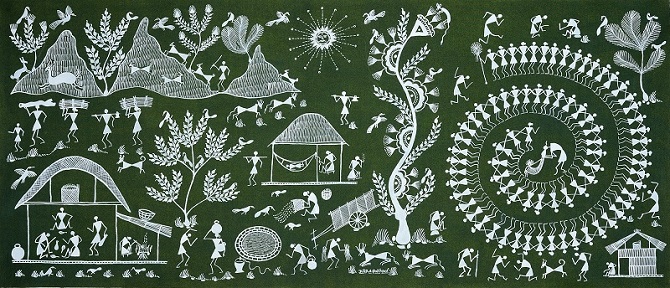 Source- http://bit.ly/1BYe9iF
Warli is the name of the largest tribe found on the northern outskirts of Mumbai, in Western India. Despite being in such close proximity of the largest metropolis in India, Warli tribesmen shun all influences of modern urbanization and continue to live traditionally. Warli Folk Paintings present a vivid expression of the daily life and the social events of the Warli tribe of Maharashtra, and are hence used by them to embellish the walls of village houses till date. These tribal paintings of Maharashtra are traditionally done in the homes of the Warlis. Painted white on mud walls, they are very similar to pre-historic cave paintings in execution. In modern times, these paintings have become popular world-wide and are sold on paper and in prints. This small town is a must visit to fully experience the raw magic of Warli murals covering the entire walls of the natives' homes.
4. ODISSA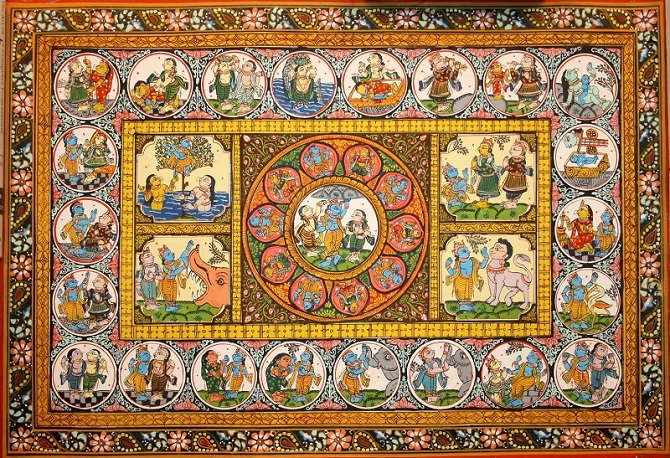 Source- http://bit.ly/1BL3SYY
Pattachitra style of painting is one of the oldest and most popular art forms of Odissa, otherwise known as Odisha. Pattachitra is mainly a painting done on canvas, and is manifested by rich colourful application, creative motifs and designs, portraying simple themes which are mostly mythological in depiction. As evident, these creations are high in details, and so the process of preparing them engages undeterred concentration and careful craftsmanship, stretching the preparation time of the patta alone to around five days. With the passage of time and increased commercialization, the art of Pattachitra has gone through a commendable transition, and the chitrakars have painted on tussar silk and palm leaves along with the traditional cloth, and even created wall hangings and showpieces to be sold. These paintings can be found all over Odissa, and are also concentrated at the religious centers of Puri, Konark and Bhubaneshwar
5. KISHANGARH, RAJASTHAN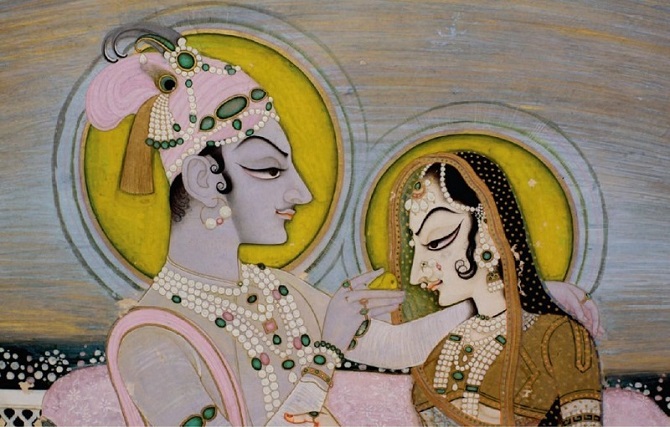 Source- http://bit.ly/1AzQzc9
In medieval times, several schools of painting had evolved in and around Rajasthan, such as Mewar (Udaipur), Bundi, Kota, Marwar (Jodhpur), Bikaner, Jaipur, and Kishangarh. Among these schools of art, Kishangarh, the place of origin of the Bani Thani painting, is the most popular one.  With highly exaggerated features like long necks, large, almond shaped eyes, and long fingers, this style of painting essentially depicts Radha and Krishna as divine lovers, and beautifully portrays their mystical love. Today, many artists continue to make miniature paintings on silk, ivory, cotton, and paper. The schools of these miniature paintings have also been commercialized, and the artists mostly replicate the work produced by the old painters. Still, the rustic feel of old fort walls adorned with these paintings is essential for any art lover.
6. KALAMEZHUTHU, KERALA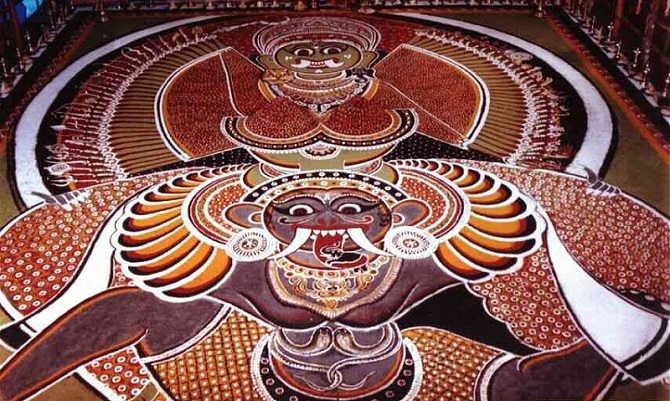 Source- http://bit.ly/1DIofoS
Kalamezhuthu is a harmonious blend of Aryan, Dravidian and Tribal art forms and is mainly found in and around Kerala. It is essentially a ritualistic art practiced in temples and sacred groves of Kerala where the representation of deities like Kali and Lord Ayyappa, are made on the floor. The patterns vary considerably depending on the occasion, but rarely by the choice of the artist. Its various derived forms are nowadays seen all over India in the form of Rangolis or Kolams. The presence of such a divine and grand art form makes up for another great factor to visit God's own country, Kerala
7. ALWAR, RAJASTHAN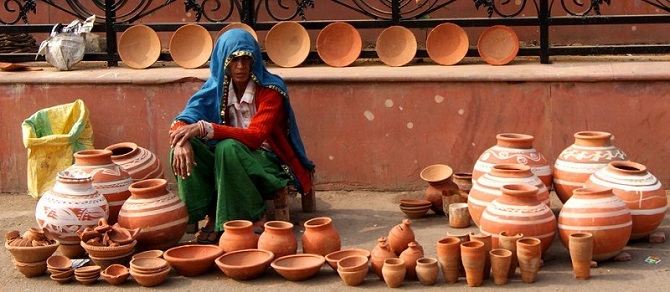 Source- http://bit.ly/14Fffp3
Kagzi is a distinctive style of fine paper-thin pottery practiced at Alwar, Rajasthan. The origin of this art can be traced back to the medieval period, similar to most of the arts still prevalent in India. There are three different variations of this style of pottery practiced in this region. The first one is simple, paper-thin pottery with earthy hues. The pottery belonging to the second variety, called 'Scrafito' is a more polished one, painted in white and red colors with engravings done to create earthy patterns. Engraving is done on the painted surface to create patterns of earthen color. The third style of pottery is a thin, polished variety with stylish leafy patterns engraved on the surfaces, which stand out due to the contrasting colors used on the pottery. These fine pottery specimens make Alwar a must-visit for travelers interested in fine arts.
8. JAIPUR, RAJASTHAN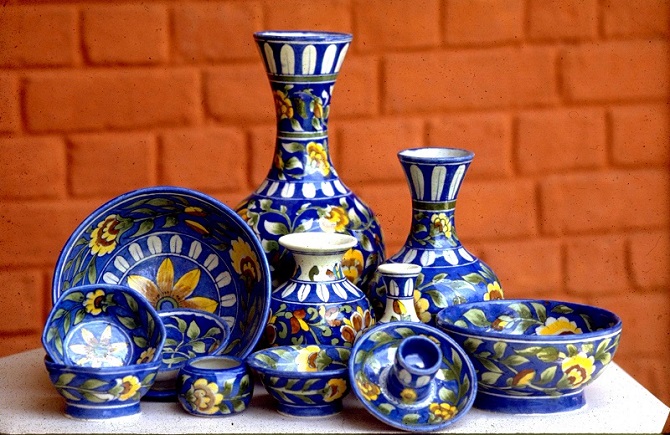 Source- http://bit.ly/1xZZ4iM
Blue Pottery, so called because of the use of eye-catching blue dye used in their making, is a traditional craft of Jaipur, Rajasthan. Being Turko-Persian in origin, this distinctive style of pottery is now practiced extensively in many regions of the capital of the desert state. Some of the products are made to be semi-transparent, with main patterns being animal and plant motifs. The range is primarily decorative, with products such as ashtrays, coasters, vases, trinkets, small bowls and boxes. In addition to being a major crafts centre of Rajasthan, Jaipur is also the cultural and economic capital of the state. Hence, there's no end to the reasons why one should visit this place very aptly known as The Pink City.
9. NIZAMABAD, TELANGA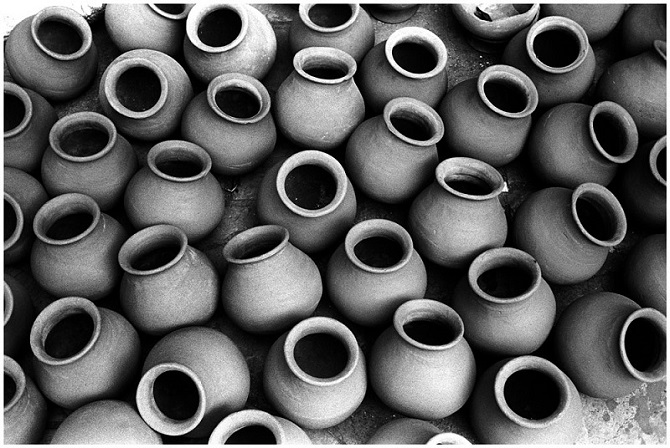 Source- http://bit.ly/14Ff3pX
The village of Nizamabad, located in the newly formed Telangna, is famous for its black pottery and practically all the households in this village earn their living only by making black pottery. These unique specimens of black pottery incised with silver motifs resemble somewhat to the metal Bidri ware of Hyderabad. The motifs depicted on the creations are derived mainly from nature. According to historical accounts, the art of black pottery originated from Gujarat and followed the ancestral traders to this region. The wares produced for commercial purposes are lamps, incense holders, spice containers, inkpots, coin banks, Surahis and Hookah-bases. The main trading centers are Delhi and Bombay.
10. GHAZIABAD, UTTAR PRADESH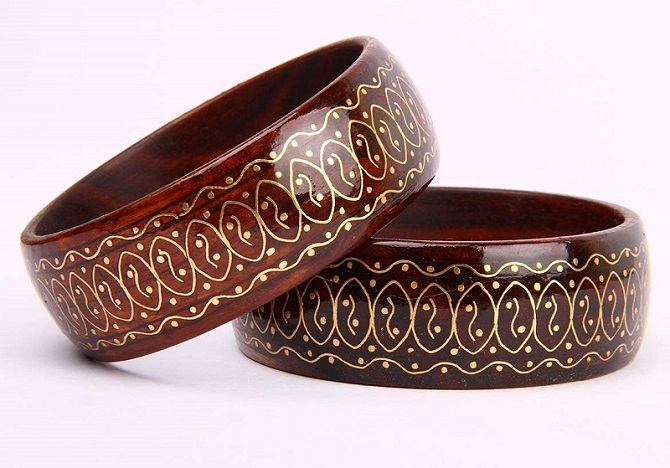 Source- http://bit.ly/14Ff2lH
Particularly in Pilkhuwa, Ghaziabad, a special technique is used extensively in the production of furniture and boxes, known as Tarkashi. This technique is known for its fine inlay work using brass wire, brass strips and motifs on bright sheesham wood with designs consisting of fine lines and dots. This technique, originally from Mainpuri, Uttar Pradesh, is now prevalent in many areas of the state. This technique is also widely known for being used in the making of wooden sandals called khadaous. Pilkhuwa is also known for its huge variety of hand-crafted textiles, particularly bed sheets and linen.
11. KUTCH, GUJARAT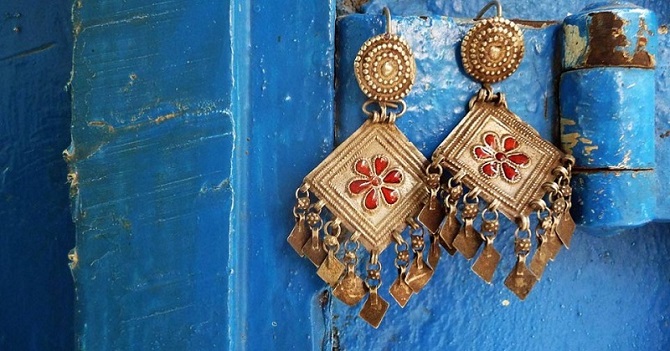 Source- http://bit.ly/14Dj11D
While embroidery has become a craft synonymous with Kutch, there are many other textile crafts and hard material craft which give this land its vibrant color and identity. The most widely practiced forms of embroidery are Rabari, Ahir, Sindhi, Banni, Mutwa, Ari, Soof and some styles involving mirror and bead inlays. Besides fabric, leather is also embroidered in the Banni region of the Kutch district and Radhanpur in North Gujarat. Appliqué work, the process of stitching cloth pieces together in beautiful patterns, is also a major textile craft of Gujarat. Hand painting, batik and discharge painting are also widely known crafts of Gujarat.
12. KASHMIR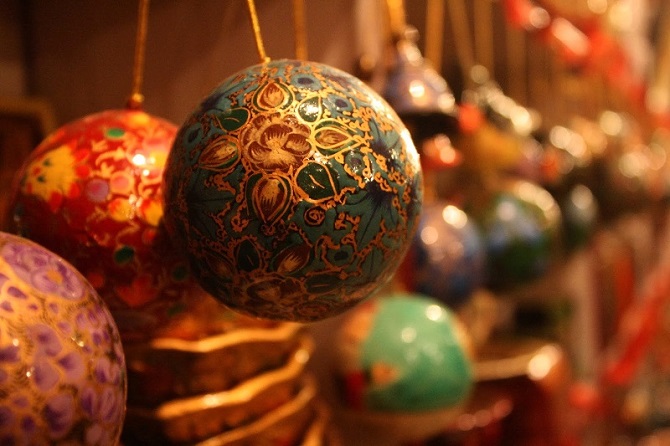 Source- http://bit.ly/1yNQcwE
Besides being one of the most picturesque landscapes in the world, Kashmir is also known for its intricate handicrafts, which include some vibrant hand-made crafts, which symbolize the cultural significance of the state. The craftsmen of Jammu and Kashmir have mastered in making items like carpets, baskets, wall hangings, shawls and much more. Paper Mache is another very old form of handicraft in Jammu & Kashmir, which is equally popular from the state. With a huge demand in national as well as international market, Pashmina shawls are the leading and most sought after handicraft from Jammu and Kashmir, popular mainly because of their luxurious production material and the detailed designs on them. Wood Carving, Walnut wood crafts, Namdas, Basketry, Crewel, Chain Stitching, Gabba,
Copperware and Khatumbandh are other major forms of craft from Kashmir.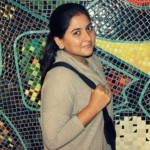 Comments
Comments