Are you an adventurous person? Have you been planning to take a much needed weekend off? Well it has arrived. Let's remember the great men and women, because of whom we got our freedom. Before going carefree, let's pledge that we'll make our country a better nation. In this hectic schedule of ours we do not get time to go out on a vacation. If you want to go out on a vacation this weekend, Adventure outing near Bangalore would be a perfect option.
Adventurous Bangalore
Spend an outdoor weekend with your family and friends. Plan an adventurous holiday to one of these 15 locations. We took the liberty of choosing some, but mind you, that's our guarantee that you'll enjoy them. Go along with your children for an enjoyable weekend.
Kudremukh Trek in Chikmagalur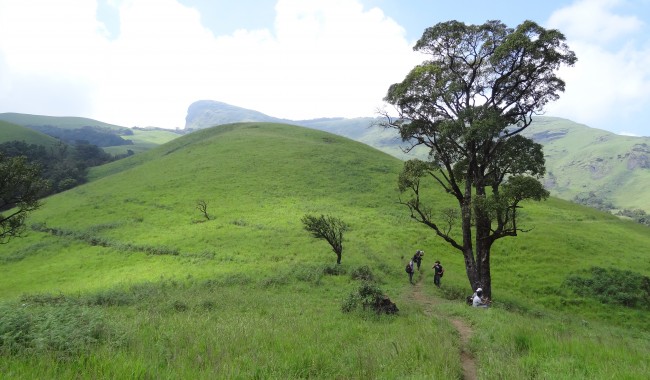 Like trekking, eh? Chikmagalur has various mountainous terrains which will give you a nice trekking experience. The track is 18 kilometers long and can be covered within 11 hours. You can plan a 3 days and 2 nights holiday. You can complete the trek in two days too. The starting point of the trip is Rajarajeshwari Nagar. There are various peaks on which you'll like to trek upon. They are moderate and will not pose much of difficulty. If you are fit and love trekking, then take up Kudremukh Trek in Chikmagalur.
Coorg Tadiandamol Trek and Rafting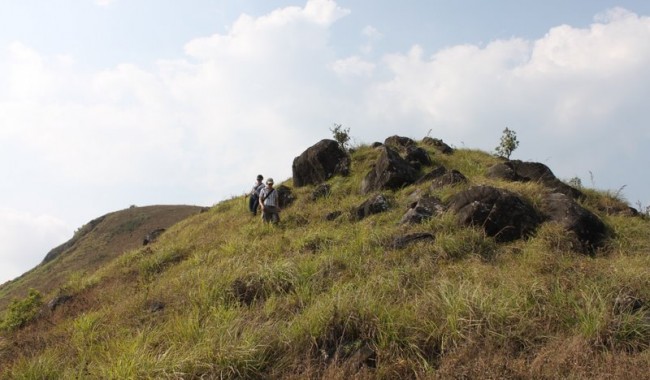 If you are an adventure lover, then rafting is the sport for you. Even if you are non-swimmer, rafting will be enjoyable. Come to Coorg for 2 nights and 3 days and enjoy the trekking, rafting etc. with your family. It is on the foothills of Western Ghats and has lush green forests. Coorg has the natural beauty which is the nature's gift to it. It is about 274 kilometers from Bangalore. Tadiandamol is the highest peak in Coorg with a height of 1748 meters. Trek between the green forests and coffee plantations for a memorable experience. There is also rafting for the water lovers. Night stay will be at campsite. Enjoy yourself thoroughly for the next 2-3 days at God's own garden.
Night Treks at Narayangiri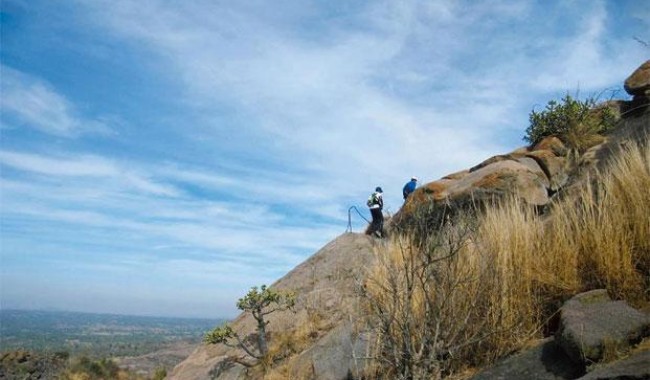 For night treks Narayangiri is one of the best locations. The whole area is fortified. One can see ruins of forts too. It is as high as 3845 feet. The trip will take one day. The trekking route is 4 kilometers long each side. There is also a Laxmi Narayan temple which can be visited during the early morning hours. The temple's exterior is made up of black granite which shines beautifully on a full moon night. The temple is open only for sometime on Saturdays. Its path is weather-beaten and rugged. Out here trekking is easier than the path that leads to the temple. Don't miss the temple, it has the right ascetics.
Kunti Betta Adventure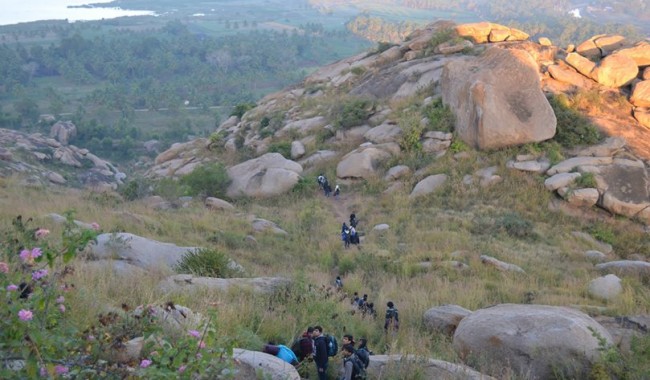 Kunti Betta is a 4 hour drive from Bangalore. The hills are picturesque and full of greenery. It is an easy trek path and one doesn't require prior trekking experience to go on through these hills. They are merely 2882 meters high. Enjoy the 3 hours of night trek with your spouse or friends. Get the fresh air at midnight on top of the hill. Fill your lungs with the pure air. It is a serene and clean environment there and will completely rejuvenate your senses. You can also swim, kayak and ride boats in the nearby Tonnur lake. There is camping and bonfire also. You will definitely enjoy Kunti Betta adventure.
Anthargange Night Trekking
It is located about 70 kilometers away from Bangalore. Here you can go for night trekking which is a 4 kilometer stretch and will take around 3 hours to complete. You can enjoy the night view which is especially nice on a full moon night. Anthargange also has caves which you can explore using the guides' help. Enjoy the bonfires and calmness of the caves. Have the tasty breakfast under the sky. Feel the calm and surreal weather. Trek to the top most point of Shathashrunga range.
Adventure at Bheemeshwari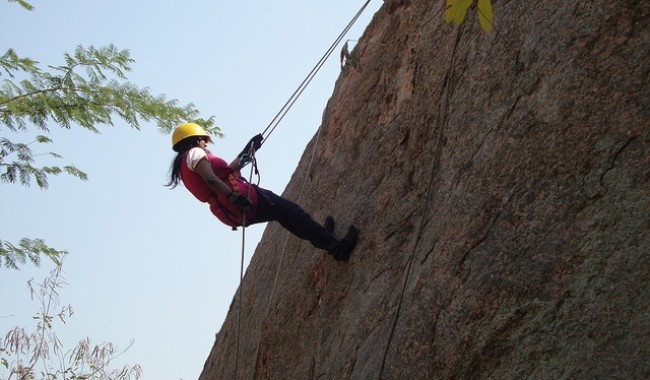 This is one of the best places to be in Karnataka. Bheemeshwari lies on the banks of River Cauvery. Come here and enjoy the nature's beautiful landscape. Witness the beauty of nature. The best time to visit this place is after the monsoons, that is, from August onwards. After the rains the forests become more alive, thick and lush green. Rivers too are full of water after monsoons. You can also see a variety of fauna because of the moderate temperature and greenery. You can raft, row boats, swim, kayak etc. in the river too. Enjoy trekking and other outdoor activities at Bheemeshwari.
Savandurga Night Trek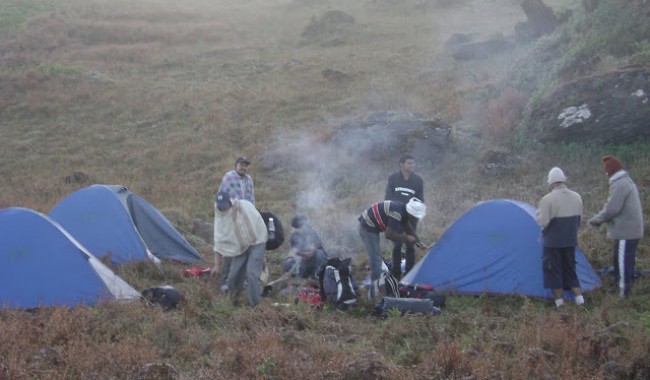 Savandurga is a challenging trek. It is 60 kilometers away from Bangalore and is situated at 4220 feet above sea level. There are twin peaks on this part of Deccan plateau where trekking is quite difficult. The peaks are Karigudda and Biligudda. Both these trails are difficult and need permits for trekking. Just before you start trekking there are temples of Shri Lakshmi Narsimha Swamy and Shri Savandi Veerbhadraswamy Veerbhadra. These two temples attract a large number of devotees. There is also steep wall rock climbing which again can be adventurous and worth a try. Do rappelling, rock climbing and other activities too.
Monsoon Trek-Mullayanagiri Peak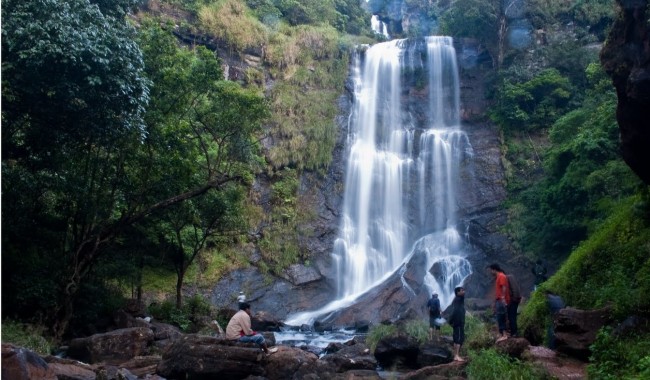 Want to trek to one of the highest peaks in Karnataka? Then go to Mullayanagiri. The Mullayanagiri peak is 1930 meters high. Except for a few steep ascents, the trek is quite simple. The best time to visit this part of Western Ghats is during and after the monsoon. During these times the forest becomes greener. Animals, reptiles mammals etc. come out of their dwellings because of moderate weather conditions. The site is 280 kilometers from Bangalore and has one of the best landscapes in the region. If you are interested in a quiet outing along with some wildlife photography, this is the place to be.
Sharavathi Nature Trail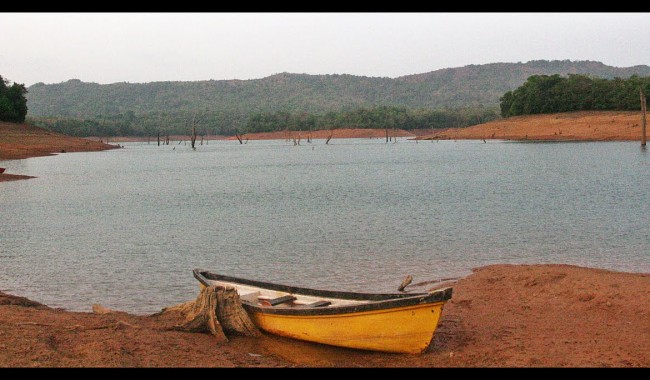 Sharavathi Nature Trail is a site managed by the Karnataka Tourism. It has resorts and campsites. It also conducts various outdoor activities like trekking, safari, swimming, boating, kayaking etc. Visit the site if you want to go away from the noise and pollution of the city. Come here to spend some quality time with your family and friends. This is one of the best get-away spots. Come with your family for picnics, outdoor games etc.
Nature Adventure Camp in Kanakpura
If you want to spend time with family members, college or family friends, have corporate meetings etc. this is the place you should choose. The nature adventure camp in Kanakpura is one of the best family outing spots. You can either choose the overnight package or visit the facility during daytime. The place is apt for canoeing, boating, kayaking, swimming etc. It is the home of Hosadoddi lake which adds to the beauty of the site. This is one of the best sites of Karnataka. You must visit it.
Skandagiri Night Trekking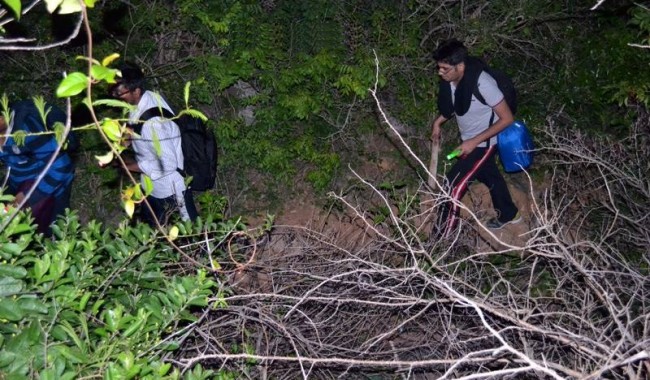 Skandagiri is 70 kilometers away from Bangalore, which is a 2 hour drive. It is a good place for night trekking. The trail is 8 kilometers long and passes through various points of ascents and descents. For the next 5 hours you'll be exercising and enjoying some quality time with family. The site offers a great view of sunrise, sunset and night sky. You can also visit the Papagni temple. The trek is moderate and you can bring along children too. The stay will be at campsite. Enjoy the bonfire, drinks and dancing at Skandagiri. Go on the night trekking and have fun.
Day Outing Camp at Ramnagaram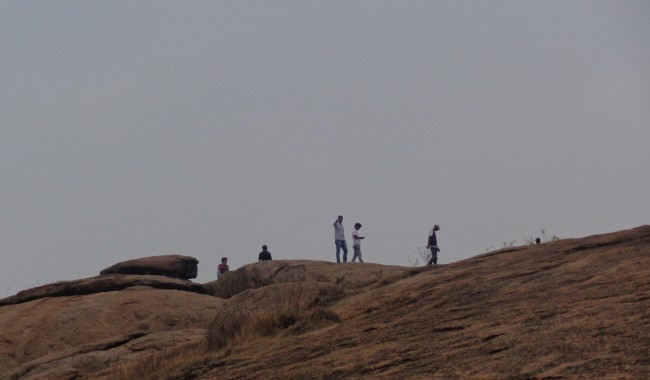 This is the place where Gabbar resided. Didn't get it? Gabbar from Sholay. This was the location where the famous movie Sholay was shot. The place is calm and has big rocks which can be used for rock climbing rappelling etc. You can also install tents and make a campsite. It is not far away from Bangalore. Out here you'll all the basic amenities, that is, washrooms, kitchen, dining area etc. It is a good picnic spot for families and children. Visit the camp and see for yourself what a set actually looks like.
Hiking to Skandagiri
If you are ready for an adventurous trek then head towards Skandagiri. There you'll find everything to calm your not so calm nerves. Come here and trek either early morning or late at night on Skandagiri Hill. Its a two hour trek and generally people ascent during the midnight to watch the sun grow up from the top of the hill. The best time to visit the spot is between May and December.
Overnight Camping at Ramnagara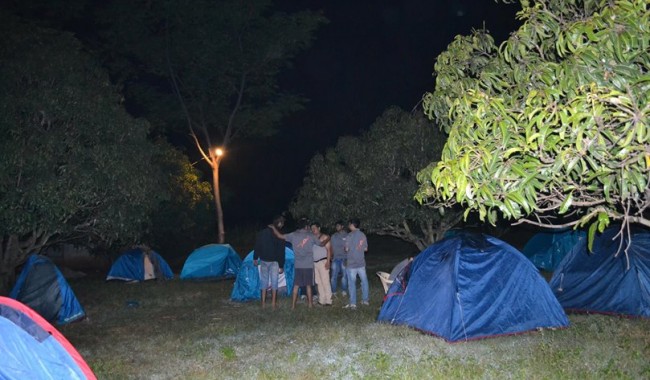 Ramnagar is the place of Basanti, Gabbar, Jai, Veeru, Soorma Bhopali, Ramu Kaka and all our favorite characters from Sholay. You can visit the place and stay overnight in tents. There are all the basic amenities available like washrooms, dining room, kitchen, changing room etc. At the site there is rock climbing, rappelling, and other outdoor activities. Come to Ramnagar for a quiet and simple weekend. It is only 50 kilometers from Bangalore and situated 2450 feet above sea level.
Night Camping at Nagarhole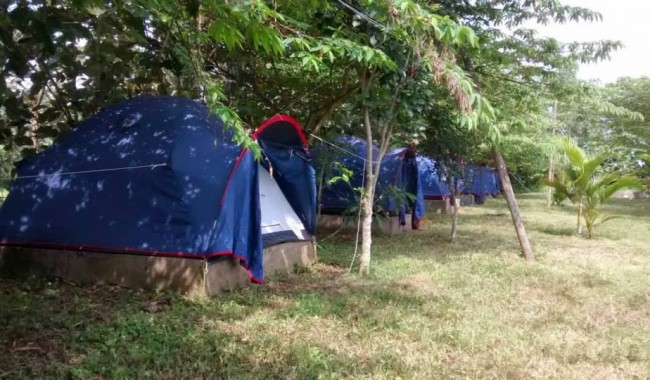 Nagarhole National Park is a nice place to be at this time of the year, that is, at Independence Day. You can hoist a flag and also be close to nature. The National Park has a variety of fauna. It is situated on the banks of river Kabini and is an awesome place for wildlife photography. If you are a nature lover, be there after the monsoon season and you'll enjoy it. There are facilities of food and accommodation on site. There are many other activities like jungle safari, boat safari, bird watching, trekking etc. too for you to participate in.
This Independence Day, go out with your family members and spend some quality time with them. It is does not happen often that we get to spend good time with them. Enjoy the weekend with kith and kin.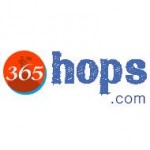 Comments
Comments