For every Indian, today's day carries great significance. On this day, in the year 1947 we were finally liberated from the tyrannous rule of the British. Our independence also saw the descent of British rule from all over the world. Well it is altogether a different experience to breathe freely. On this Independence Day we have a few sightseeing options around Mumbai for you people. We hope that our choice of places will make your weekend much more memorable. Take time off and spend some quality time with your kith and kin over the weekend.
Pic From :: http://tinyurl.com/pushqyz
When it comes to Mumbai, the outskirts or nearby areas are much more beautiful than the city. You can opt for various adventure trips because of the lush green scenery. Mumbai on one side has beautiful water, which can be used for water sports too. Here are the top 10 locations for your weekend gateways near Mumbai, which you would certainly not want to miss. Have a look:-
Flag Hoisting Special Trek to Kalsubai
Are you a true patriot and also love adventure? Then Kalsubai Peak is the place you should be at. It is one of the highest peaks of Sahyadri mountain range. Every year trekkers visit the peak and hoist our national flag. It is an easy one day trek. You can even go along with children below the age of 13 years without facing any troubles. There are many routes which can be chosen to reach the hill top. The moderate August weather makes it one of the most preferred places. You can either join a trekking group by making prior bookings or go there on your own. But it is always recommended to join a trek group. The trek begins at Kasara and moves towards Bari. After a short halt, the trekking begins. Reach the hill top and hoist our honorable national flag. It is a short and easy trek. You'll find it a memorable experience. Celebrate your independence day by hoisting Indian Flag on Kalsubai Peak.
On the peak there is also a temple which is visited by thousands of devotees every year. After hoisting the flag, visit the Kalsubai temple and thank God for the beautiful get together.
Dudhsagar Waterfall Peak
Nothing can beat Goa when it comes to scenic beauty. We have all heard that big and awesome things come in small packages. Goa is its best example. Dudhsagar translates into the Sea of Milk. They are four tiered waterfalls and are located on Mandovi river. These are among the highest waterfalls of India with a height of 310 meters. They are located about 80 kilometers from Panaji. People of Mumbai can visit the place by boarding the Udyan Express. The waterfalls are a superb spot for picnic too. It is accessible via roads as well as railways. It is a beautiful landscape where water, as white as milk flows through the lush green hills. You can cover the trek in one day itself. After reaching Kulem, it is a 8 kilometer trek through the jungle to the waterfalls. Enjoy the falls and cool climate with your family. Come back to Kulem after a few hours and head back with happy memories.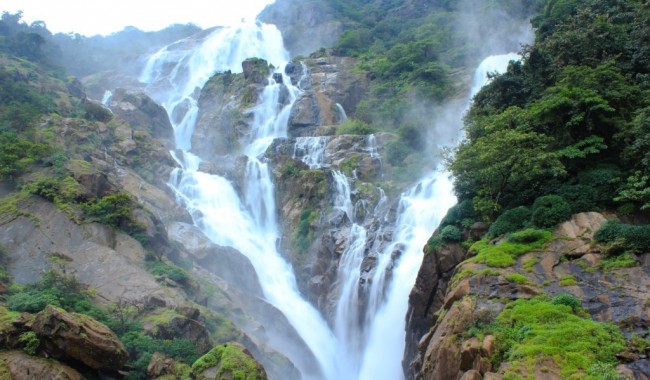 You'll also find Mollen National Park and Bhagwan Mahaveer Sanctuary near Dudhsagar waterfalls. These two parks have a rich biodiversity and are located in the heart of Western Ghats. Covered with deciduous forests, these areas are worth spending your weekend on among reptiles, of course.
Amba Ghat Expedition
This expedition is for adventure lovers. If you enjoy trekking, this is the place for you. If you have 2 nights and 3 days to spare, opt for the Amba Ghat expedition. Amba Ghat is near Kolhapur and is a refreshing expedition. You can reach Amba during the early hours and check into a hotel. Rest till 2 pm and then go out for local sight- seeing. Visit the tea plantations, Manoli Dam and experience the warm sunset from Amba Ghat. Enjoy your evening playing games. Post dinner go on the dinner jungle trail.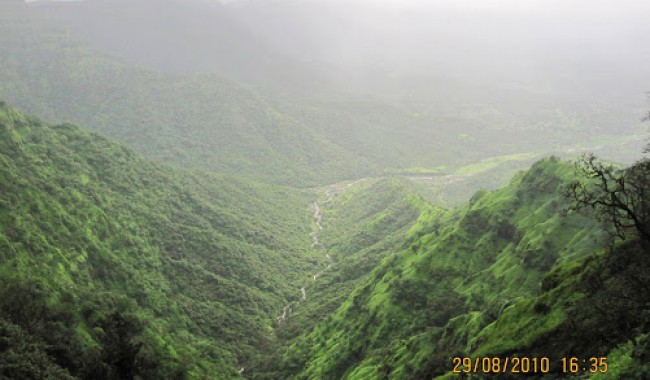 The next day get up early and spend your morning close the nature. You can head to Pawankhadi for a jungle safari. The safari will cover a trek called Nature walk. Subsequently, you can also visit the Manoli Dam and Konkan Point. The other sites to visit here are Waghzara and Echo Point. The site also has historical importance and is related to Chhatrapati Shivaji. Eat your lunch in the jungle, that is, vanbhoj. During evening, visit several ghats of the region and head back to the hotel by dinner time. Take another safari in the morning and check out of the hotel by afternoon.
Waterfall Rappelling At Dodhani
If you are looking for some adventure over the Independence day weekend, then go to Dodhani. It is a beautiful place with a 75 metres high waterfall. Rappelling is the controlled descending from a hill, cliff or mountain top. Rappelling is fun if done in a controlled environment. Visit Dodhani and do rappelling among experts. There are professionals who'll take care of all the safety issues. They'll also provide you with complete gear, like helmet, descender, ropes, jump suit, gloves etc. If you love adventure and are below 100 kgs then, rappelling will be fun for you. At Dodhani, you'll be rappelling under the waterfall with water constantly flowing down on you. It is accessible via Panvel road and lies at the base of Matheran Hills.
You can directly meet the team at the village on the base of the hills. Trek a little towards the falls. The professional rappelers will give you the required safety guidelines and tell you the proper way of descending. Be a sport and enjoy your descent. If you want you can head back to Mumbai by sunset too.
Vaitarna River Rafting
If you are an adventure lover then rafting is the sport for you. Two hours from Mumbai you'll reach Vaitarna River. It has been recently opened to rafting. Out here you'll find everything, that is, all the safety precautions, complete rafting kit and expert help. It is a 9 km stretch and you'll find some thrilling rapids in it. Experience rafting only a few hours away from Pune and Mumbai. Visit Vaitarna river anytime you like. Navigate through narrow rivers, forests for a lifetime experience. There are rafting programs for kids too wherein they'll be attended too with utmost care. Spend your time close to calm and placid nature.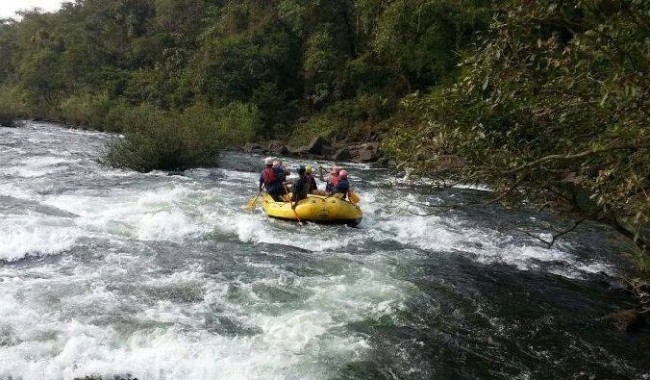 Before completing the final stretch you can also take a leap of faith jump and swim across to the shore. The water at this end does not have heavy currents. Even if you are not a swimmer, you'll be provided with life jackets which will keep you safe. You can also opt for various water sports like jet ski, banana ride, bumper ride etc. There are sports for children too. Come with your family and spend a nice sporty weekend. It is a calm and serene site which you'll love to be at.
Kolad River Rafting
Getting topsy turvy in heavy and fast water currents is the real adventure. If you are adventure sports lover, you might not want to miss out on even a single chance of rafting. It is refreshing and full of excitement. It is a superb water sport which requires team efforts. If you are a non- swimmer, you can still enjoy rafting. Kolad river rafting is India's one such facility that is open throughout the year. On this Independence day weekend, visit the best river rafting facility. Spend a memorable time with your friends and family members.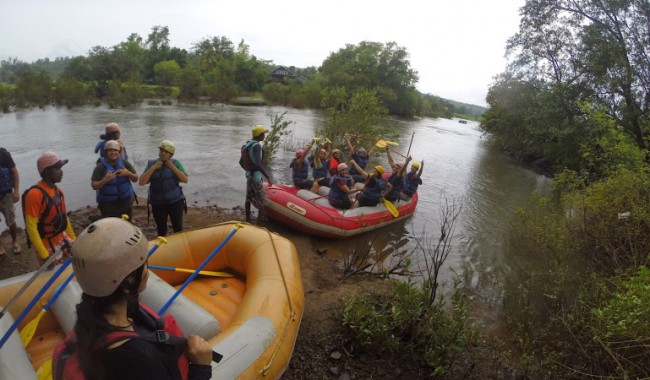 Raft in the white waters of Kolad river and relish the landscape. Kolad river rafting facility is 4 kilometers from Mumbai and Pune. It has Grade II and Grade III rapids which are exciting and full of adrenaline. The rapids are controlled by the release of water from the dam. It is a guarantee that you'll enjoy your weekend at Kundalika river. There are various packages that you can choose from. There are also lodging accommodations available for night stay. Located in the Mahad region, the river is a 14 kilometer stretch, filled with gushing white water. Come here to be away from the hustle and bustle of cities.
Sahyadri Bike Expedition
Mountain biking is an adventurous sport which you wouldn't want to miss. If you are planning for an adventurous weekend in Maharashtra, visit the Sahyadri Biking expedition facility. If you are passionate about it and love biking, you'll love the place. It is a three day tour and will be apt for this year's Independence Day. The first day will be purely for riding. The tour will start from NH-17 and move towards a 50 kilometers off road track. Now bike as much as you like without worrying about speed. This is a less travelled route and thus will prevent even the slightest chances of accidents. You will lunch at the Khed Post and enjoy the landscape of Sahyadri range. The night stay will be at a ghat where there will be campfire, drinks etc.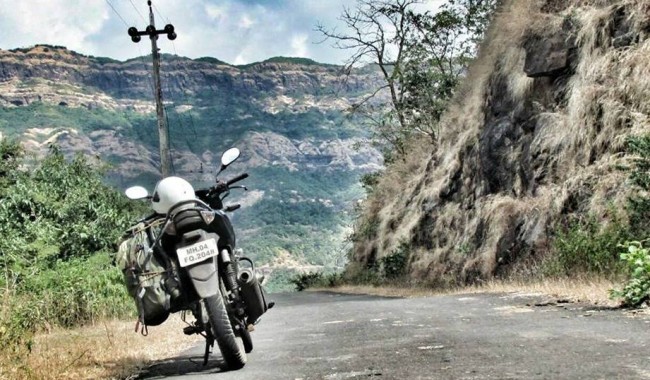 On the second day after breakfast you'll head towards Tapole, where again you'll be biking for 50 kilometers on an off road track. On arrival at Tapole, you'll be spending time by lake side doing activities like swimming, boating, kayaking etc. The night stay will be in the deluxe tents by the lake. On the third day you'll head towards Panchgani where the trip will come to an end.
Agumbe Rainforest Expedition
This weekend plan a three day tour to the rainforest jungles of Western Ghats. The Agumbe Rainforest Expedition will bring you closer to nature and rejuvenate your mind, body and soul. If you don't want to do any activity but only want to spend time away from the noise and pollution of the city, then this is the place for you. Come here over the weekend with your kith and spend a memorable time. The forests have rich biodiversity and are a home of a variety of flora and fauna. It is also the home of king of reptiles, King Cobra. The Western Ghats are part of the south western peninsula and is 55 kilometers away from Arabian Sea.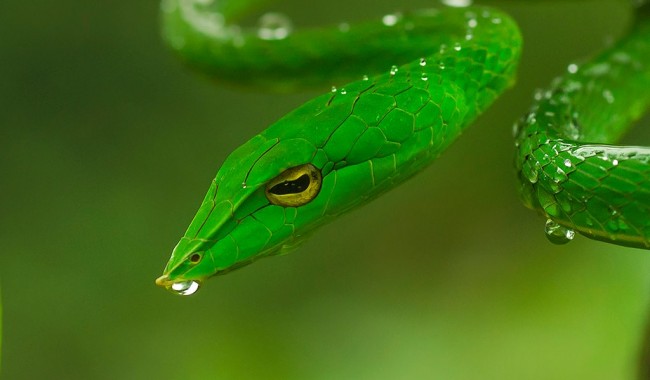 In the three days, you'll go in search of various amphibians and reptiles, needless to mention King Cobra. There will be multiple excursions into the rainforest at different times of day and night to find various types of animals, reptiles, mammals, amphibians etc. If you are an animal photographer then, you wouldn't want to miss it. Night stays will be at base camps where there will be campfires, dance and unlimited fun. There will also be a brief lesson on first aids too. Come here and enjoy the beauty of nature.
Wild Amboli Expedition
For an environment or photography lover, Amboli is the best place. Amboli is the home of reptiles and amphibians in the Sahyadris. It has a vast diversity of flora and fauna. People come here to be closer to nature. Wildlife photographers also flock here throughout the year in search of variety of reptiles, mammals etc. The Wild Amboli Expedition is a three day trip during which you'll be going in dense forests on multiple occasions.  You will also be going on night trips in search of nocturnal animals. At campsite, the guides will also teach you how to cope up with snake and reptile poisoning.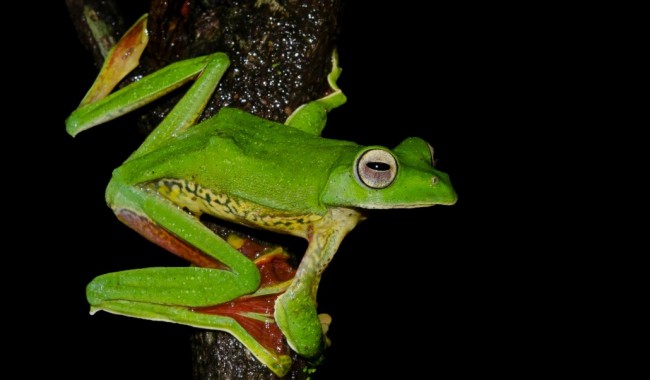 You'll visit Parikshit Point and also attend a session by the famous wildlife photographer, Viraj Khorjuwekar. There will also be other sessions on photography like macro, forest photography etc. Carry along your high precision cameras and enjoy the scenery while learning excellent photography. Return home with new friends and memories of your adventures.
Lonar Crater Exploration
If you are planning for a quiet two day weekend excursion, then try Lonar Crater Exploration. It is said that the crater is around 40,000 years old. It was formed by the impact of a meteorite and is the world's third largest crater. Our ancestors had built a temple around it but now only its ruins are there. The crater is a lake and people go out there for its scenic beauty. There are mainly two attractions, that is, eco-tour and Parikrama trek. It is a 4 hour trek and can be completed in one day.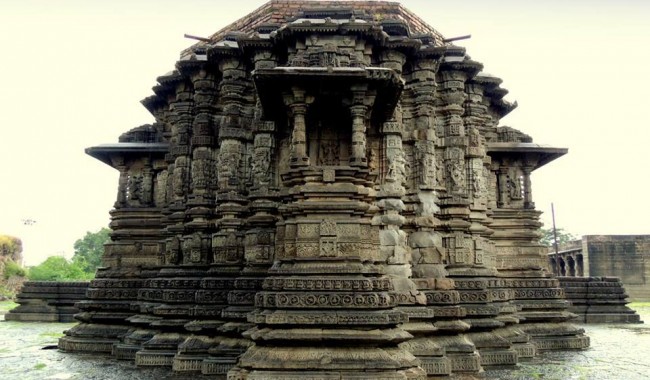 The other day is reserved for photography, sight- seeing, visiting nearby temples. It is a culturally rich heritage site. The water in the lake is blue-green which blends beautifully with the lush green gardens, thereby making it an awesome place. You can also engage yourself in bird watching during the morning. You will also be attending an interactive session of Mr. Bugdane. He is a renowned author and researcher and knows a lot about Lonar Crater. The night stay will be at campsite among new people and bonfire. Enjoy a quiet weekend with your family.
This Independence Day spend quality time with kith and kin keeping aside the hectic schedule. Make it a fruitful weekend. Enjoy!!!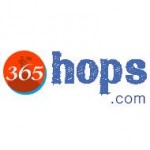 Comments
Comments