Trekking, as the dictionary defines it, is to go on a long arduous journey, typically on foot. Sounds quite daunting right, but don't quit just yet! One can hike, tramp, march, slog, trudge or plain old walk: sometimes to discover or to simply to get away from the mundane world. It works like magic every time.
Even though in order to trek anywhere all you need to do is walk, a trek is nothing like your usual walk in the park or a morning stroll. Walking at high altitude is a totally different ball-game altogether and depending upon the length you plan to go up-to, adequate preparation is the most important thing. The length of the trek is another important factor to be kept in mind. Generally an easy trek stretches for about a couple days and with a decent terrain not involving much highs and lows is considered an easy trek. An easy trek generally involves a not so stressing walk of 4-5 kilometers in a day.
Here is a list of some treks that can be enjoyed by novice trek enthusiasts –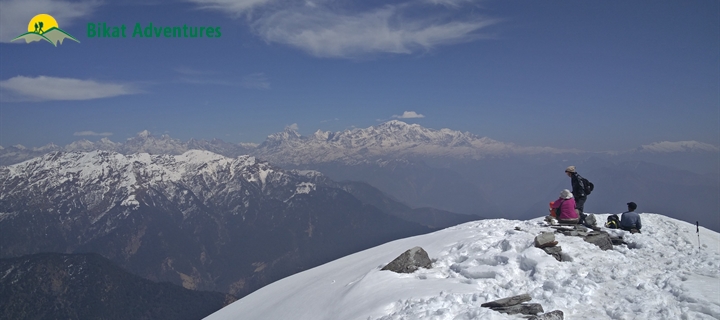 Located at a height of 4000 meters, this trek can be covered within 5 hours. This is the best forest trek amongst all our treks. If you take the section between Deoriatal lake and Bhrujgali camp, it is sometimes stunning to imagine how much variety jungles can be in. There are sections with thick wooded trees, there are moss-covered trails through enveloping tunnels and there are trails that weave through clearings in the jungles. There are hundreds of birds to sight and photograph. If there was a birders' trail, then it has got to be Deoriatal. Finally, the summit climb to Chandrashila. As you climb up, one by one, all the major summits of Western and Eastern Uttarakhand pop into view. Nowhere on a trek that is so easily approachable do you get to see all these summits so close. Standing on top of Chandrashila summit is a blessing and not an achievement.
Height: 4000 Mtrs
Duration: 6 Days / 5 Nights
Difficulty Level: Easy
Best Season: Round the Year (except Monsoons)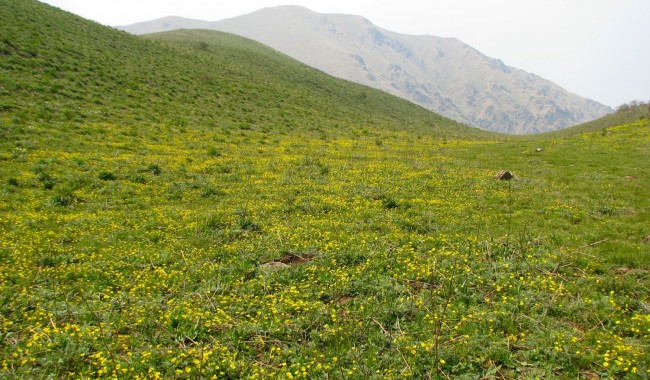 Dayara Bugyal is the ultimate trekking trail that offers them an opportunity to explore and enjoy the unique and unparalleled beauty of Gharwal ranges. The scenic meadows of Dayara Bugyal have been the grazing grounds of the shepherds in the Gharwal Himalayan region for countless years. These two largest and well known meadows see the footfall of countless adventure enthusiasts from across the globe, every year. In addition to trekking, the participants of the Dayara Bugyal trek also get to enjoy the fun of camping in wilderness of the Himalayas, which is quite a unique experience in itself. Located at a height of 10,000 feet, this trek can be covered in 20 kilometers which can be spread over 4 days. While on this memorable Himalayan Dayara Bugyal trekking tour in India at Uttarakhand, catch sight of the lake of Barnala Tal strewn across the green alpine prairies– in whose reflection the peaks look even more beautiful.
Height: 12,000 Ft.
Duration: 5 Days / 4 Nights
Difficulty Level: Easy
Best Season: Round the Year (except Monsoons)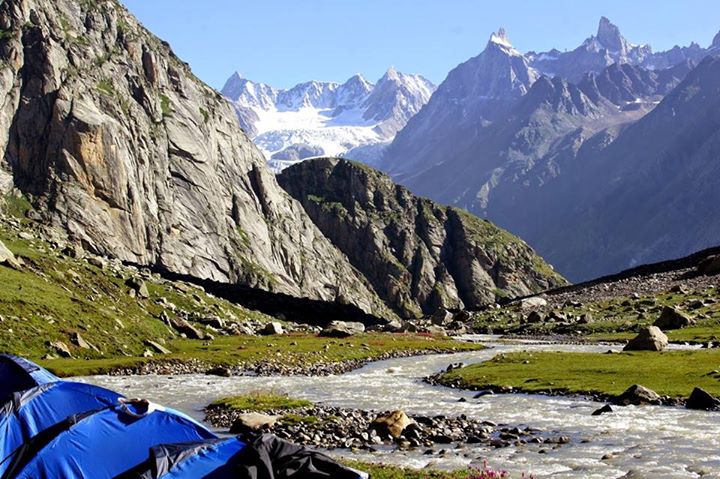 Hampta Pass is one such location that is frequented by countless people every year to enjoy the thrill and excitement of trekking. Located in the district of Manali, the pass is situated at a height of 14100 ft above sea level. It is a delightful trekking destination that is open almost all year round, making it possible for the trekkers to enjoy their favorite activity at any time of the year. Hampta Pass connects two of most picturesque valleys in Himachal Pradesh, namely the Kullu Valley and Lahaul Valley. The varied landscape and the diversity of flora and fauna present on either side of the past make this trekking trip truly enthralling. This trek is spread over 5 days.
Height: 14100 Ft.
Duration: 5 Days / 4 Nights
Difficulty Level: Easy
Best Season: Round the Year (except Monsoons)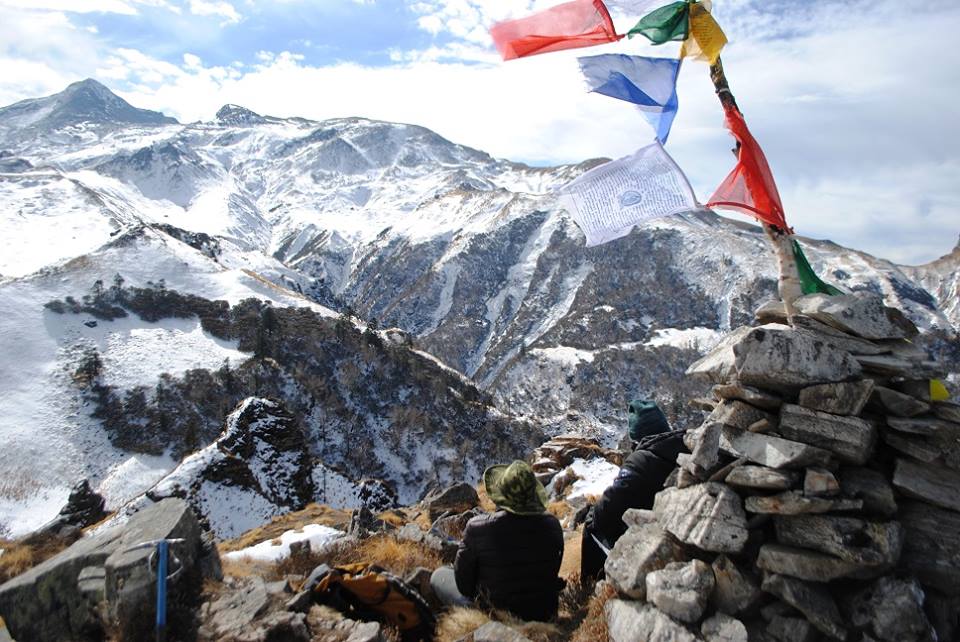 The Kuari pass trek is easy managed within a space of 4 days for the trekkers, and the entire length of trek is about 120 kilometers. The trek commences in the Northern Indian state of Uttarakhand, which is often referred to as the abode of the gods. The trekkers are required to be gathered in a small town in the hills called Joshimath. The drive to Joshimath goes through the cities of Rishikesh, Haridwar and Dehradun, and can be enjoyed on the way when you drive to Joshimath. Also not very far from Joshimath is one of the sacred 'Chaar Dhaams' in the Hindu way of living – 'Badrinath temple'. The Kuari pass is situated at a very special location in the heart of the hills – on the rim of the Nanda Devi wildlife sanctuary and just towards the south of it lies the Indo-Tibetan border.
Height: 3876 Mtrs
Duration: 4 Days / 3 Nights
Difficulty Level: Easy
Best Season: Round the Year (except Monsoons)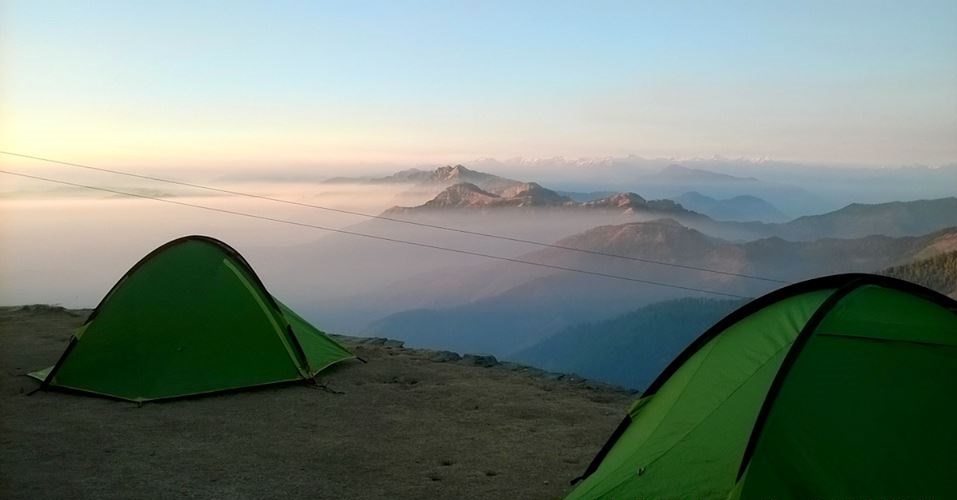 Surrounded by the Dhauladhar ranges in Kullu Valley is a blue-water lake called Prashar. It is a well-kept secret in the Mandi district of Himachal Pradesh. The trek to Prashar Lake follows a charming trail through a forest and several rivulets. Meanwhile, one can enjoy the local culture as the trail goes through villages as well. The trek offers a 180 degree view of the Dhauladhar, Pir Pinjal and Kinnaur mountain ranges.The local temple of Prashar Rishi next to the lake, with its riveting Himachali architecture, blends perfectly with the landscape. The lake is located at a comfortable altitude of just over 9,000 feet and makes for a perfect weekend trek with its proximity and good road connectivity with cities like Delhi, Chandigarh, Dehradun etc.
Height:  2730 Mtrs
Duration: 2 Days / 1 Night
Difficulty Level: Easy
Best Season: Round the Year (except Monsoons)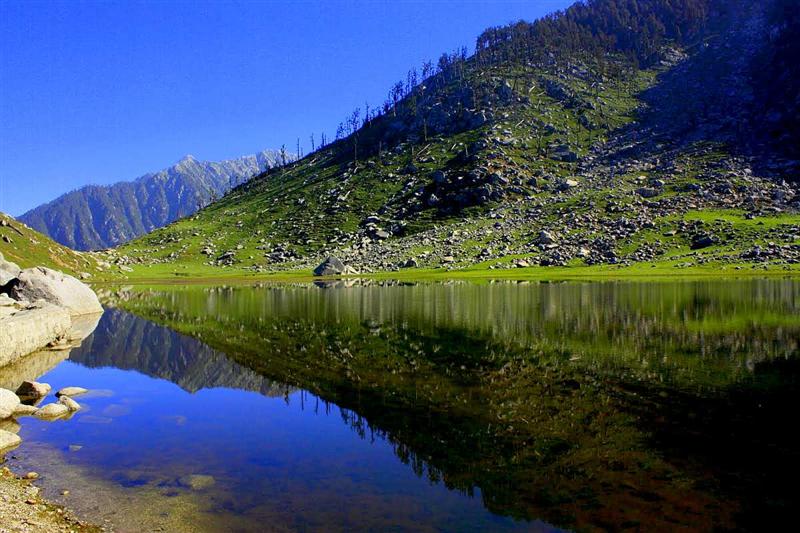 During summer, the pasture lands are rich, with green nutritious grass and an array of wild flowers. The local village of Kareri sits snug below, against the backdrop of the mighty Dhauladhar ridge. There are a few vantage points in between, from where one can see several local settlements. Located at an altitude of 3500m and a distance of 13 km, this trek can be completed in 3 days. Located high between the ranges of Dhauladhar is the perfect elliptical glacial lake – Kareri Dal. While majority of the backpackers are seen flocking to Triund or Indrahar Pass circuit, this short trek to Kareri Lake makes for a richer and quieter experience.
Height: 3500 Mtrs
Duration: 3 Days / 2 Nights
Difficulty Level: Easy
Best Season: Round the Year (except Monsoons)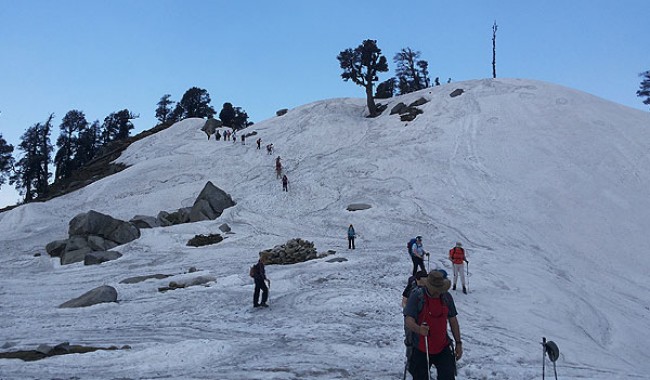 Perched at a height of 4350 mts above sea level, the trek to Inderahara pass begins at McLeodganj and even though it terminates at the pass, the trail continues into Chamba. The trek takes the participants through varying yet beautiful landscapes and depending on the season chosen for the trip, the trekkers may pass through lush green meadows or snow covered vistas. The trail also passes through dense deodar and rhododendron forests, over rocks and boulders and even a glacier. The trail is the same one that has been used by Gaddi shepherds since ancient times to take their herd to upper Ravi Valley and Lahaul for grazing in summer.
Height: 4350 Mtrs
Duration: 3 Nights / 4 Days
Difficulty Level: Easy
Best Season: Round the Year (except Monsoons)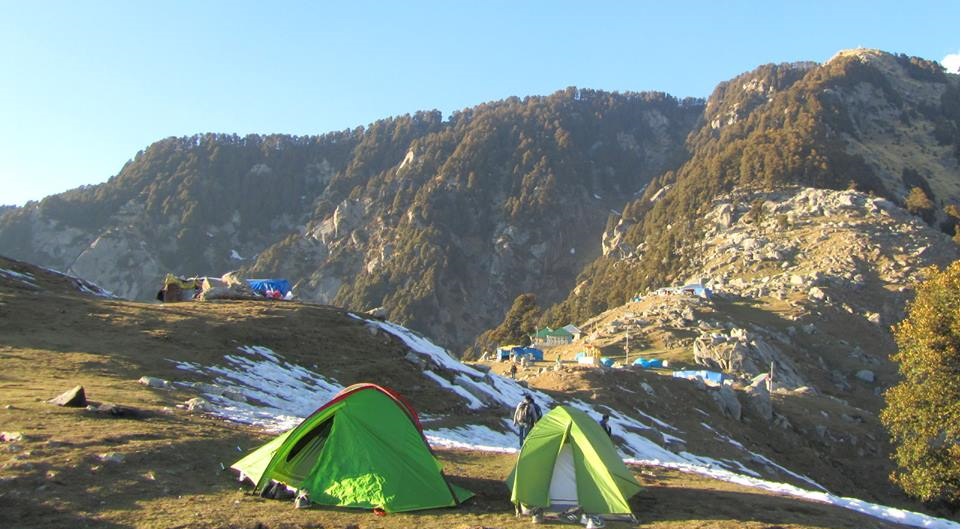 Located 18 km from Dharmshala, Triund makes for an attractive trekking destination, with well-defined forest trails and breath-taking views of the entire Kangra valley. The view of the evening sky from Triund is a good enough reason to pitch a tent here for the night. The length of the trek makes it apt for a weekend. Although the trek from McLeodganj to Triund is a steep ascent of over 1,100 metres that is a two day trek. It is well-compensated by refreshing walks amongst rhododendron and oak trees. Triund  trek can be described as a tranquil trek which can be easily accomplished by almost all age groups . Triund has an unambiguous byway which goes through a beautiful mixed forest of oak, deodar and rhododendron. Trek is fairly easy for the first five kilometers but the last one kilometer may require a bit of toil , the last one kilometer is popularly know as the "22 curves" as it has 22 tiring  curves before you finally reach Triund.
Height: 2800 Mtrs
Duration: 1 Night / 2 Days
Difficulty Level: Easy
Best Season: Round the Year (except Monsoons)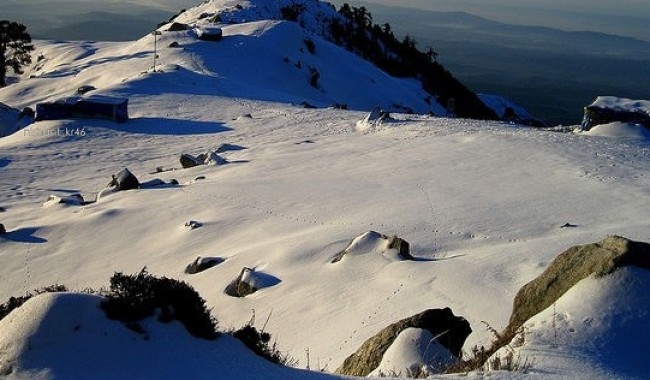 Indrahar Pass is a mountain pass in the Dhauladhar range of the Himalayas. Located at an altitude of 4,342 metres (14,245 ft) above mean sea level, near the tourist town of Dharamshala in Himachal Pradesh, Indrahar pass forms the border between Kangra and Chamba districts. It is part of a very popular trekking route from Dharamshala. It attracts substantial tourist traffic during the trekking season between April–October. The trekking trail to Indrahar pass starts from Galu Devi temple above Dharamkot village near Dharamsala and passes through the camping ground of Triund, Ilaqua/Laka Got, and Lahesh Caves.
Height: 3550 Mtrs
Duration: 3 Days / 2 Nights
Difficulty Level: Easy
Best Season: Round the Year (except Monsoons)
Trek to Kasol – Khirganga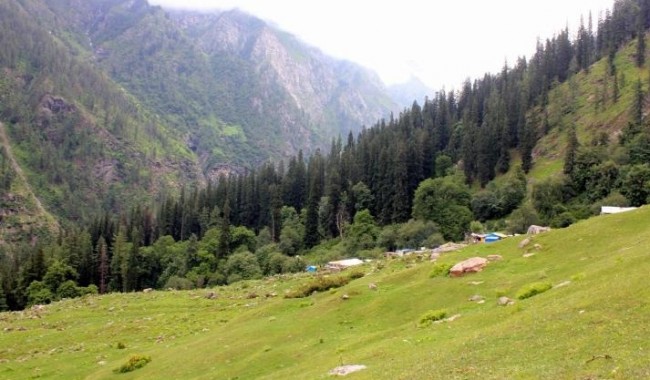 Kheerganga trek is situated in Parvati Valley at a distance of 22 km from Manikaran. For Khirganga, one has to go by motor-able road up to a place called 'Barshaini' and from there to Khirganga on foot. This trek leads through hilly terrain. This is the place where 'Kartik Ji', the elder son of 'Lord Shiva' remained in 'samadhi' for thousands of years. Kheer Ganga is one of the most refreshing treks that you can go on anywhere. The natural hot-water-spring experience is something that you will remember for a lifetime. Most people who reach this place always come back for seconds as there you can simply not get enough of such a place. The place is open for about 7 months in a year and is not permanently inhabited.
Height: 5300 Mtrs
Duration: 3 Days / 2 Nights
Difficulty Level: Easy
Best Season: Round the Year (except Monsoons)
Trek to Nag Tibba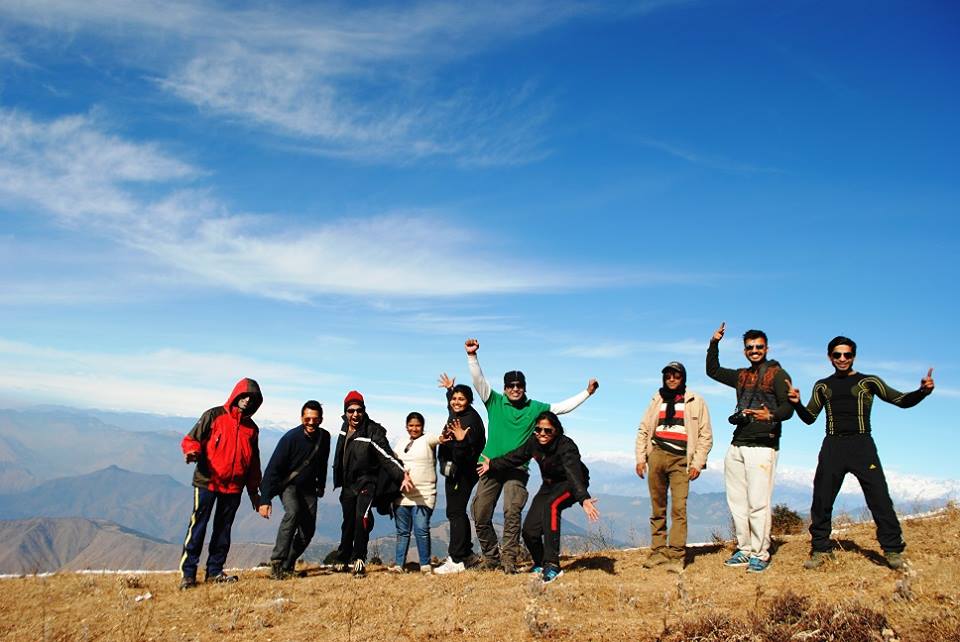 The Nag Tibba trek is the highest of the hills range of lesser Himalayas, which resides majestically in the Indian state of Uttarakhand. The Tehri Garhwal region in the state of Uttaranchal has a mountain range, which derives its name from this very peak – 'the Nag Tibba Range'. As opposed to most other treks in the heart of the Himalayas which start from and penetrate into some distant and remote locations, the peak of Nag Tibba is in close vicinity to approachable and most known hill stations of Tehri Garhwal. The peak lies in close proximity to the famous tourist destination of Mussorie, and also has a major army cantonment in the vicinity – Landour at 16 kilometers. The Nag Tibba range is amongst the sub ranges in the Himalyan belt, sitting besides the likes of Dhauladhar and the Pir Panjal.
Height: 3004 Mtrs
Duration: 3 Days / 2 Nights
Difficulty Level: Easy
Best Season: Round the Year (except Monsoons)
Trek to Chopta Chandrashila Deoriatal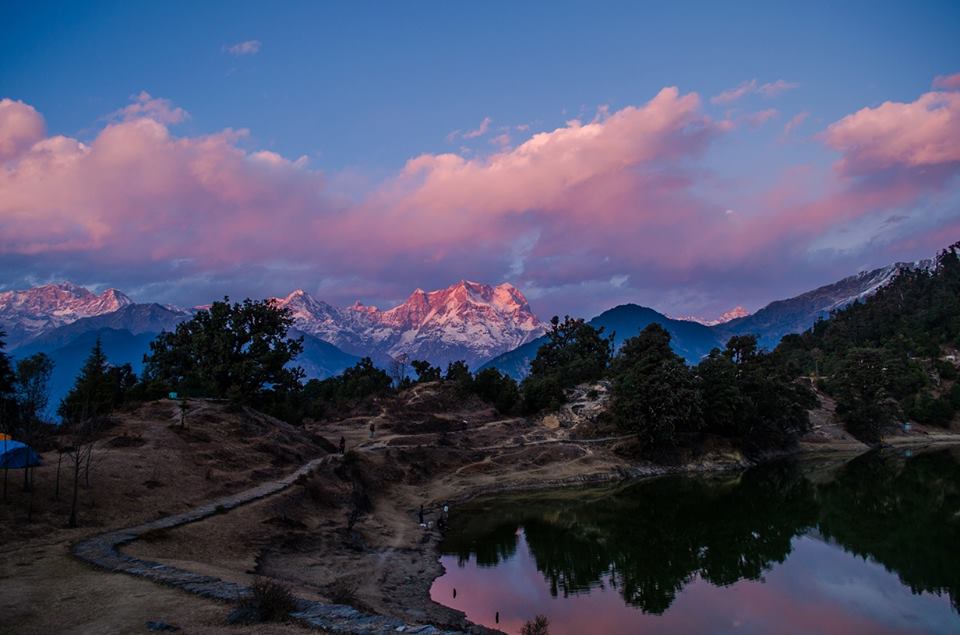 A weekend trek like the one to Chopta Chandrashila Deoriatal trek can help you rejuvenate in the lap of nature and take a breath of fresh, mountain air. Planning a weekend trek is a great mode to visit the Himalayas and to satisfy your voyage craving in a short time. In reality, even a few days of escape are enough to do miracles while you get away from mundane life. Your walk leading to Chopta is surrounded by luxurious natural meadows and the Himalayan ranges. This walk brings you to the Tungnath peak at an altitude of 3680m and is also called known to be the highest Shiva shrine on the globe. The trail is a bit tricky with its abrupt climbs and sudden changes in the terrain. You can also choose to be guests at the dhabas on the trail for a delightful spread. Besides the amazing nature trapped along the route; it's possible to have a glimpse of some amazing peaks like Kedar along with Chaukhamba.
Height: 13550 Ft.
Duration: 6 Days / 5 Nights
Difficulty Level: Easy
Best Season: Round the Year (except Monsoons)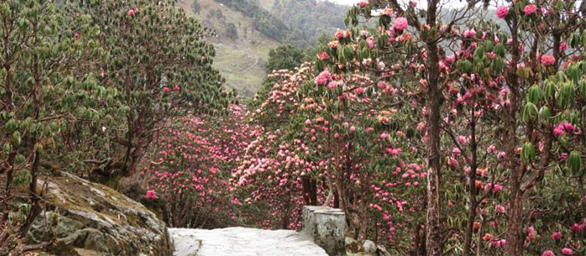 Close to Almora at a distance of 30 KM , Binsar wild life sanctuary started in the year 1988. This reserve forest is located at a height of 2270 meter and it covers an area of 47.8 square km. The peak point known as Zhandi Dhar is at a height of 2412 meter. This sanctuary is under Civil Soyam Van Prabhag Almora is famous of eco tourism. During British rule there was a base at Amora and during summer time because of pleasant cool weather Binsar was used as summer capital for all official purposes. There are 5 villages inside the sanctuary and 30 villages outside the boundary of the sanctuary. There is no town or village is known as Binsar, it is the whole forest which is known as Binsar Wildlife sanctuary. This place attracts tourist mainly wildlife lovers. You can do activities like nature walk, trekking, cycling and bird watching while watching the breathtaking view of landscape around.
Height: 8000 Ft. 
Duration: 2 Days / 1 Night
Difficulty Level: Easy
Best Season: Round the Year (except Monsoons)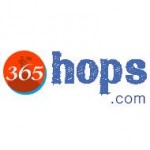 Comments
Comments