Caves have been the source of literary fascination (read; Batman's Batcave), and are at the top of the bucket list of any adventurous person! Natural caves with their numerous twists and turns, and the artificial caves with their sculptures and paintings take you back to the age of glory. Untold stories are revealed here, and their sheer dimensions leaves everyone astounded. Glimpses of Mother Nature's work of a million years has been gifted to mankind in the form of caves.
Here's the best of the lot -
1. Krem Liat Prah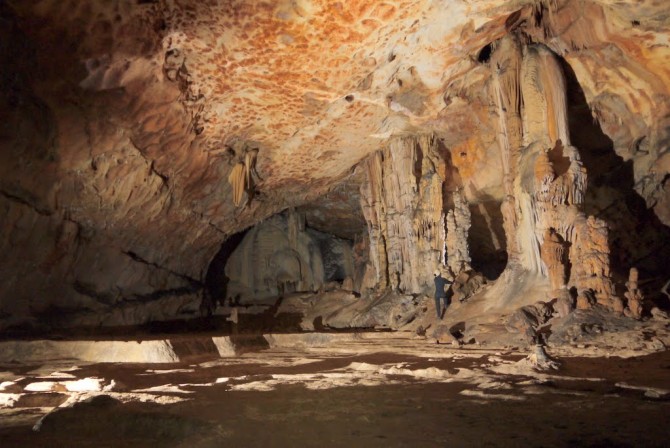 Source- http://bit.ly/1G2meWj
Nestled in the Jaintia Hills in Meghalaya, Krem Liat Prah is the longest natural cave in India. Its distinctive length is being explored and surveyed under the Abode of the Clouds (i.e. Meghalaya) Expedition project. 'The Aircraft Hangar' is an enormous trunk passage in the krem (Khasi for 'cave') Surrounding it are 140+ other caves in the Shnongrim Ridge which will soon be identified as the connections to the length of this 25 kilometer long cave are discovered.
2. Elephanta Caves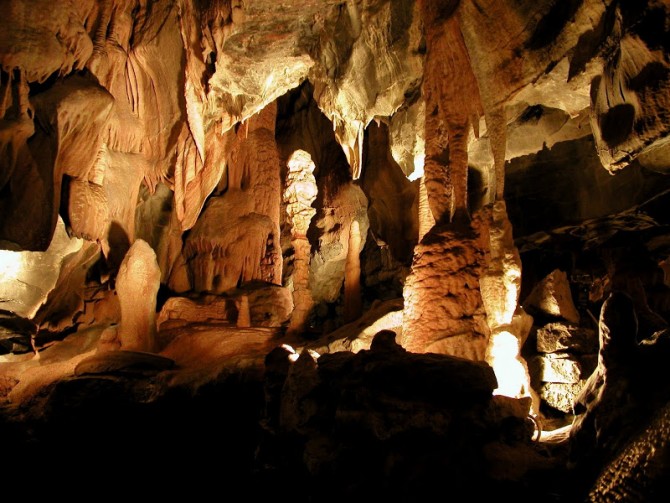 Source- http://bit.ly/1q5RRdn
Arguably this is the most well-known cave in India. Situated in Elephanta Island (off the east coast of Mumbai), 10 km away in a ferry (from the Gateway of India), these Hindu and Buddhist caves have been a site of wonder for centuries. This 'city of caves' (Gharapuri) are beautifully preserved and are a standing testament to the creativity of the Indian culture. The rock cut idols span centuries of royal and religious pride, each having a story of its own. Thick vegetation covers the island, of which the caves are formed out of solid basalt rock. Designated as a UNESCO heritage site, its chief attraction is the 'Trimurti'- a colossal structure exquisitely designed.
3. Ajanta & Elllora caves
Source- http://bit.ly/1yVS7wm
Chiefly Buddhist monasteries, these wonderfully cut caves are a treat for the eyes – cut against a cliff lining the Waghur river, they have been listed as a UNESCO World Heritage Site. Possessing physical evidence of Indian culture across time, they are constructed to have peaceful prayer halls. A timeless source of inspiration, eminent painters such as Rabindranath Tagore and Nandlal Bose experimented with techniques and styles rising out of wonder at the sight of these caves.
Source- http://bit.ly/1AAPhx9
An example of the beauty of South-Indian/Dravidian architecture, it is placed in the Deccan Traps. Kailasnath temple is the key feature here – This huge temple was carved by skilled artists out of a humongous rock from top to bottom i.e. the floor was built last. Its proximity to the Ajanta caves, has often resulted in them being clubbed together. However, it is primarily a Hindu and Jain compound spanning vast areas of land (The temple itself is larger than the Athenian Parthenon). The statues and the walls are symbolically carved, and is another Heritage Site.
4. Guchhupani
Source- http://bit.ly/1s4Lwuz
Dehradun houses the 'Robber's cave', stretching up to 600 meters. Formed out of limestone, it is situated on Doon valley's Dehra plateau. It has an ice cold spring nearby, which is a popular tourist attraction. The central part has a broken fort wall structure, dividing the cave into two.
5. Undavalli caves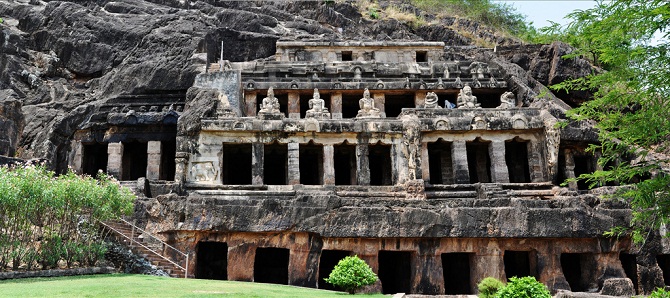 Source- http://bit.ly/1vpzxrt
Associated with Jain temples, Undavalli Caves are primarily sandstone with a sprinkling of Buddhist and Hindu traditions. Overlooking the Krishna River, it is located in Vijayawada, Guntur city. It is said to have been a gift from one ruler to the other of the Vishnukudin Kings who switched religions. According to a legend, it has an underground passage leading to a sacred mountain.
6. Belum caves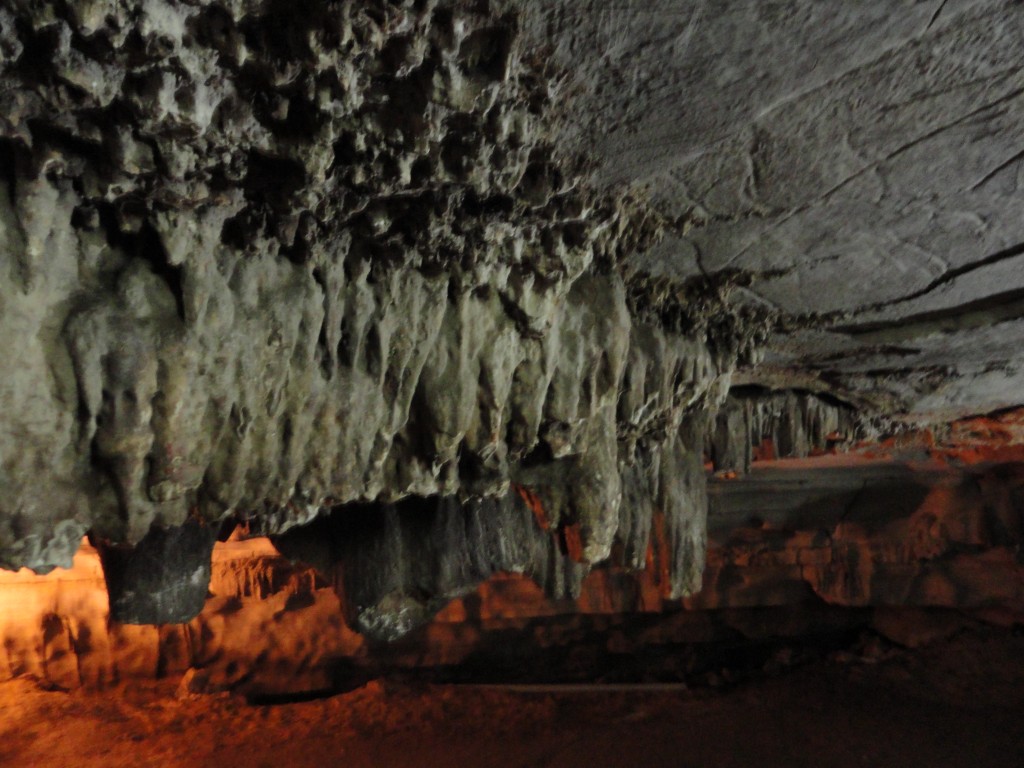 Source- http://bit.ly/1vZYpv9
Known for its stalactite and stalagmite formations, Belum caves is the second largest and longest in the plains of India. It has long passages, spacious chambers. Fresh water galleries and siphons, with the deepest point being 'Pataalaganga' at 150 feet, Belum (Sanskrit for 'cave') is created of black limestone and formed by the underground flow of Penna River. Having Quartz deposits, it has stunning formations within, most significantly the Banyan Tree.
7. Badami Caves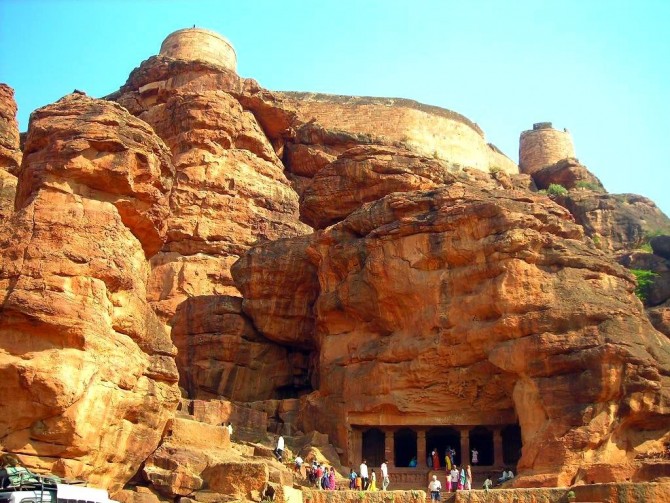 Source- http://bit.ly/1yoZiKT
Positioned at the mouth of a ravine with rocky hills on its side, the caves have been carved out of a sandstone. Comprising of four caves, which are a product of a mixture of Hindu-Jain-Buddhist religious sects it has inscriptions in Kannada script, mural, and sculptures.
8. The Panchpandava Cave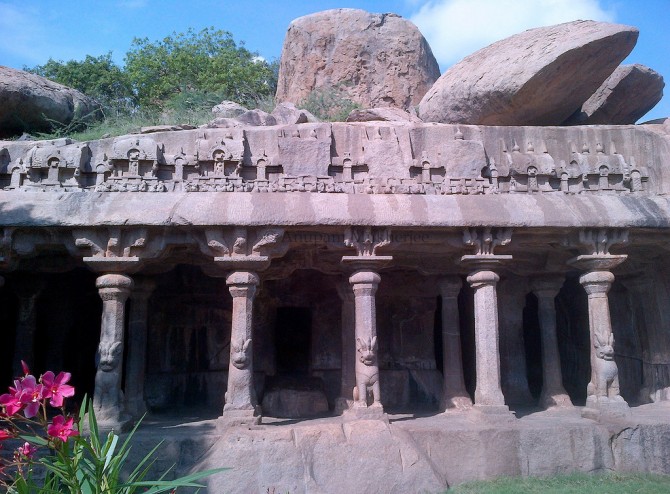 Source- http://bit.ly/1yVOEOo
These set of caves derives its name after a legend stating that the protagonists of the Mahabharata, the five Pandava princes stayed here, and created these. The prominent tourist attraction is the temple in Mahabalipuram lying against the backdrop of the sea, it has Arjun's Penance lying close next to it. Intricately carved, it has a 50 feet long cavern.
9. Udayagiri and Khandgiri caves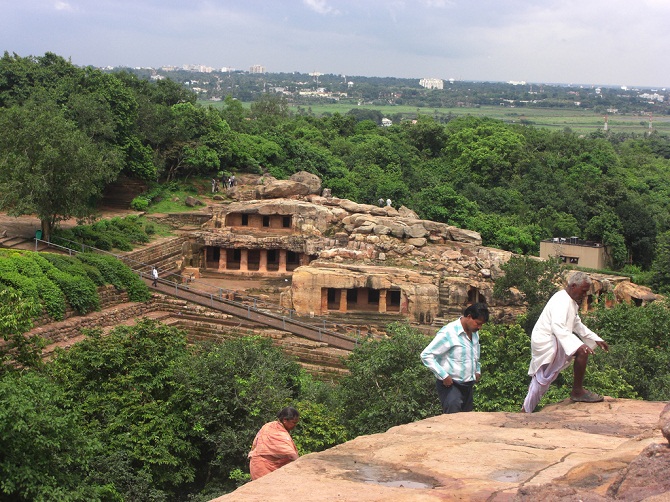 Source- http://bit.ly/1CQpJAV
Serving as residential blocks for Jain monks in ancient India, these caves are a mix of natural and artificial in Bhubaneswar, Orissa. Udayagiri is famous for 'Rani ka Naur' (Queen's Palace) which is extensively carved and elaborately embellished with sculptural friezes. The Hathigupha cave(Elephant's cave) has seventeen lines in Brahmi script incised in tithe art at the caves are contemporary to those at Sanchi, with striking similarities.
10. Kanger Ghati National Park caves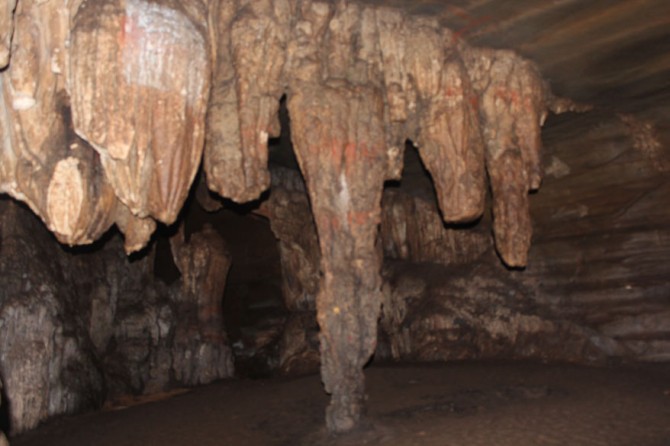 Source- http://bit.ly/1q5UHz3
The Bastar district of Chhatisgarh is home to the Kanger Valley National Park. Deemed as one of the protected areas in the country, it has come into the spotlight for its heterogeneous land formations with highs and lows. The subterranean limestone cave present along the Kanger River have dripstones such as stalactites and stalagmites.
11. Tabo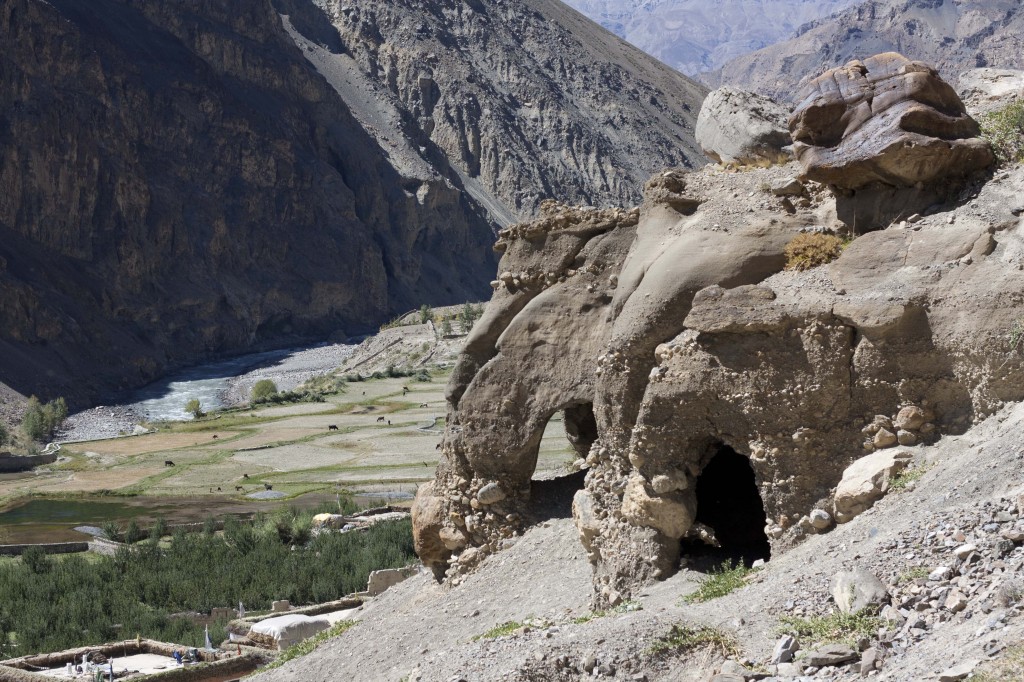 Source- http://bit.ly/1ypRjlN
The favorite of the Dalai Lama, this is the site of the legendary monastery cave thriving over 1000+ years. Artificially excavated, the valley had the Spiti River throwing through it once.
12.  Siju caves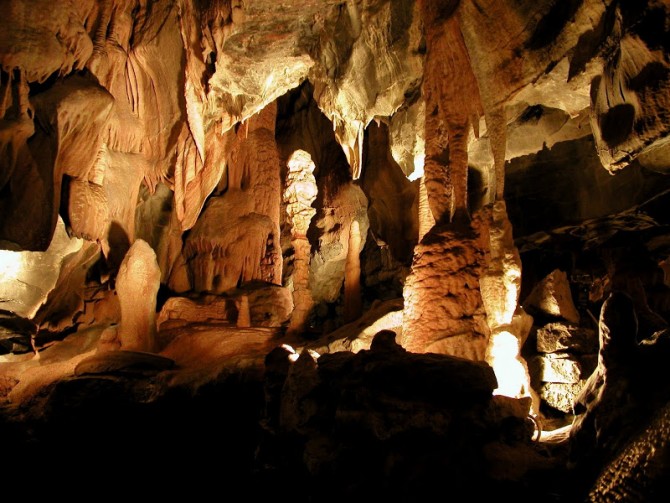 Source- http://bit.ly/1z6VWQl
Meghalaya's pride, this is known as Dobakkol (the bat cave) and is decorated with stalactites and stalagmites. Known for having the finest river passages in the world, it also has limestone rock formations.
13. Mawsmai cave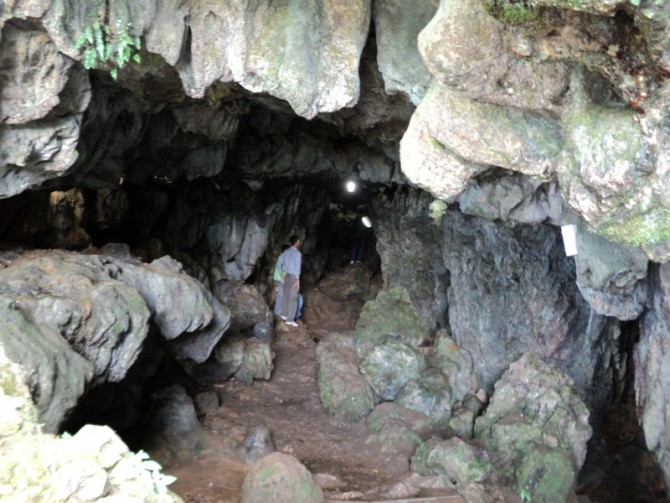 Source- http://bit.ly/1w9izoe
Yet another cave in Meghalaya, it is close to Cherrapunji. 150m long, it has beautiful flora and fauna around it.
14. Synrang-Pamiang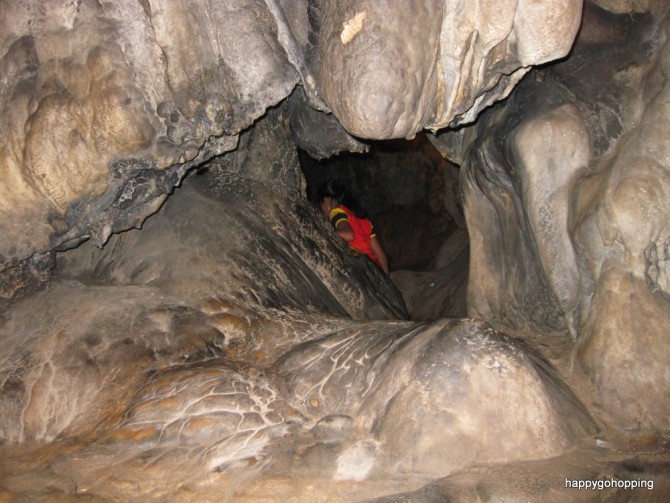 Source- http://bit.ly/1wIGxX2
This is Meghalaya's colorful cave, known for its shaded rock formations. The 'Titanic Hall' is known for the large cave pearls scattered around.
Comments
Comments