Mystical waters swirl around the coasts of India's beaches, yet to reveal their secrets hidden deep under the clear waters. From brightly colored corals to shoals of exotic fish shaded with exquisite patterns, to manta rays, killer whales and dolphins, India's waters is nothing short of a heaven. Scuba diving is an adventurous way of seeking answers to their glorious beauty, locked under ship wrecks of lore.
So, strap on your diving masks, and get started!
 1. The Andaman & Nicobar Islands
Source- http://bit.ly/1qtz8Jb
Hidden away in the Bay of Bengal, the island is the hotspot for various aquatic plants, coral reefs, and fish under the clear waters. Cinque Island is one of the best diving destinations here, especially for novice scuba divers. Others such as Fish Rock, Corruption Rock and the Mahatma Gandhi Marine National Park are sites where one can discover mantas, hammer headed sharks and beautiful shoals of multicolored fish. Bala Reef and Havelock Island have brilliantly painted coral reefs of varying sizes. Rutland Island with its ship wreck is situated right in the center of a beautiful lagoon, shaded with exquisite corals.
2.  Islands of Netrani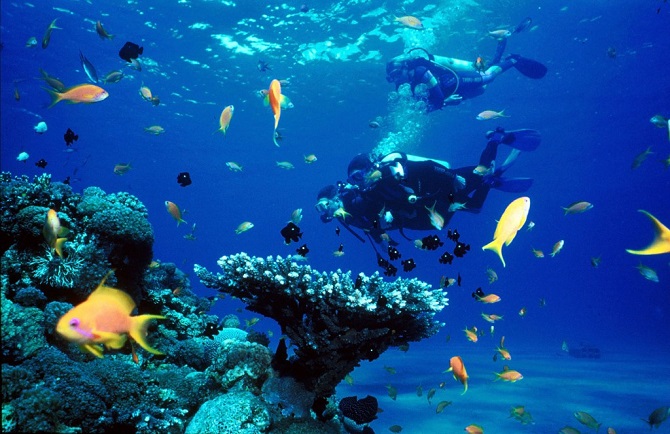 Source- http://bit.ly/12LKb56
Netrani (Also known as Pigeon Islands), a tiny heart shaped island, is around 200 km from Goa. A perfect spot for discovering marine life in the Arabian Sea, the clear waters are a habitat for killer whales, and Minke wales. Also used by the navy for target practice, the geography of the island is rocky. The shallow waters provide great opportunities for snorkelers too. It's proximity to Murdeshwara ensure a sight of the world's second largest Shiva statue situated close by to a temple.
 3. Lakshadweep Islands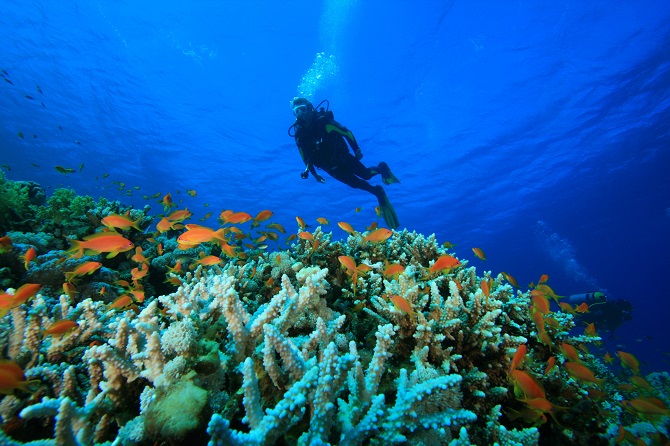 Source- http://bit.ly/165fqKS
The most popular trio being – Minicoy, Kavarattiand Kadmat, Lakshadweep has a lot to offer. Minicoy, a crescent shaped island with a lagoon is famous for the three shipwrecks nearby, which have been dubbed as 'underwater museums'. Kavaratti, is located closer to Kochi and is ideal for beginners. Dive spots such as 'harbor Mouth' and 'Governors Reef' and Turtle Nest are sources of beautiful species of fish, corals and turtles. Mosques of massive dimensions are located close by. Kadmat with its various shades of aquamarine and green, is yet another spot to discover the hidden treasures of the sea.
4. Goa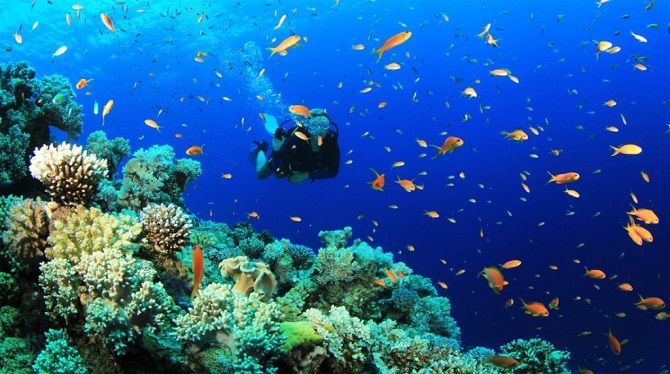 Source- http://bit.ly/12rNC0Y
Goa being India's top destination for water sports, too has its scuba diving spots with highly interesting names such as 'Davy Jones' Locker, Suzy's Wreck, Turbo Tunnel and Bounty Bay. Most are ship wreck sites (Suzy's has a WW II metal wreck) – therefore are a rich source of marine life. Diving season begins in November and continues till April. Gorgeous sights await the underwater explorers as the multi tinted coral reefs are abundant in number here.
 5. Pondicherry
Source- http://bit.ly/1wxetGR
An upcoming diving location, Pondicherry hosts sites such as 4 Corners, Temple Reef (named after its unique shape), Cool Shark Reef, and Aravind's Wall. Being a Chief site for spotting dolphins and the undulating bottom has quickly garnered attention amongst enthusiastic tourists. Pondicherry has a lot more to offer than other places in India, as most of its waters have yet to be stripped of its secrets.
Comments
Comments