There are a few things that fall into the category of being more adventurous, spontaneous and fun-filled than road trips. They have long remained a classic western pastime, and we certainly don't see these popular driving adventures going out of style anytime soon in the orient either. Ever wondered why is it so?
It's because there's no better way to experience charming towns, stunning sunsets and rugged cliffs that dot India's varied landscape than from being behind the wheel of an automobile, or a few exploring expeditions. So, if you're into countryside, dirt roads and motorbikes, make sure you do these trips as soon as possible.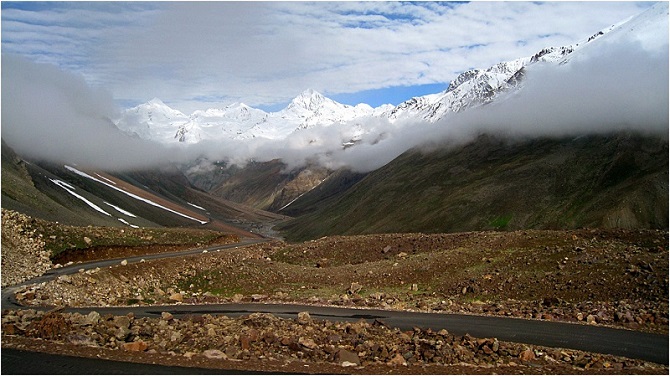 Source- http://bit.ly/135GRTw
This trip can be exhausting, rough, unpredictable and even give you altitude sickness, but this is that one ride you can't miss. It crosses four mountain passes over 4900m including the forever unpredictable, but magnificent Rohtang pass, you're sure to have an unforgettable time. You sure wouldn't want to miss the snowy glory of the road where Geet once danced because of Yeh Ishq Haaye, would you?
These roads are normally open from June to late September/October, and stand 3-4 kms above sea level.
2. Mumbai – Pune Expressway – Goa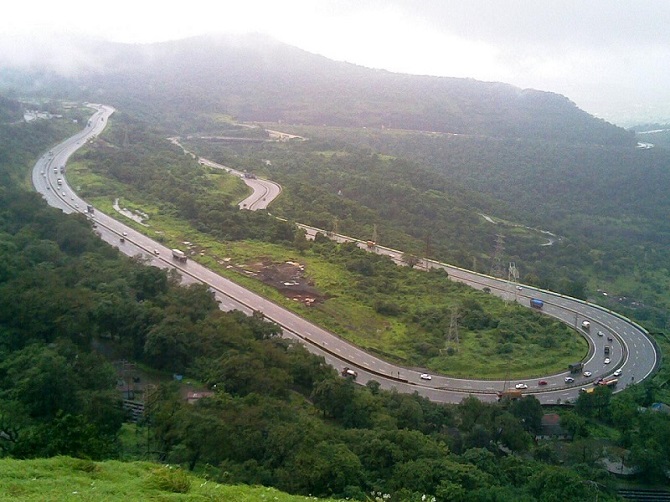 Source- http://bit.ly/1zsT7cq
The Mumbai-Pune Expressway is India's first high speed, six-lane concrete pathway and thus is a perfect road for a *road* trip from Mumbai to Pune. It's a perfect route for a weekend getaway, or as an escape from the ever-hectic Bombay life, and the terrain won't disappoint. But, you might want to pack your sun block and flip-flops to prepare for what lies ahead, the land of sun and sand. The drive then continues from Pune to Goa and is scenic beyond expression.
You'll never in your life regret going up for the beautiful curves of the road and the beautiful sunsets you'll experience on the stretch of 615 kms.
3. The Desert Stretch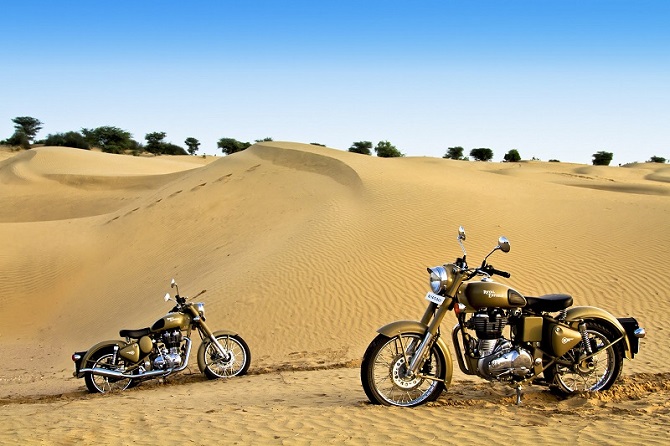 Source- http://bit.ly/1ukdUd2
With mustard fields, open spaces and sand dunes all along the highway, the drive from Jaipur to Ranthambore, covering Pushkar, Udaipur, Kumbhalgarh and Jodhpur along the way is thrilling in its own sense. Along with the promise Ranthambore offers – a date with the tiger, the drive through small villages and roadside dhabas that offer delicious Rajasthani cuisine make the trip all the more enchanting. The golden sunsets, silhouetted camel herds and colourful costumes add multiple dimensions to the journey.
Total travel distances matches 180 kms, with various stop-points along the way.
4. The West Coast Trip
Source- http://bit.ly/1BxREUC
Along with the colonial excellence of the West Coast, this exquisite drive covers Kochi, Alappuzha, Varkala, Trivandrum and Kovalam. With pleasures such as beautiful beach towns, off-beat museums and old era architecture, this trip covers all that the West Coast has to offer in all it's glorious bits and pieces.
This 246 kms long ride is a worth-it-all trip.
5. The East Coast Trip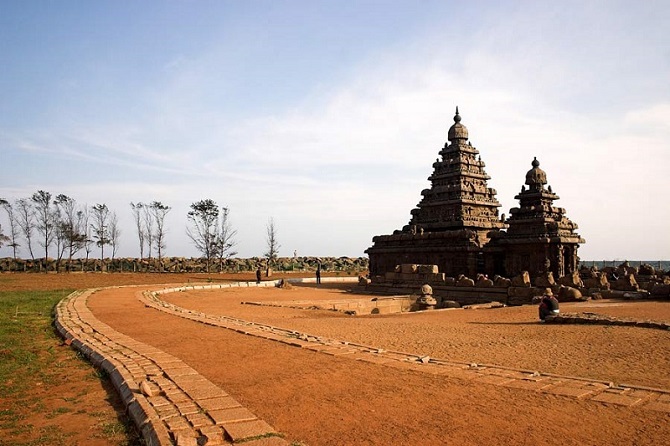 Source- http://bit.ly/1qtfsVR
Along this highway hugging the East Coast, you'll get to mingle with the likes of Chennai, Mahabalipuram, Pondicherry, Chidambaram, Thanjavur, Trichy and Madurai. With an eccentric combinations of both french colonies and old indian architecture, this trip turns out to be very unique. The sea with its changing reflections will leave you thoroughly satisfied and inspired.
Each one of it's 490 kms are set to give you the very feel of a road trip.
6. The Pamban Bridge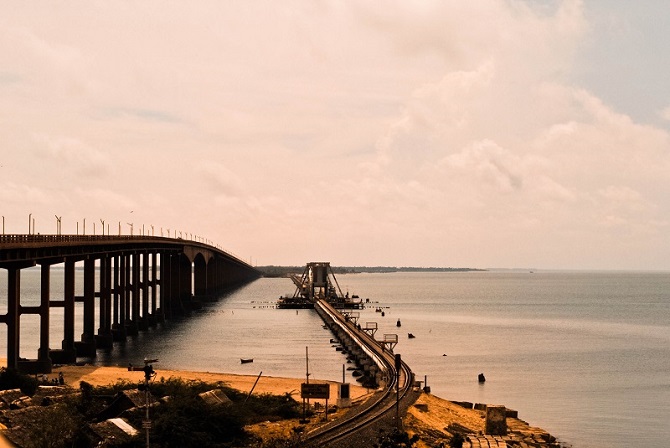 Source- http://bit.ly/12rt1Kj
Though the Pamban Bridge doesn't exactly fall under the category of road trips, there's a special reason that it made it to our list. If you ever pictured driving on a road with vast expanses of water everywhere you look, then this mini-trip is made precisely for you. The infinite ocean under your feet and the moist breeze in your hair will prove to be all the therapy you need, plus will make for a memorable road trip.
This cantilever bridge, that connects Pamban on Rameswaram Island to Tamil Nadu, is 13.5 kms long.
7.  The From -Bangalore Trip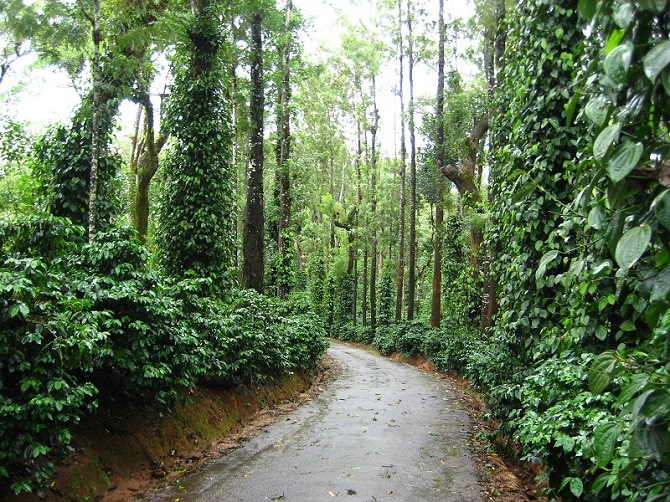 Source- http://bit.ly/1656W6e
If the bustling Bangalore life, or life in any metropolitan for that matter, compels you to take a vacation to a lonely place, drive to the very aptly called 'Scotland of India' – Coorg. With amazing local food joints, driving through the winding Western Ghats hugging the coffee plantations and the rough terrain will make up for an adventurous, yet peaceful day trip. Other variations include travelling to Ooty via Mysore, or to Munnar via Salem.
The journey from Bangalore to Coorg is 260 kms, from Bangalore to Ooty is about 266 kms, and the one from Bangalore to Munnar is about 520 kms in total.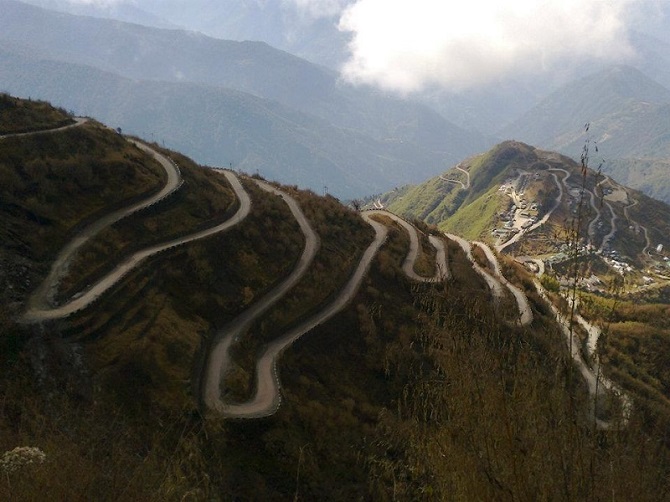 Source- http://bit.ly/1x070Q9
It wouldn't qualify as a perfectly Indian road trip, since it covers a stretch from Lhasa in Tibet via the Jelep La Pass to India. It's bound to make you leave a part of yourself in the rare confluence of natural beauty and history of human civilization, which this hilly road boasts about.
It stretches over 339 kms and makes up for a great, unique experience all together.
9. The Kalyan Nirmal Highway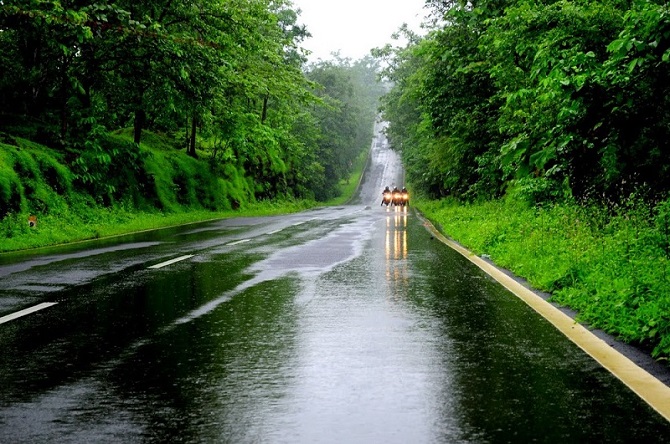 Source- http://bit.ly/16577i4
The Kalyan-Nirmal Highway, or NH 222, runs within the states of Maharashtra and Telangana. Althought a little known, this route shall hold you spellbound with its beauty. One reason for it's not being all that popular is that it might get dangerous post sunset, hence people are generally advised to avoid travelling once it gets dark.
The total length of the highway being 610 kms, this ride is highly subjective, depending on your choice of stop-overs and places to see.
 10. Guwahati To Tawang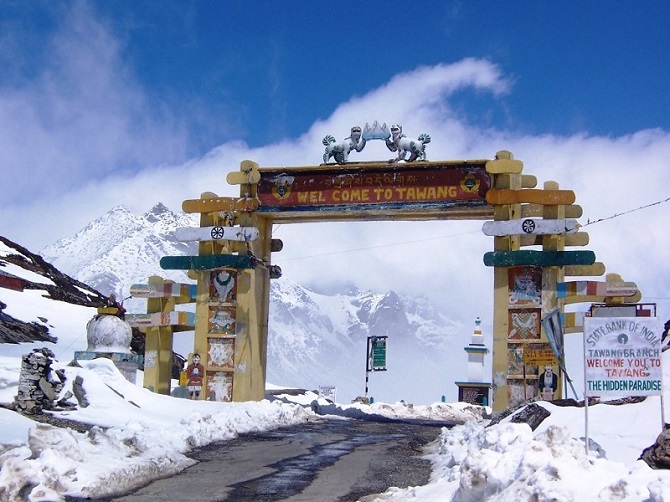 Source- http://bit.ly/1wx7opA
This route provides you with the opportunity to explore the underrated travel gems, such as Cherrapunji, Imphal and Kaziranga. With a halt at Bhalukpong, you'll experience the pristine beauty of the route and the charm of roadside stalls and chilly winds.
This route covers a distance of about 480 kms from Guwahati, covering Bomdilla and the final stoppage being Kaziranga.
11. Gangtok To Lake Tsomgo To Nathu la Pass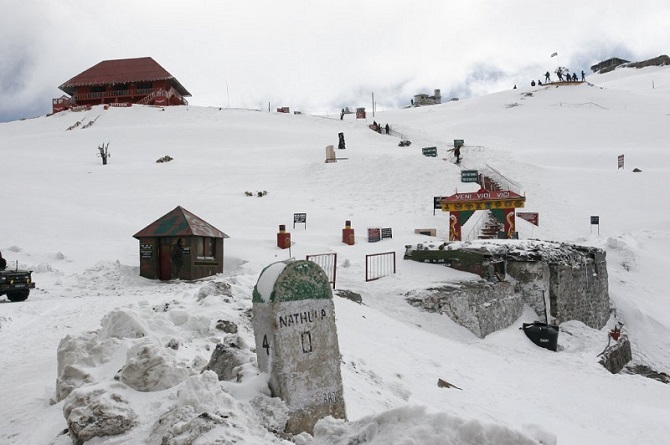 Source- http://bit.ly/12rvN26
North-east India, though least explored in case of on-road travels, the Gangtok-Lake Tsomgo road trip will prove worthy of the chance. The beauty of the road lies in the uncertainty of the terrain, though this sometimes might prove dangerous. The magnificent sights along the roads curving through the mountain ranges also add up to the trip.
Though this route is mere 55 kms long, but makes up for an unforgettable road trip.
12. Ahmedabad To Kutch/ Ahmedabad To Diu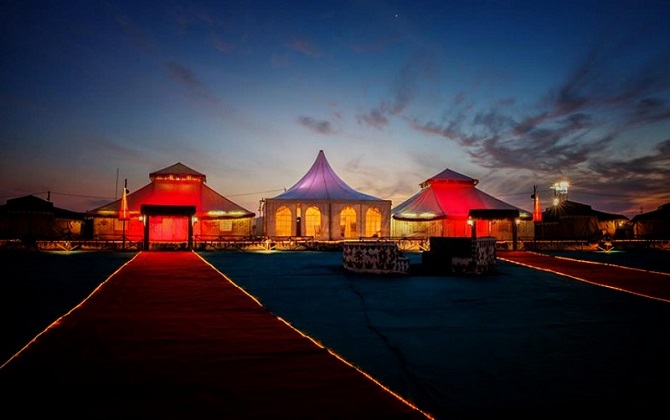 Source- http://bit.ly/1vCMSNd
To soak up the culture and the sparkling white beauty of the Rann, and to enjoying yourself in a land which is barren and white adorned by vibrant people, take up this route from Ahmedabad to Kutch. Travel during the Rann Utsav, and Kutch will stand out even more as a land of contrasts.
The stretch is 400 kms long and the terrain may prove a little untamed at some turns.
If Ahmedabad is the place you are to begin anyway, try the breezey and beachey town of Diu which may prove to be a perfect getaway for the summer. The drive covers Bavla, Bagodra, Dholera, Bhavnagar, Tahaja, Mahuva and concludes at Diu.
This route covers approximately 380 kms.
13. Puri To Konark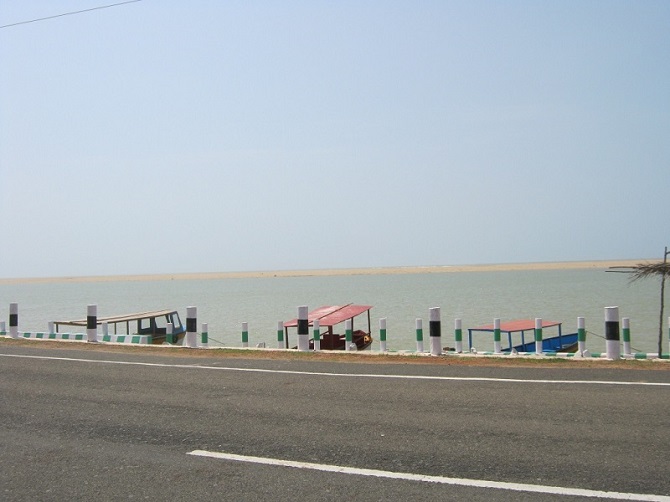 Source- http://bit.ly/1yzu042
The Puri-Konark highway is one of the very beautiful roads in the Eastern state of Orissa. The silhouette- like canopy formed by the trees on either side of the road, an always-there soft misty breeze and the peaceful and idyllic beauty will leave you mesmerized for sure.
It's a relatively short stretch of 36 kms that can be covered in just about an hour and makes for a memorable road trip.
14. Vishakhapatnam To Aarku Valley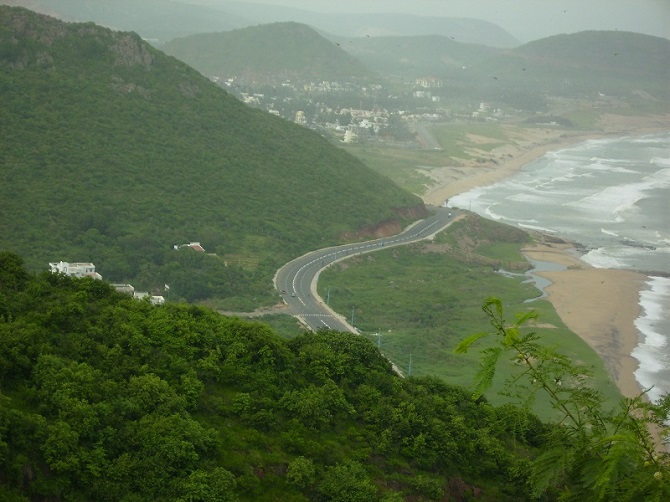 Source- http://bit.ly/1BxNjk9
There is a special kind of pristine beauty of the union of the Bay of Bengal and the Eastern Ghats in Visakhapatnam, and hence, it's a sight to behold. And when you continue the trip to Araku, you'll stand wholly mystified by the beauty of this road. The curly roads, the gentle elevation and the sweet serenity of the hills makes it an amazing road trip in south India, with halts like Borra caves and Tatipuri Reservoir on the way.
This graceful road spans about 116 km.
15. Chennai To Yelagiri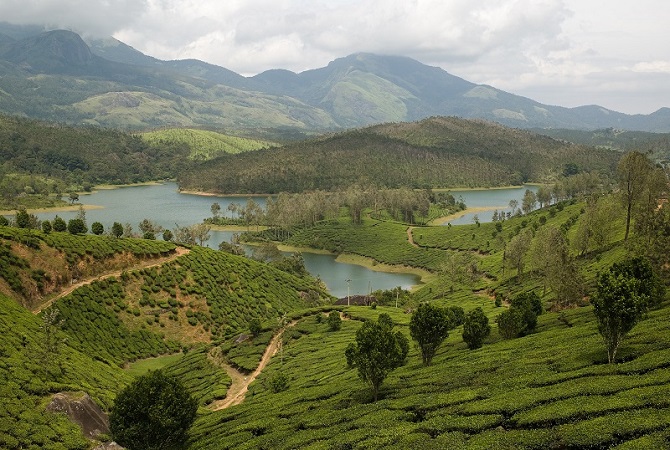 Source- http://bit.ly/135ACip
Yelagiri stands out as the ultimate colonial escape to run away to. This quaint little town, surrounded by hills, is especially famous among bikers, along with being popular for some of the best trekking trails through thick reserve forests across India. This route spans stop-overs such as Pollamani, Vellore, Vaniyabadi and finally Yelagiri with a small crossing in between Ponneri.
Total distance of this route comes out to be about 228 kms.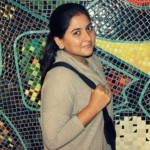 Comments
Comments