Vihigaon waterfall which is situated at a distance of approximately 12 kms from Kasara happens to be known as the Ashoka waterfall. If you have seen the Bollywood movie, Ashoka, starring Kareena Kapoor and Shahrukh Khan; this is the same waterfall where a number of shots were taken. The factor that makes this waterfall, amazing is its location; it is located in the middle of a dense forest; thus giving the tourists a lifetime experience. This waterfall situated amidst of a deep forest offering opportunities for rappelling is a must visit for the adventure freaks and nature lovers.
There is a carpet of lush greenery and a large number of small ponds are scattered here and there. The waterfall is considered as an ideal spot for enjoying the ultimate charm of rappelling. The waterfall is nearly 100 feet in height giving one of the best water rappelling experience. The steepness of the slope and a little slippery route require a little caution from the rappeller, but once you get there you will feel that it was worth the effort. As the place is still not fully commercialized, there is less of dirt; the water is clean and pristine. The waterfall is a highlight of the region of Kasara.
Vihigaon is a little more than 12 kms away from the Kasara Station but the roads are in a very good shape so it takes around 20 minutes to reach Vihigaon. From Kasara station we went to a small restaurant where the travelers had breakfast. After that the leaders took us to Vihigaon where the main attraction is. You get to see shades of green when you reach Vihigaon.
Pic: Enroute Vihigaon
After reaching Vihigaon we got down from the cars and walked around 200 metres and reached the spot i.e the Vihi Waterfall. There are 2 small waterfalls near the main attraction.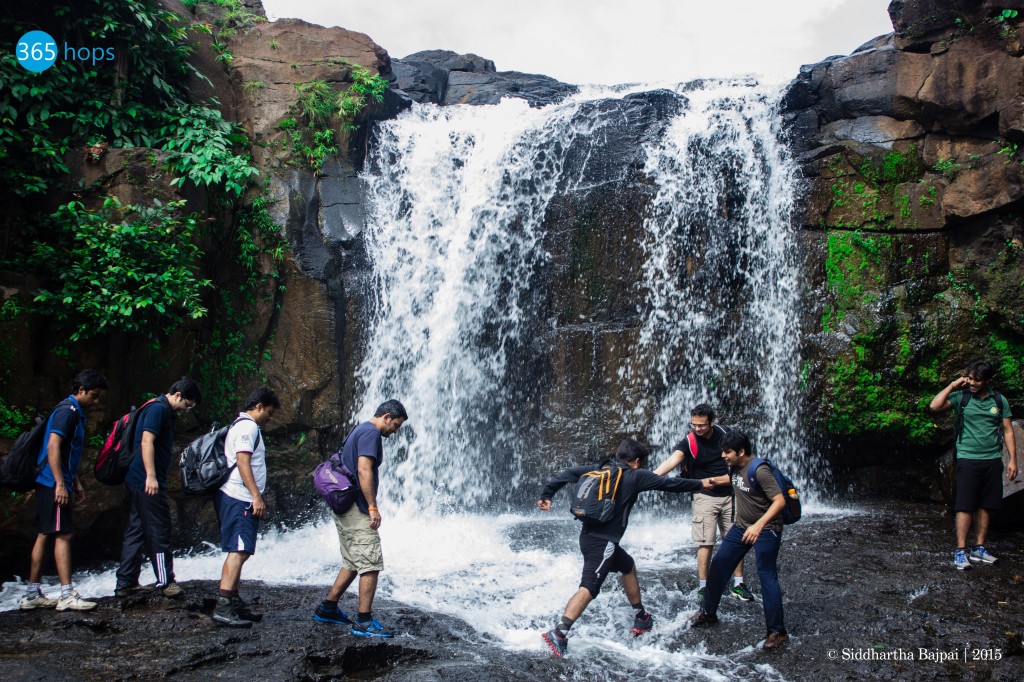 Pic: Helping Hands
The one above is just before the main Waterfall. The Vihi Waterfall is on the south of this waterfall.
After crossing this part we stand on a height which is around a 100 Ft from the ground. So apparently the Vihi Waterfall where the sport of Waterfall Rapelling takes place is around a 100 Ft.
At first was the introduction session where all the travelers introduced themselves and also the leaders gave us a brief about the Vihi Waterfall.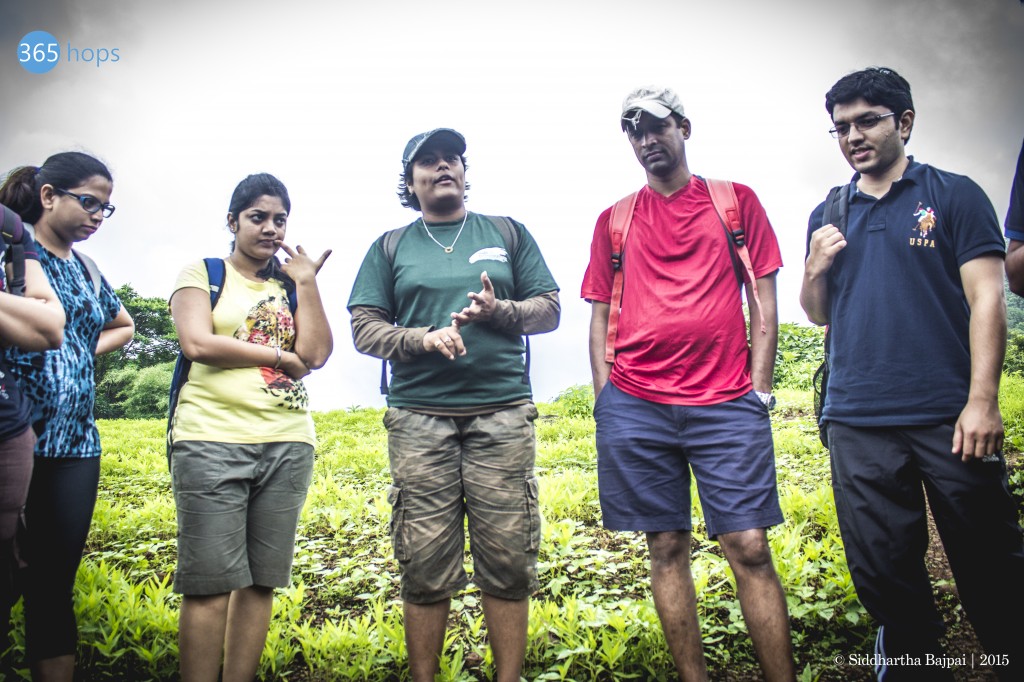 Pic: During the Introduction Session
After the introduction session, proper instructions were given about what waterfall Rappelling is and how it is done. There were experts who shared their knowledge about the gears that they would use for waterfall rappelling. A detailed information on how the ropes and harness should be used while going down the waterfall was given.
Soon the Rappelling starts. At first, goes one of the Instructor so that everyone can see how Waterfall Rapelling can be done.
-There are few people who have shared their experience with 365 hops team.
Take a look:
1) I am very passionate in life when it comes to adventure & the most when I actually  do it,  had already did bungee jumping & few trekking but water repelling at vihi was a super experience to come down of a 100 ft vertical rock & water falling with a great impact. Enjoyed thoroughly as it was not as easy that anyone could dare to do it in a perfect way. The ropes were extremely of good quality & even I collected information for same from some of the professionals. Moreover,  the safety measures were properly planned and executed.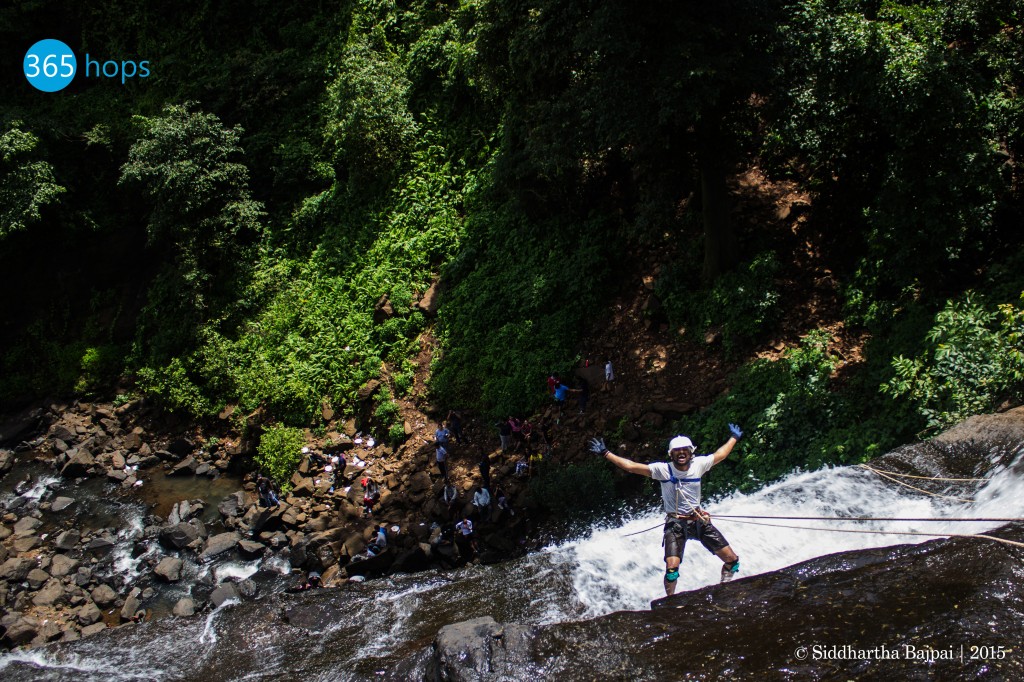 Amit suresh sapte
civil engineer
Team leader in Pangulf technologies…
2) Initially it seemed a bit difficult, was tad scared. But eventually you start to enjoy it. Every step new in its own way, getting proper grip and balance and then the descend. It was a wonderful and a very thrilling experience. Proper safety measures were taken. Highly recommended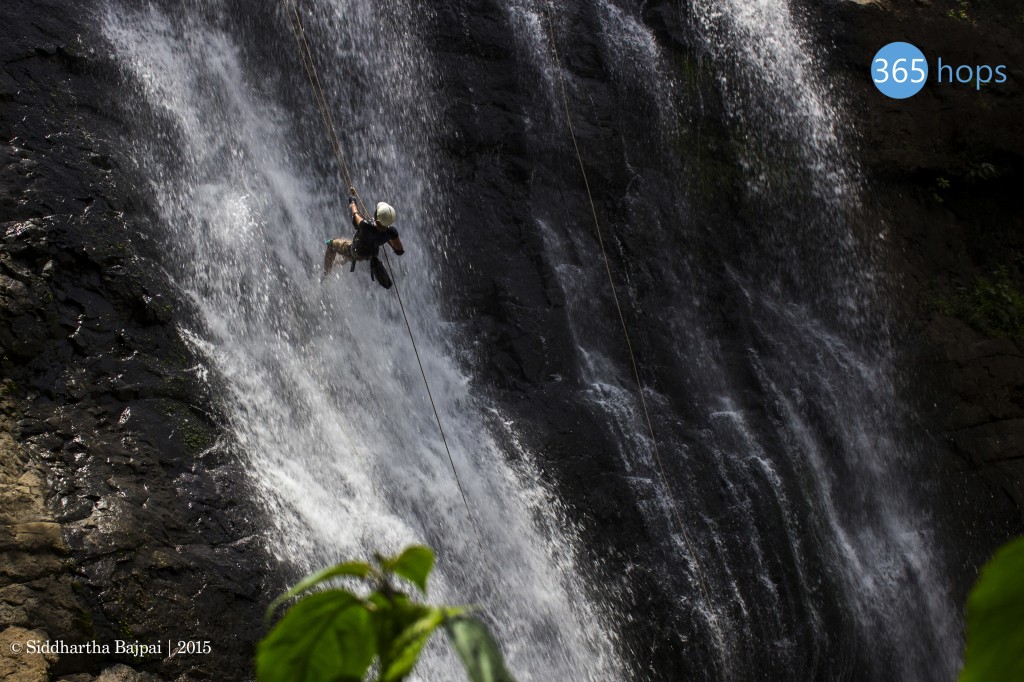 Puja Gorai
Analyst
Credit Suisse
3) Vihi Waterfall rappelling was my first Water adventure experience , I am really scared of water activity and so I used to avoid it, but on the other hand I am really crazy for adventures and so this time I ventured and planned this trip with my college friends , it was really a trilling experience, I was afraid to start but once I reached in the middle I was actually enjoying it.  My suggestion is to stay calm takeout all -ve thoughts out of your mind and go on and Njoy the adventure. Just wear all safety equipment properly and specially keep the helmet tight, My was left loose and it made it more trilling for me :D.I with my dear friends enjoyed it alot! I actually want to do this again and recommend it to anyone looking for adventures. From start to finish this was a trip to remember and I'm really grateful to our guides and all the good people of Mumbai travellers Group for making it happen,
Thanks!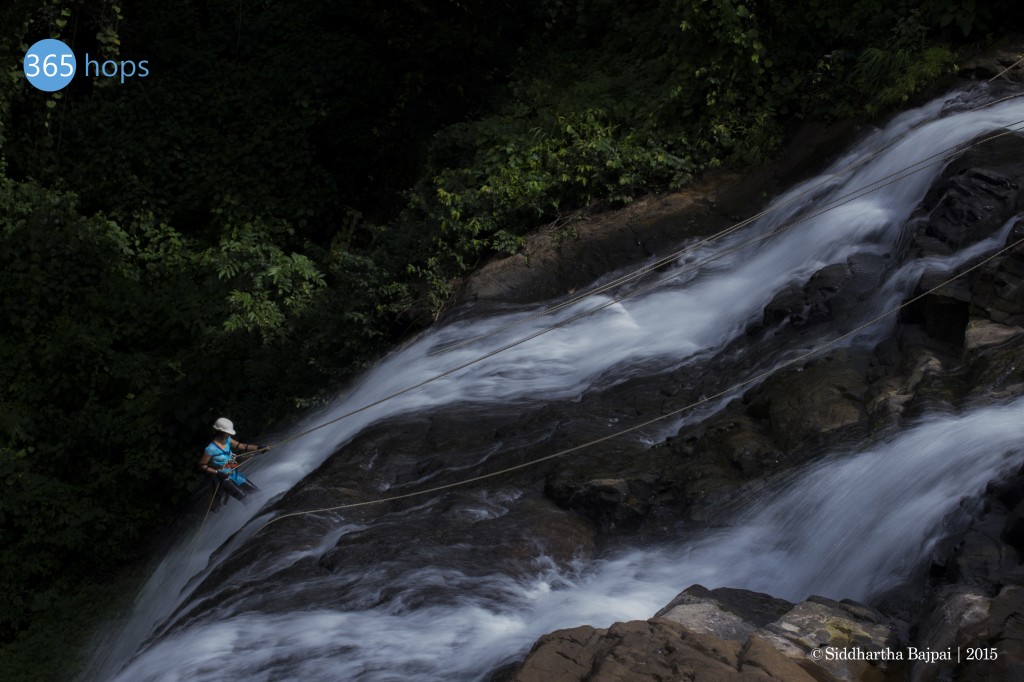 Shiva Nagar
Software Engineer
CTS.
-SIDDHARTHA BAJPAI with 365 Hops and Mumbai Travellers.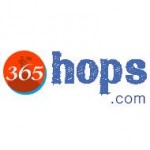 Comments
Comments