Standing at the door of a moving train, I was staring at the manmade landscapes outside. It suddenly redraws itself into vast meadows and dark green mountains rising from the crust. The eyes retreated with a lush, green canopy of forest and the nature.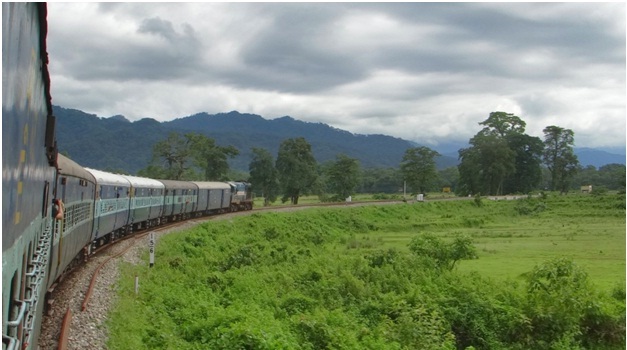 Source – https://goo.gl/x0l7i6
The mountains glittered with the water of the rains. The flowing water united to descend the sloping hills, forming a waterfall. The Bekre waterfall which is also famously nicknamed as Bhivpuri waterfall can be seen while going towards Karjat. The hills of Matheran are reborn every year with rains flowing in them like blood veins. It is a mini Amazon of Mumbai for its amazing biodiversity. The pale white fog hovers above, hiding half of the mountain. It ignites the curiosity of these mystic mountains and redraws my imagination.
While I was still in my day dreams, staring at this beauty, the train arrived at Bhivpuri station. I was glad to convince my trek leader last night for letting me and my sister come as the batch had been already full. The dull colored full sleeves covered the muscular arms of the leader, and shorts revealed the worked out thigh. I wondered whether he was a trek leader or a body builder. The platform instantly filled with a huge number of participants. We were led out of the station following a path dotted with small houses and villagers doing their daily chores. They don't take a holiday on Sunday?
We crossed the beautiful rice paddy fields and soon got a glimpse of the triangular mountain, which was our destination. We did not rush anywhere……at every point we waited, soaking in the sight of nature in our souls, sniffing our lungs with the wild odor of plants, and shouting our hearts out. We loaded our camera like guns, ready to shoot at every point.
One strange thing I noticed was that the street lights were on, even in the day light! Seems this village has abundance of electricity. As we came closer to the waterfall, we realized that we were not alone. There was already crowd at the base, making the waterfall its personal shower.
The roaring melody of the waterfall was soothing to the ears. It emitted milky white color straight from heaven. It looked like Dudhsagar waterfall of Goa. We were then given instructions from our leader on how exactly waterfall rappelling happens. He got into the technical details of how rope passes through a harness and belay and how it will be our savior. Looking at the unsure, worried faces of participants, including me, he assured that we will be given instructions again before rappelling.
We ascended up to the start of the waterfall. With more than 20 people, each taking time of 5 to 15 mins for rappelling, I had ample of time to pass until my turn came. All the while I kept scaring my sister that waterfall rappelling will be very hard and anything can happen to her. Ever since we started, until our turn, I kept explaining her that how dangerous it is and how much difficult it will be since it's her first time. *devilssmile*
While others were rappelling, I saw every possible emotion of a human in them. They were anxious, they feared, they laughed, they shouted their hearts out, and some even denied descending down in the middle of the rock patch! After a while I just sat away from the crowd adoring the flawless beauty of nature. At that point of time I was badly missing my best friend who introduced me to the world of trekking and adventure.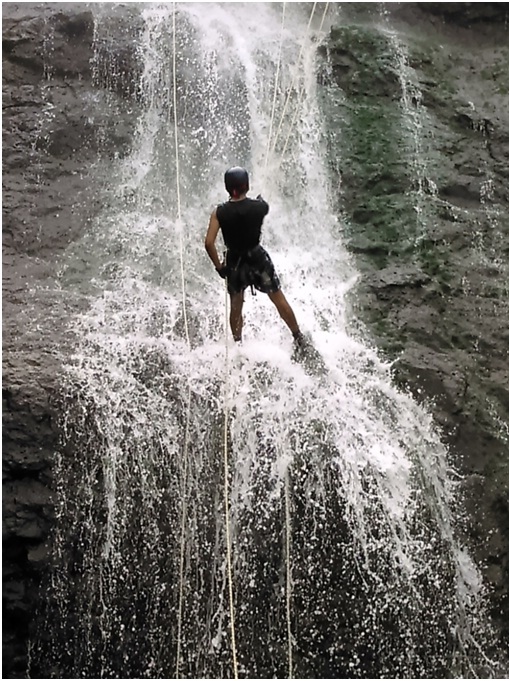 So finally my turn came for rappelling. I was aware that I had scared the hell out of my sister, so I requested the leader to allow me to rappel down along with her. Before the crest of the waterfall, we were given instructions while they were fitting the gears on our waist. My sister was panicking a lot, I even tried to motivate her. But she was too scared. Then suddenly I don't know what happened, the instructor said something to her and she instantly started to rappel down. I lost her sight and asked the instructor where is she, because I had to rappel along with her. "wo kab ki nikal gai, abhi tak to pauch bhi gai hogi, abhi aap jaldi niklo" (She left away long back, she might have even reached, you also go now)
Hearing this I instantly started to rappel down. I was on the right side of the falls where there was not much water. As soon as I laid my first foot on the crest, the algae beneath made me slip. Man! Falling down at the very start of the waterfall, how sad is that! I somehow gained my balance and continued. I started finding her and saw that she was close to the base.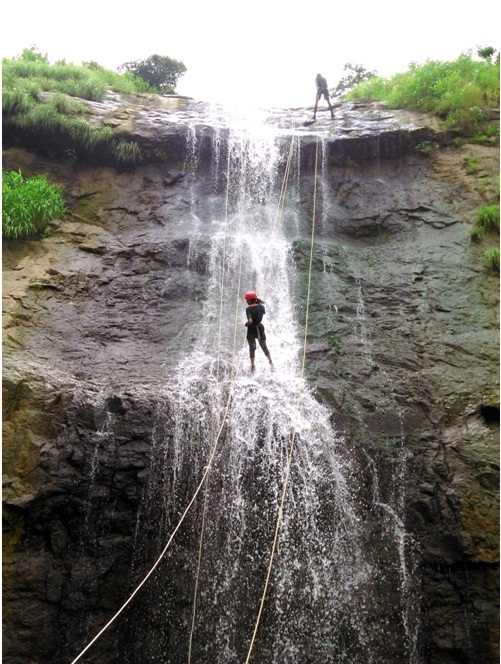 As I just went a little further down, I slipped again! This time I was rotating 365 degrees on the rope. All my energy and focus got haywire. I instantly felt de-motivated. I could hear people, shouting something from down. I felt the pressure and all my thoughts went through a tough time. I got anxious and felt my presence in the middle of something really wrong. But then the crowd kept cheering me up and I had to complete this!
With the help of my legs I pushed against the walls and stood up. I navigated myself slowly towards the waterfalls on the left. As I enter the falls, I could feel the power of the gushing water against my chest. It felt as if 10 people were pushing against me. Water kept sprinkling on my face, not allowing me to see anything properly. As I bent backward looking down, I could literally feel the flow of the water and see the other trekkers in the size of ants. With the hands on the rope, courage within, and a smile on my face I continued to rappel while I heard the blissful fusion of my heartbeats and the water rushing down into my ears. I was rappelling down really slow, feeling every moment of it. When I was in the middle, I couldn't resist but to leave one of my hands from the rope and spread it wide open in SRK style. Spreading my arm wide open, my soul got cleansed with every drop of the waterfall against my body. I was on seventh cloud experiencing nirvana.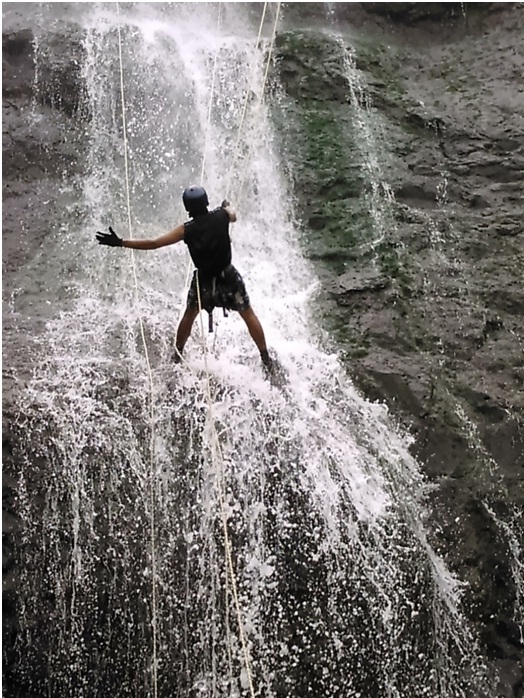 I heard my instructor from down "arre aaja bhai neeche, aadha ghanta ho gaya, aur kitna paisa vasol karega?"
"Hey come down brother, it's been half an hour, how much more value do you want for your money?"
As I reach down I shouted my heart out! I couldn't resist hugging my sister, as we experienced the most amazing thing ever.
After enjoying the waterfall, everyone teased me as my sister did better than me, being her first time. I glanced once again at the stunning waterfall before leaving and till the end kept looking back at the waterfall until it disappeared from my vision. And with one hope that we wished that day never ended, we boarded the train back to the city with an experience of a lifetime of rappelling at the Bekare waterfall.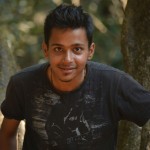 Comments
Comments