"And then I realised Adventures are the best way to Learn."
Wanderlust is in the air. So who wants to trek it out and add one more story to the book of life? If you are in Bangalore and is confused regarding where to go, I am right here. Cummon you can ask me. I know you want to and you know you want to so what are we waiting for? Trekking in Bangalore is becoming the most sort after escape from the hustle and bustle of life. So in that spirit and also for the sake of your wanderlust, here is a list of 9 unusual Trekking expeditions near Bangalore that you can take up.
Go Beyond Limits with Kodachadri Trek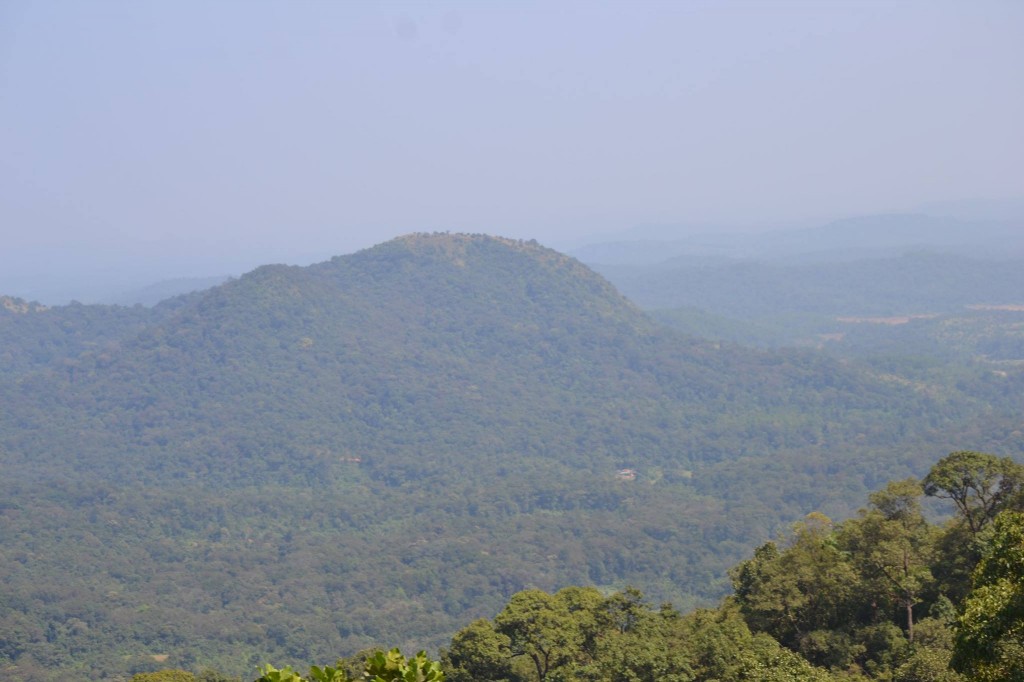 "The poetry of Earth is never  dead here." - John Keats
Kodachadri trek is one of the most sort after trail in South India and is truly an escape from all the nuances of the city life. Located in Shimoga district, its name means "Home of the hill of Jasmine Flowers." This trek offers everything from waterfalls to dense forests.
And if that wanderlust in you demands more, take up this trek at night time and you will have an experience of a lifetime and believe me when I say this, Once you reach the top, you will feel like you are dead and have finally reached the heaven. I mean don't get scared. You are not actually dead of course. The view from top is enchanting with the backdrop of Arabian Sea and Sharavati backwaters. And if you are the lucky one and it is a cloudy morning, then you would literally see yourself among the clouds. I know it can't get better than this right?
For more kodachadri trekking details
Distance (From Bangalore City) : 442 Kms
Trek Difficulty Level : Moderate
Average Elevation : 1,343 m (4,406 ft)
Popular For : Trekking, Sunset, Wildlife, Nagara fort, water falls, Lake
Escape the Ordinary with Tadiandamol Trekking in Coorg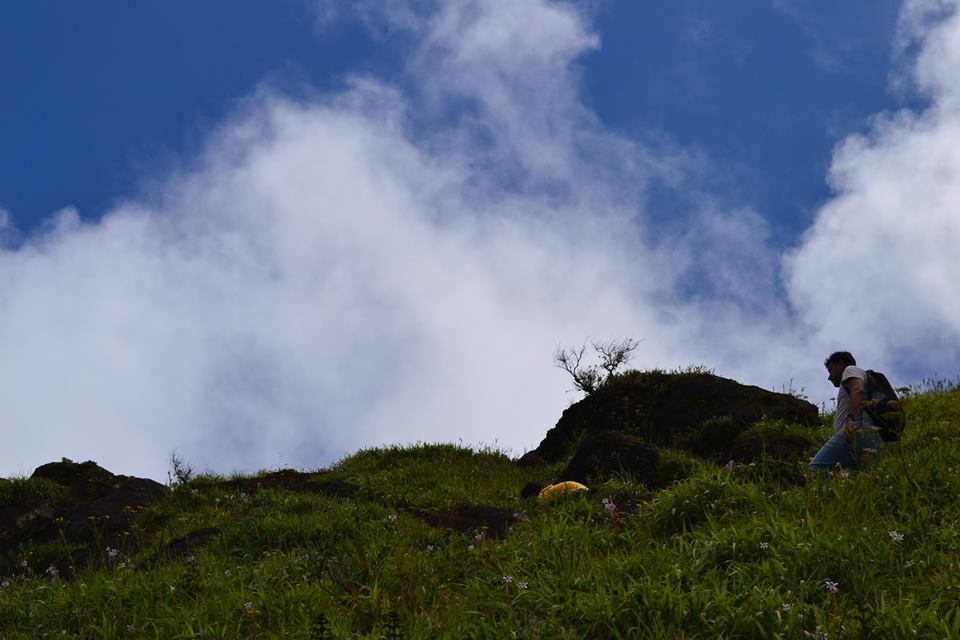 "The Earth has music for those who listen." - George Santayana
A beautiful, yet lesser known trek, this place is perfect for those who wants to enjoy the solitude of nature. Tadiandamol peak is the 5th largest peak in South India and is the largest peak in Coorg rising up to 1,748 meters above sea level. Located at some 280 kms from Bangalore, the place with its varied landscapes opens up a world of mystical beauty in which every turn becomes a mesmerising surprise.
An additional bonus on this trek is Chelavara Falls Trek, where you can get our beloved adrenaline rush by taking part in water sports like river rafting and waterfall rappelling. This sure would be once in a lifetime experience and would definitely make it to the list – "Things to remember till the time you die."
For Coorg Tadiandamol Trek And Rafting details
Distance (From Bangalore City) : 272 Kms Via NH275
Trek Difficulty Level : Moderate
Average Elevation : 1,748 m (5,735 ft)
Popular For : Trekking, camping, shola forests, naturalists.
Nature Becomes Home with Mullayanagiri Trek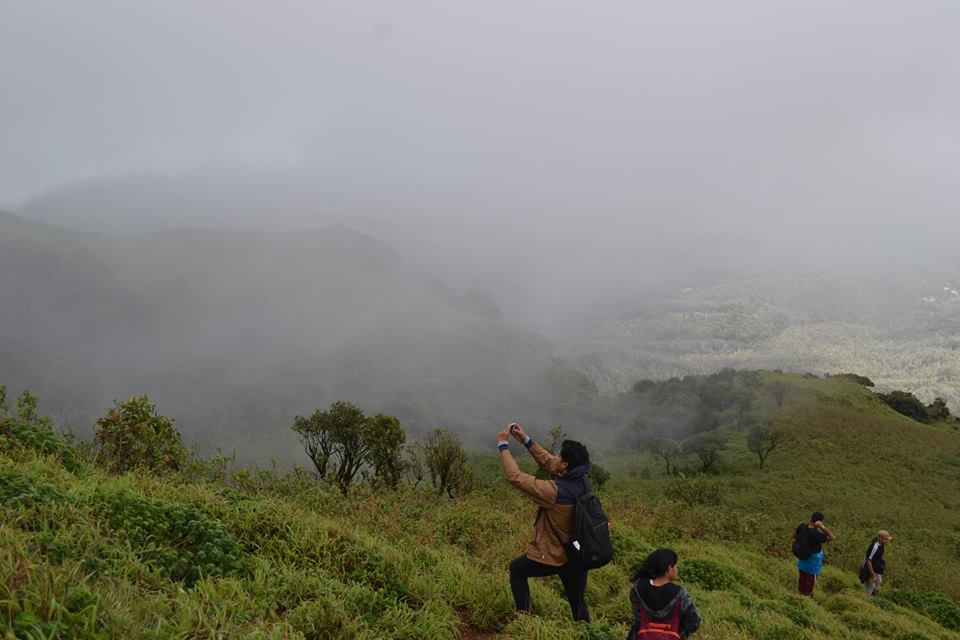 "Adopt the pace of nature, her secret is patience." - Ralph Waldo Emerson
So what all, the highest peak of Karnataka, has to offer you? Well, how about breathtaking and most enchanting views with each step you take which not to forget gets better and better? No not enough? Let's add the view of whole of the surrounding ranges from the top. Now, is it enough? Yes, i know it is. At 1,930 meter, the Mullayanagiri peak stands majestically over all of the Western Ghats.
It is a 12 kms trek which starts from Sarpadari. The trek is a perfect way to heal your tired soul and adapt to the pace of nature in order to truly absorb everything that nature has to provide here.
Distance (From Bangalore City) : 244 Kms Via NH75
Trek Difficulty Level : Moderate
Average Elevation : 1,930 metres (6,330 ft)
Popular For : Trekking, Temple, Hills, Mountains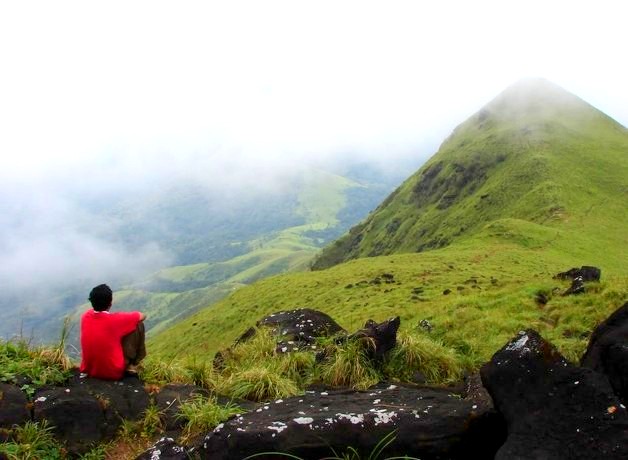 "A walk in nature walks the soul back home." - Mary Davis
Now that we are talking about Trekking in Coorg, let's talk about this another gem hidden in the lap of nature. This beautiful trail takes you so close to nature that returning from there seems impossible. This trek is not very famous and hence is a perfect destination for the people looking for quiet and loneliness.
The mountain ranges start from Bhagamandala after which there is a 7 km dirt road to Talacauvery which is the base camp from where the trek to Nishanimotte Peak starts. You can go till here by Jeep or on foot.
Hike More, Worry less in Sakleshpur Trek With Waterfalls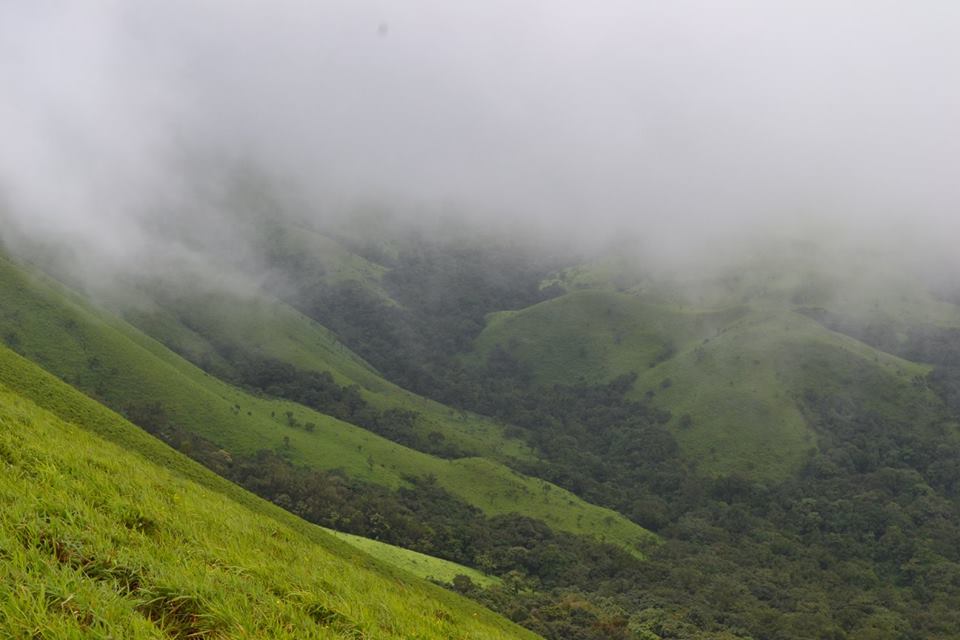 "On Earth, there is no heaven, but there are pieces of it." - Jules Renard
God has thrown one such piece in Sakleshpur, a small town also known as 'Poor Man's Ooty'. In this beautiful trek, you would not only go on a trek, the numerous waterfalls on the way would give you an opportunity to make the most out of everything the mother nature provides here.
Other unique offering is Homestay in Sakleshpur. When you think of going on a trek, the next that comes to mind is camping right. But when you are in Sakleshpur, you get to stay in the most beautiful homestays and get to live like a local and experience the calmness of living a simple life.
Distance (From Bangalore City) : 221 Kms Via NH75
Trek Difficulty Level : Moderate
Average Elevation : 933 m (3,061 ft)
Popular For : Trekking, Forts, Waterfalls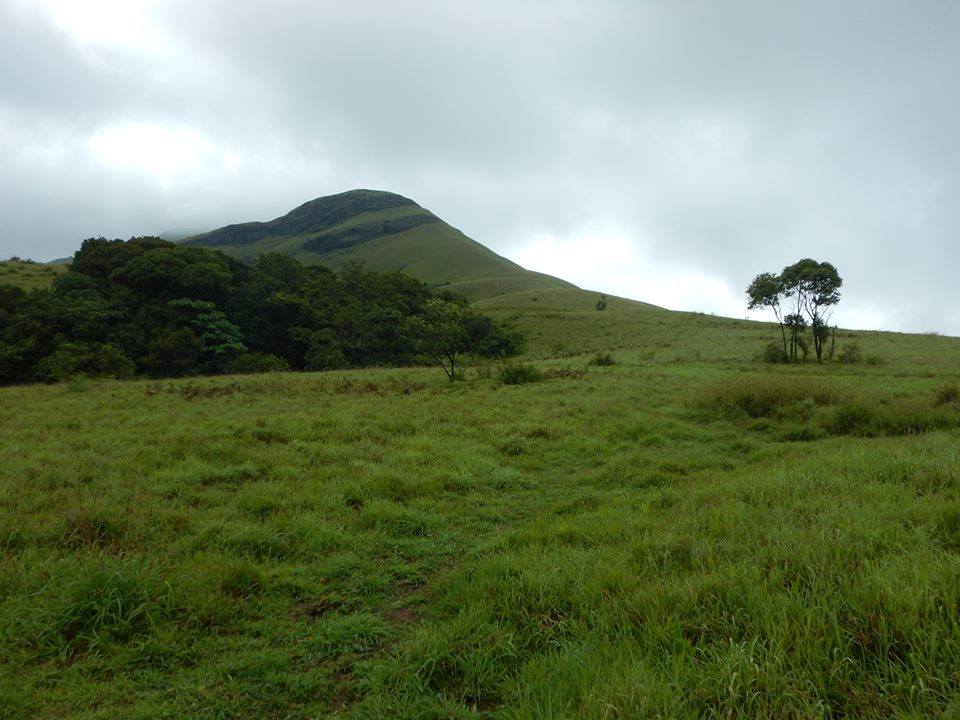 "Allow Nature's peace to flow into you as sunshine flows into trees." - John Muir
Kudremukh trek is without a doubt the most beautiful trek in Western Ghats. The variety in the views is the usp of this trek. The trail has it all for you. You get to cross overflowing streams, bamboo shrubs that are so tall that you will feel that they are extended till the sky, the dark shola forests with beautiful brown leaves spread all across the ground, the lush green hills and last but not the least, the peak. When at top, you feel like you are in trance. You can feel the wind blowing away your body and the scenery blowing away your mind all at the same time.
Distance (From Bangalore City) : 333 Kms Via NH75
Trek Difficulty Level : Moderate
Average Elevation : 1,894 m (6,214 ft)
Popular For : Trekking, Wildlife, Peaks, National park, Waterfalls
The Antidote to Exhaustion – Brahmagiri Hills Trekking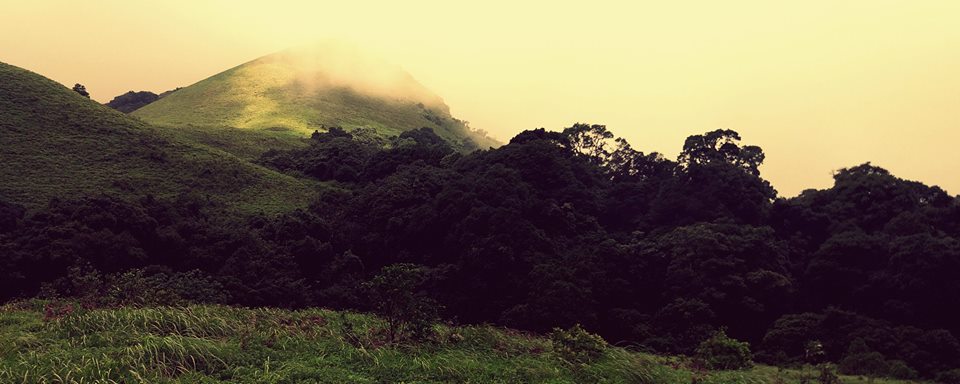 "One way to get the most out of life is to look upon it as an Adventure." - William Feather
Located on the border of Karnataka and Kerala, the Brahmagiri Hill rise up to 1068 meters above the sea level. It is a perfect location for first timer trekkers and gives the most breathtaking views. The trail also goes through Brahmagiri Wildlife Sanctuary, which is home to a large herd of elephants. Once you reach the peak, the view is a mix of jungles of Coorg and Wayanad.
With a trail running through forests, grasslands and waterfalls (Abbi Falls), this trek is a must to take on.
Distance (From Bangalore City) : 258 Kms Via NH275
Trek Difficulty Level : Moderate
Average Elevation : 1,608 m (5,276 ft)
Popular For : Trekking, Wildlife, Hills, Temple
It's Beach Time with Gokarna Beach Trek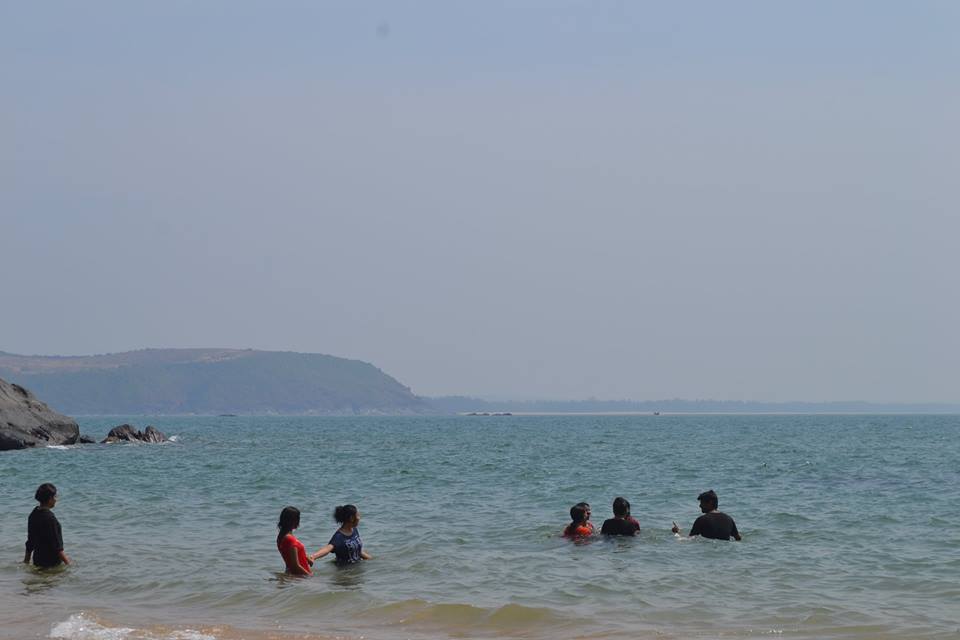 "I'll look back on this and smile because it was  life and decided to live it."
So when I said unusual, I meant it. Whenever we talk about treks, the first thing that comes to mind is mountains, peaks, view from height etc. But this trek is little different but equally good. Imagine yourself trekking with a wide ocean running parallel on your side. This trek is every photographer's dream and is an amazing experience. Most of the beaches here are untouched and I guess i do not have to say anymore.
Distance (From Bangalore City) : 485 Kms Via NH48
Trek Difficulty Level : Moderate
Average Elevation : 22 m (72 ft)
Popular For : Trekking, Beaches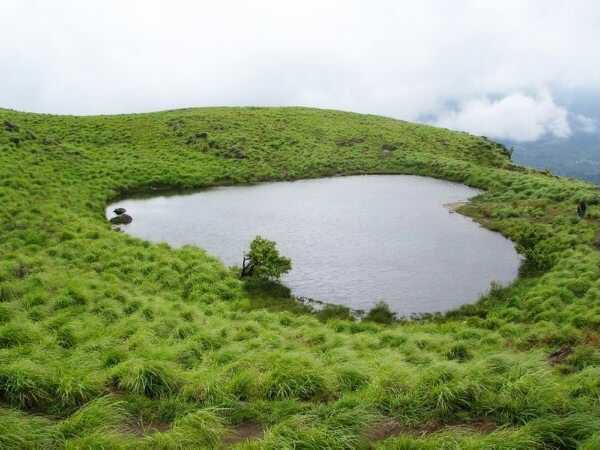 "Everyone needs a friend that will all and say, 'Get dressed, we are going on an adventure."
And especially when that friend is special. I mean I am not trying to be overtly romantic over her but imagine how romantic it would be to propose at this place with a heart shaped lake right in front of you guys. Yes, not only the trail is beautiful, the drive till the starting point has tea gardens and gives the most enchanting scenery. Then there is a lush green view all over and in the end the heart shaped lake. Trust me it cannot get more perfect <3
Distance (From Bangalore City) : 313 Kms Via NH275 and NH766
Trek Difficulty Level : Moderate
Average Elevation : 2,100 m (6,890 ft)
Popular For : Trekking, Hills, Peaks, Dam
Comments
Comments