The seat under me was dancing here and there. While riding my cycle I had to adjust the seat again and again. I felt like it was making fun me instead of giving me comfort. They say ignorance is bliss, I can't agree more after I ignored my problem and continued to enjoy my cycle ride.
Cycling is my favorite sport. In Europe, they literally have roads dedicated only for the cyclists. In a sophisticated city like Mumbai, it is hard for people to devote time and cycle. And with its crazy traffic, it is just impossible to ride on its streets.
But during the night, Mumbai has a different face. The lonely streets illumined with golden lights give shelter to the homeless people on its footpath. A sense of freedom is in the air, while cycling on these roads. When I got an offer to ride cycle with a group on the coastal route of Bombay, I instantly accepted it. It was actually a midnight trip. Throughout the week I was excited and could not wait for that night. Finally, the night arrived. I pulled up my stocks and got ready.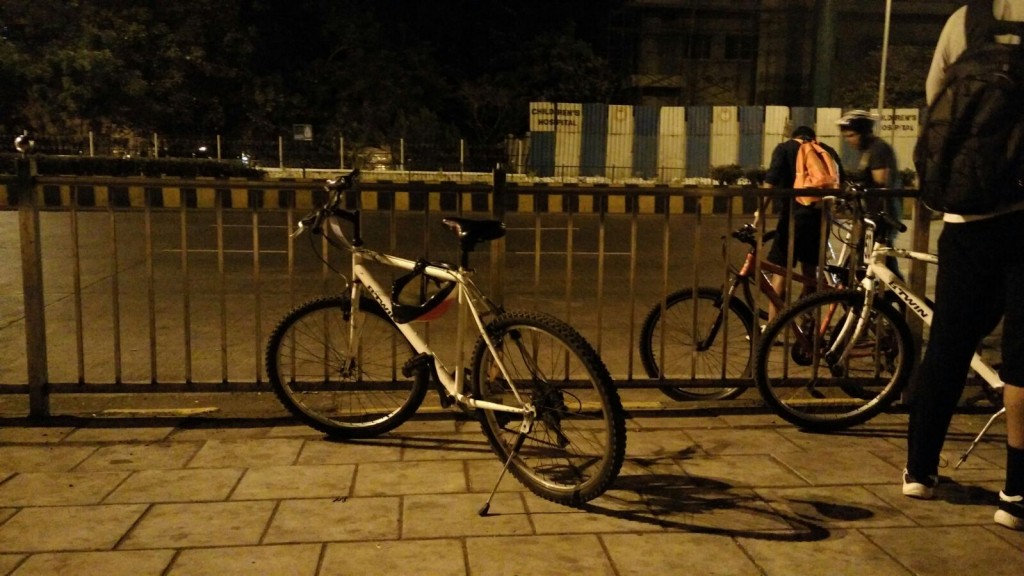 I was among the ones who reached at 10:30pm (meeting time) just to remind myself that Mumbaikars are never on time. Prashant, our group coordinator popped up in front of us with his cycle. A quick attendance and we had to literally wait for an hour for our dear late comers before we finally started our cycling trip at 12:00am.
Adrenaline rush ran through the veins of 45 strong cyclists as we launched from the starting point. Lots of things were going through my mind. As I was alone, I tried to communicate with a few people so to make some new friends. I got myself a cool and sleek non-gear cycle.We pedaled through Colaba causeway towards Nariman point. I was just fooling around forward and backward through the crowd on my cycle. As soon as I entered the coastline, I felt the sudden cool breeze hitting me. The dark sea in the night had a reflection of the Moon. Among the million stars, I looked at Oregon belt. Because, that's the only constellation I know! I couldn't hold my excitement and shouted out loud. I wanted to open my arms wide enough to soak in everything. But well, I was riding my cycle!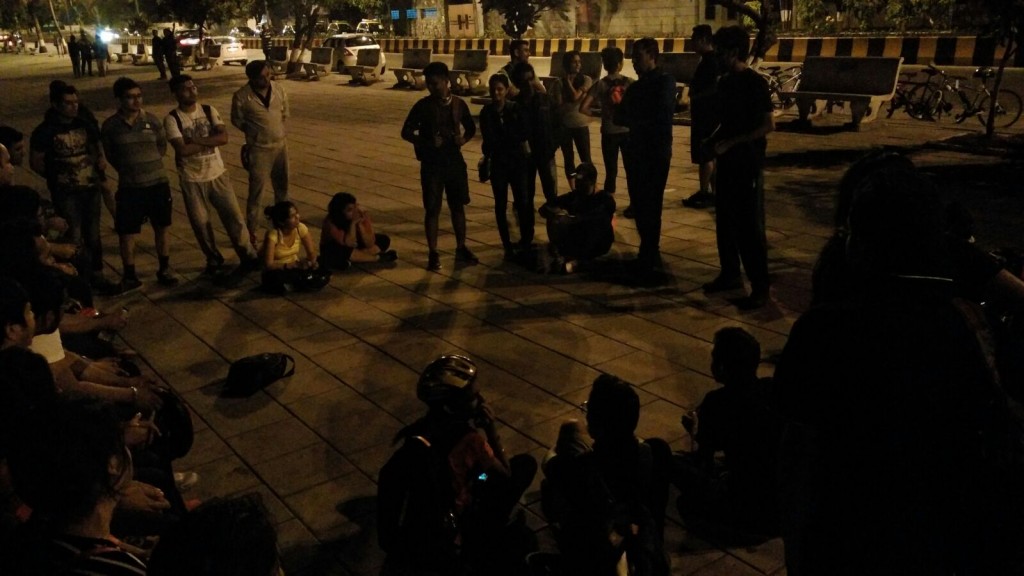 As we all were pedaling, I noticed one person missing. When I checked back, I saw him standing with his cycle. The chain was displaced. I stopped to quickly fix it. By the time we were again ready to continue cycling, everyone vanished ahead. We quickly cycled with full speed towards marine drive to catch-up with them. We both had fun cycling with full speed zooming alongside the marine drive coast. We pedaled on the promenade of marine drive. It is fun to scare the crowd (yes, there is crowd at midnight also) shoo them aside.
After meeting other members, we continued our cycling.
I must admit one thing, the roads were not at all empty. Though less, but cars were there to make us ride with precautions. We reached at our first halt in Haji Ali. Everyone was tired. We started eating the delicious snacks provided by coordinators.
Prashant warned us before leaving, for not following his rules.
Overtaking the leader, riding in the middle of the road, crashing with other cyclists was the main reason. We even got many stares for our colorful helmets, As if professional riders were on the road. People are not used to see so many people cycling around.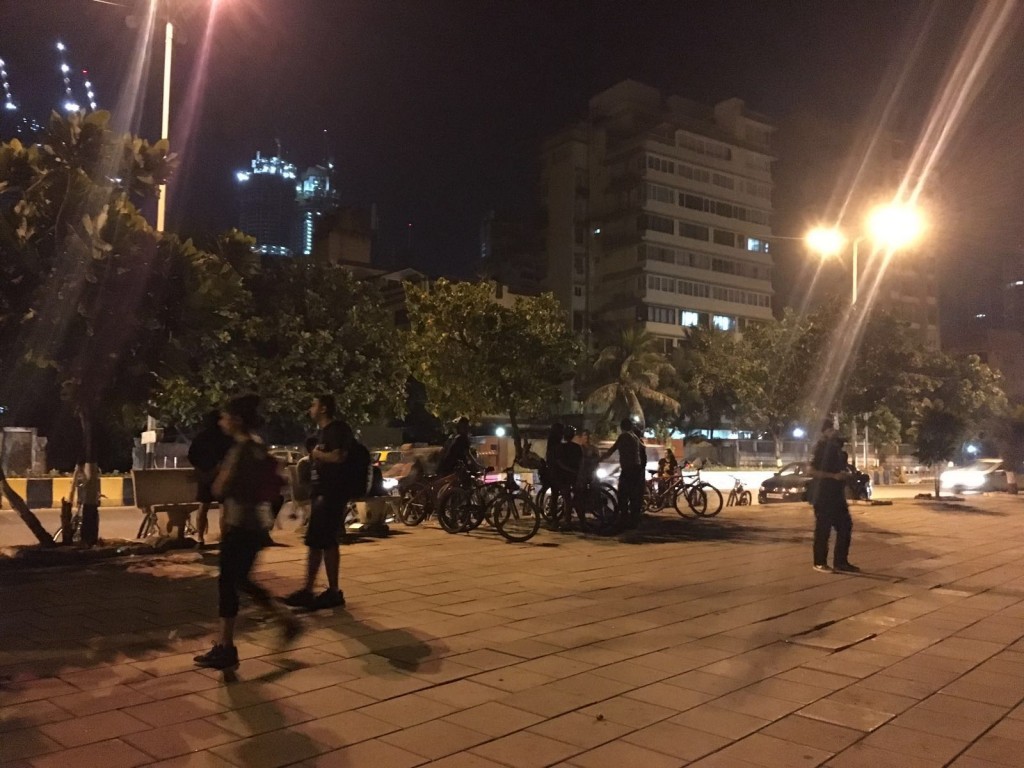 Mumbai has a complete different life at night. You will be surprised to even see women at 2:00am. The human free footpaths are fun to cycle on. And the promenades of Sea face are even better to ride on in the night. I can't imagine how these beautiful golden streets will look, once they are replaced by LEDs. Marine drive already lost its queens necklace.
"There are girls in the group, so stick together. If you see a girl alone, then ride with her until other group members rejoin" I soon realized why this was said by our coordinator before starting the ride. There were enough Sharukhs and Salmans whistling at us. But the arrangements for the ride were very appreciating. Along with 2 co-coordinators, 2 bikes assisted us as backups. Not once we felt unsafe. This time, everyone was following the rules. We soon reached Worli sea face. With the beautiful Bandra – Worli sea link on our backdrop, we started a round of Introductions.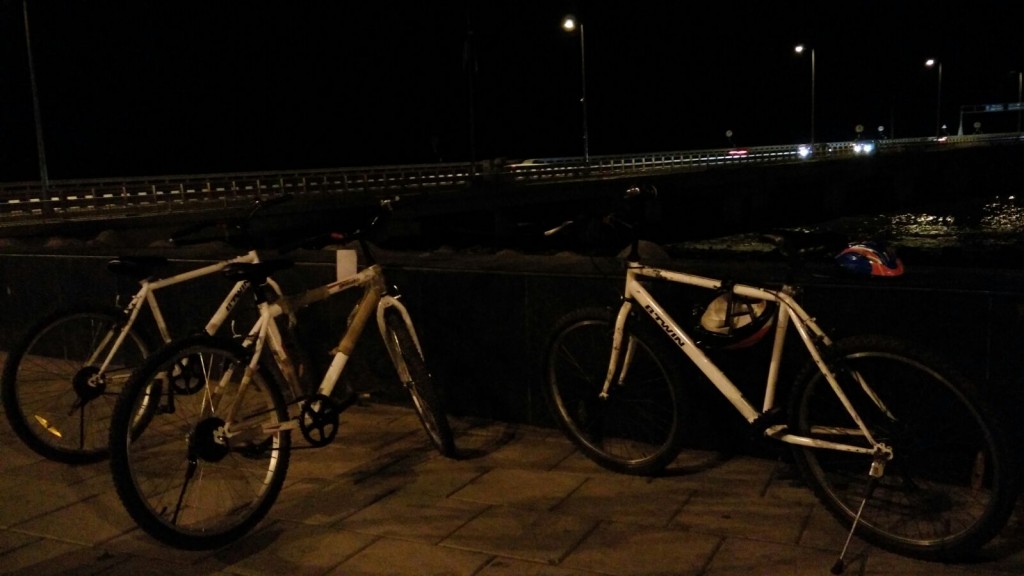 Travelling miles on a bus rooftop. Sky diving, river rafting, 14000 ft. Summit, Going on an unplanned Goa trip without any knowledge to parents, Dipping into deep conversation just to realize you are back to the same station after one hour! Everyone had one craziest stuff to confess, and many were hilarious! Of course, a group photo had to be followed.
I again started cycling forward and backward of the group. I tried to hook up with every single person and interact with them. But ended up with just formal name exchanges. *Fail* We arrived at Dadar Chowpati. Everyone admitted to come here for the first time, including me! We were told that the next section is risky due to speeding cars and bikes. And it actually proved to be hazardous! One of our member fell down and got a small but serious cut. Luckily he was conscious. Quick medical help was given and our leader stayed back with him.
We were let by other coordinators as we were nearing our finishing point at bandstand. We all Hi-fied and congratulated each other after finishing. The tides of Bandstand were inviting me by its roaring sound. It is pleasant to see waves wrestling with the rocks on shore.
Some of us stayed back before catching early morning local and heading back home. Oh, by the way I was not surprised to see a train jam packed with people even at this time of the day.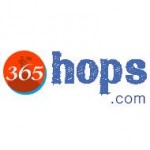 Comments
Comments