"I don't ride a bike to add days to my life.
I ride a bike to add life to my days!"
For those whose bike is more important than their girlfriend, "Leh gaye aur bike pe Pangong Lake nahi gaye toh kya khak Leh gaye!" A decade from now, very few of us knew about this beauty but then 3 Idiots got released and we saw Aamir Khan flying a kite there and this  place immediately made a place in the bucket list of all the travel enthusiasts and oh yes the Bollywood Enthusiasts.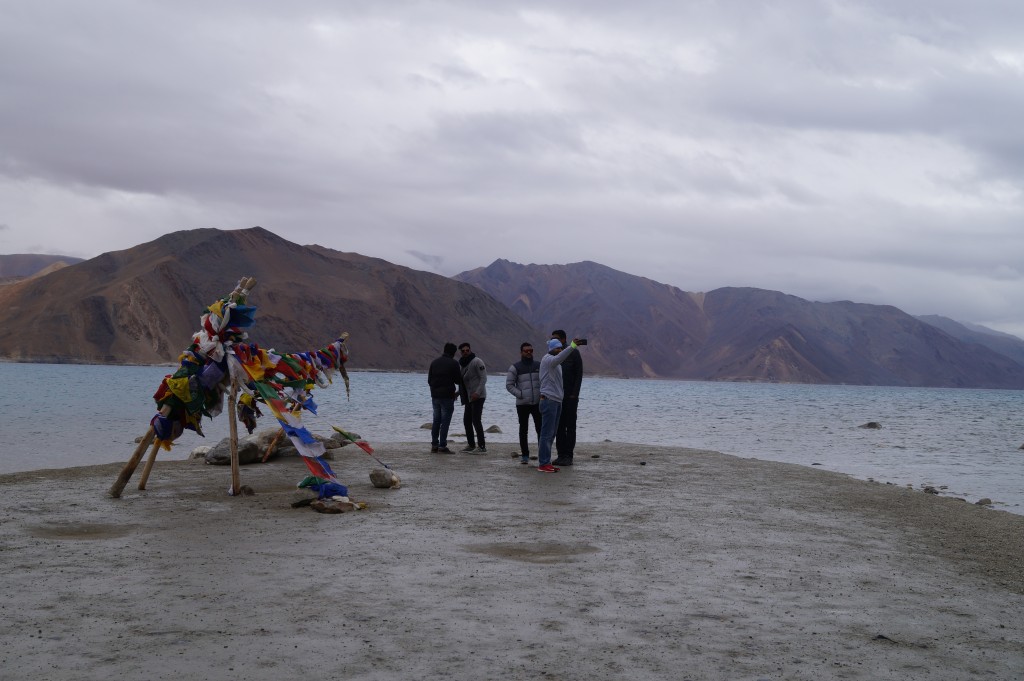 Known as the "Enchanted Lake", this lake is about 5 kms wide at its broadest point and  has a total length of  approximately 134 kms. Approximately 60% of this lake  is in China and 40% in India. Now even about the Geography lessons because I am interested in its beauty which is so breathtaking that it would be clicked as one of the most beautiful memory of your life.
Now as they say, the journey is as important as the destination itself especially when talk of Pangong lake is on. The best way to take this journey is on a bike from Leh to Pangong  Lake and today, based on my own experience, I am going to tell you everything you need to know about this life altering journey.
The Permit to Reach Heaven
Not after death heaven, but here on Earth heaven. Being very close to China border, Pangong Lake is considered a part of inner  line, hence a permit is needed to visit this place. For foreign nationals, a Protected area permit is needed. I would advise you to obtain these permits either online before starting the journey or through a travel agent.
Renting A Bike
You can rent a bike in Leh. This is an important decision as you are on your own once you leave from Leh with no fuel stations or repair shop. Choose your bike wisely. Take a test ride and see which bike is more comfortable to you. Studying the condition of the bike is very important because you do not want to face a breakdown in the middle of the desert with no one around to help you. You can also go for a travel agency. The benefit of going with a group would be one you will get good bikes and second it is always better to move in a group because you never know what awaits you after Leh. The weather can really test your patience and endurance.
How  To Reach
There are four  routes which you can take up. One is the old Leh to Pangong direct route; there are two routes through Nubra Valley and the least traveled one is between Tso Moriri and Pangong Lake..
The most traveled road is via Chang La  that is the traditional road. A word of caution here is all the turns look same and it is extremely easy to take a wrong turn and you won't even realise that you are on the different  route altogether which is one more reason I was stressing so much on going with a group of people or a guide. The journey via Chang La would be laid as below:
Leh – Shey – Karu [45 kms]
Karu – Shakti – Chang La [40 kms]
Chang La – Durbuk – Tangste [60 kms]
Tangste – Lukung – Spangmik – Pangong Tso [30 kms]
The approximate distance is almost 160 kms which would take almost 6 to 7 hours to complete depending upon the pace with which you are moving and also if  the journey is smooth without any unfortunate breakdown of your bike. Once you pass Karu and reach Chang La which means a "Pass towards the South", you would be riding a bike on the world's third highest motorable road in the world at the height of 17,590 meters. That is pretty cool right? After this, there is a short patch of rough road till Durbuk after which there is a super smooth road.
The journey on this route is super beautiful and at one time you would be confused as hell whether to drive or just stop and take it all in. There would be tons of monasteries that would fall in the way on your way to Pangong.
Best Time To Visit
The best time to visit Pangong is June till September. However, if you want to see a frozen Pangong lake, then January is the best time to go.
Accommodation
The accommodation is mostly in the form of campsites and is one in a lifetime experience amidst the middle of nowhere with a beautiful view of a Lake which is lit by stars and moonlight.
So just a simple quote to light up that fire in you even more:
" If you want to be happy,
For a day, drink!
If you want to be happy,
For an year, marry!
If you want to be happy,
For a lifetime, ride a motorcycle!"
Comments
Comments