"If you want to be happy for a day – drink.
If you want to be happy for an year – marry.
If you want to be happy for a lifetime – Ride a Motorcycle."
Well! As they say and you guys have to agree with me, "Four wheels move the body, but two wheels move the soul." And what better place to find yourself than a journey of Leh Ladakh. A place where people realises the true meaning of human existence and where things like water and food are still the first priority of people, Leh Ladakh is truly a life altering experience. Now add a motorbike to this journey and nothing would ever be able to match up to that experience ever. No offense to your family and friends, but no experience could be fulfilling enough once the bar is set this high.
"She always dreamt to be free, wandering amidst the mountains sitting under a tree. Her dream finally came true when she saw this place. Everyone told her, she won't be able to survive, it is just a phase. Adamant as she was, she picked her bike. One month in the wildness, she found the true purpose in her life."
Leh Ladakh is the land like no other. The breathtaking landscapes, superabundant attractions and the feeling of solitude would bring you to this place again and again. Truly a heaven on Earth, it is a breathing dream for every bike lover. I mean, imagine yourself on a Royal Enfield riding the super sexy roads along the magnificent mountains. It will feel like trance and would mesmerize you to the core.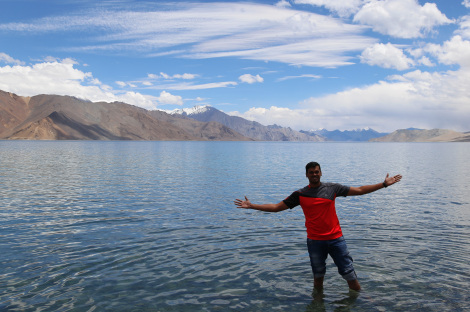 A deadly combination of beauty with danger, the quiet scenic surroundings would make you fall in love with life and all the spoiled brats whose parents have pampered them way too much, this bike ride would seriously be a life opener for you guys and give you a real perspective towards life.
Amidst the breathtaking landscape, beautiful mountains and extreme climatic condition, the two highest motorable roads are waiting for you to be explored. Khardung La Pass at a height of 5359 meters above the sea level is the highest motorable peak in the world and journey to this wonder of nature would be one of the most adventurous journey in your life.
A once in a lifetime trip for the adventure geeks, one thing I can say for sure, it won't be the one time you will visit. As once someone travels to Leh Ladakh, always travels to Leh Ladakh. So keep calm and bike on to
Comments
Comments