India is a country of beautiful topography and is composed of a number of mighty rivers flowing along the different parts of the country making water sports common adventure expenditure in the country. White water river rafting is one of the most thrilling activities adventurers can indulge in to keep up with their spirit of adventure. Navigating through the rough river waters and streams with different degrees of rapids in inflatable boats and paddles is quite challenging and adrenaline pumping.
Rishikesh
Rafting Rishikesh season is best during the months of September through June. River rafting Rishikesh from Laxman Jhula to Shivpuri in the mystical river Ganga offers rapids in the grade levels one to four making it one of the most exciting places to go river rafting in India. Different stretches of distances from 8 Km, 16 Km to 24 Km are available based on rafters' preferences.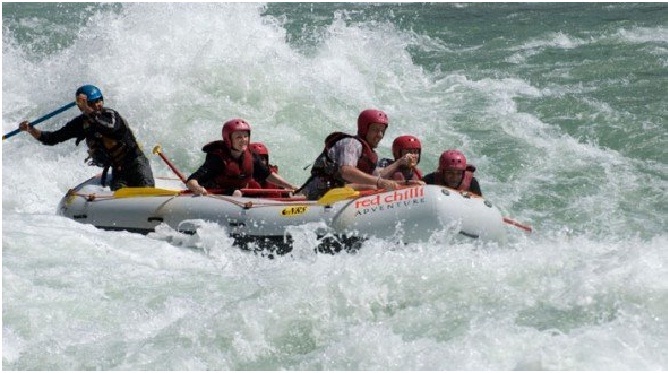 Images Credits : goo.gl/tJehHj
Kundalika River/Kolad River Rafting
Kundalika river rafting is a reason to rejoice for people of Maharashtra serving as one of the best holiday getaways. A 13 Km stretch of rafting set among the Sahyadris, the best season for Kolad river rafting is during and after the monsoon during the months of July through December depending upon the tides and water flow.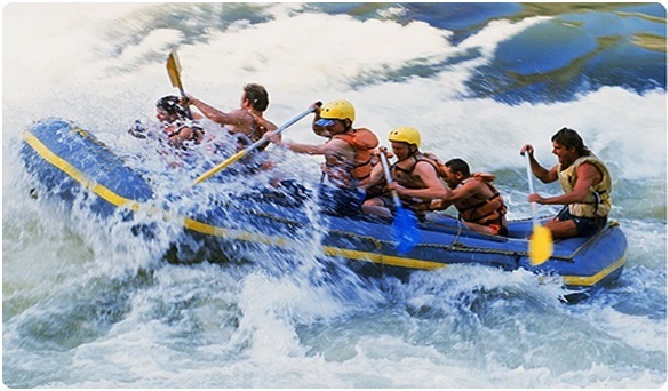 Images Credits : goo.gl/v6B74G
River Rafting In Orchha
The Betwa River originating from the Vindhyas and flowing till the Yamuna serves as an ideal site of rafting for beginners. River rafting in Orchha, Madhya Pradesh covers a stretch of 6 Km comprising of grade 1 and 2 rapids and turbulent currents beginning from Kanchana Ghat and ending at Shiv Ghat or Note Ghat depending upon the rafters' preferences.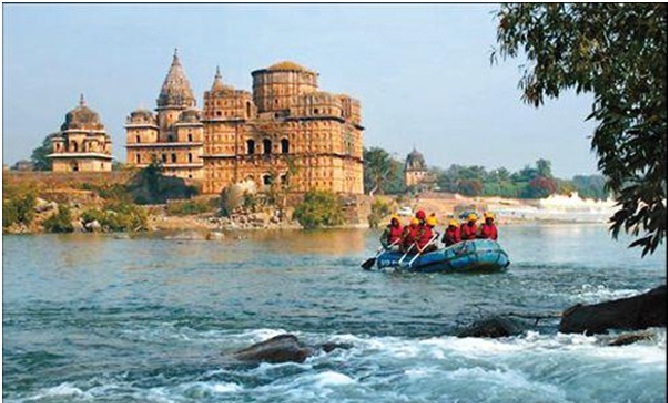 Images Credits : goo.gl/qDfLst
Rafting in Pirdi
Pirdi near Kullu offers opportunities for river rafting on the Beas River from Pirdi all the way to Jhiri covering a distance of almost 14 Kilometers. January through May and October through December are the best time for rafting in Pirdi and makes for an exciting and thrilling activity for water sport lovers.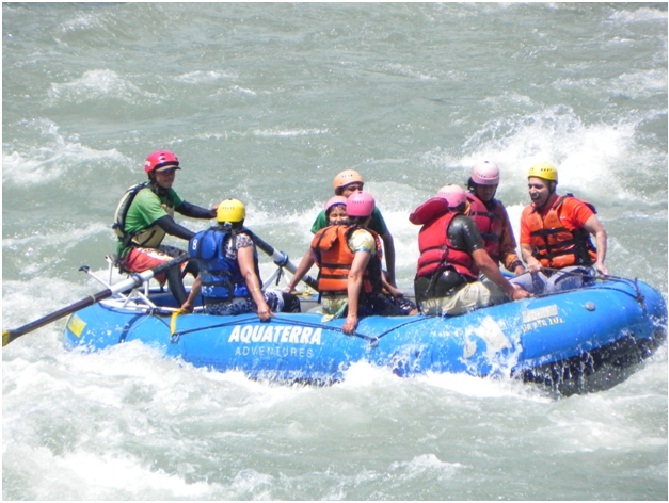 Images Credits : goo.gl/g7y0nc
Zanskar River Rafting
Rafting in River Zanskar, Ladakh will definitely enthrall extreme adventurists with spectacular views of mighty snow-capped Himalayan Mountains and glimpses of the lifestyle in the area. The level of difficulty in Zanskar river rafting is from grade to four and covers a stretch of 120 Kilometers from Padum to Nimmo before the river merges into the Indus River more suitable for newbie rafters.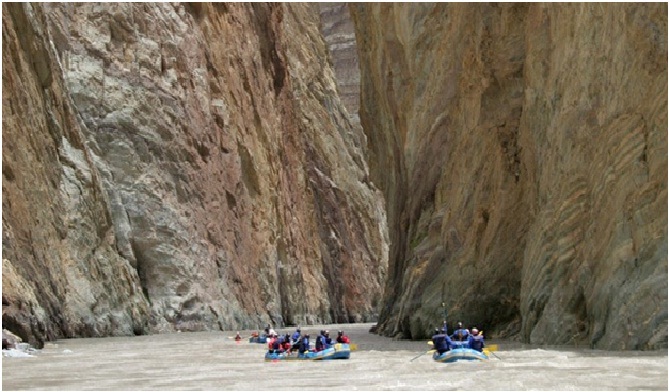 Images Credits : goo.gl/0DKgbA
River Indus, Ladakh, Jammu & Kashmir
River Indus has rapids of grade 1 and 2 and is best for beginners to have an unforgettable rafting experience. A stretch of 25 Km of very basic rapids is covered in the Indus offering an opportunity to indulge in the breathtaking beauty of Ladakh and experience the fun of water rafting together.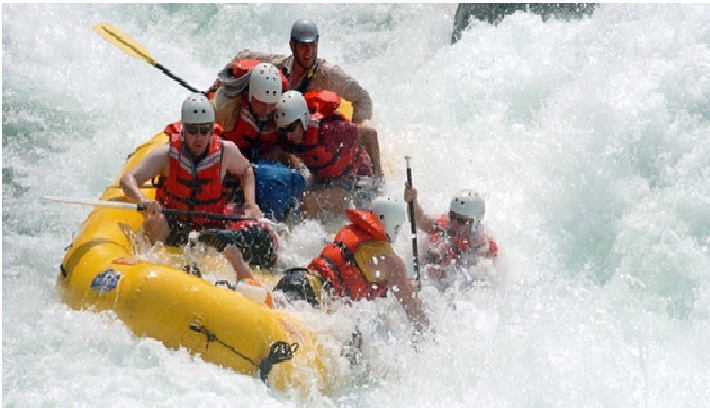 Images Credits : goo.gl/Q7nXs3
Bhagirathi River Rafting
Rafting along 150 kilometers of the Bhagirathi River through deep gorges, and enthralling scenery between two mountains and with grade 3 and 4 rapids is one of the most challenging rafting sites in India. Bhagirathi River rafting is between the months of October through May and involves major rapids like the chute, sharp s, elephant rock etc.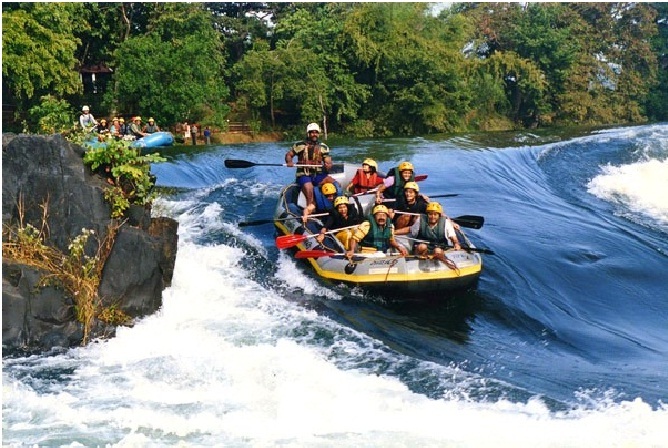 Images Credits : goo.gl/WVHSVX
Rafting on the Tons River
Located in the Garhwal district of the Himalayas in Uttarakhand, the Tons River, the largest tributary of River Yamuna is one of the best and most challenging destinations for river water rafting in India. The rafting site caters mostly to experienced rafters with its grade 3 to 5 rapids and is ideal for that extreme adrenaline pump. The stretch covers an area of approximately 10 Km and the ideal season would be between April and July.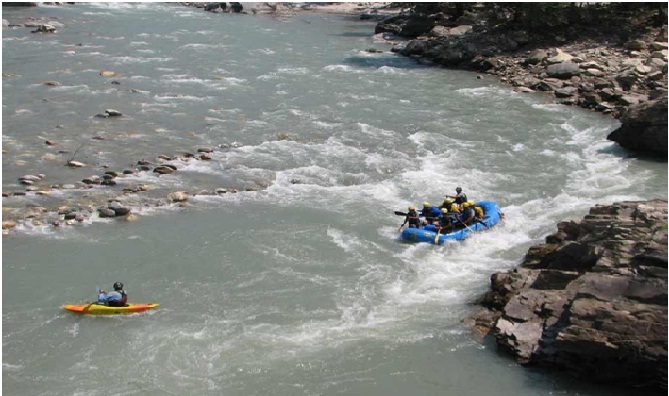 Images Credits : goo.gl/FplXlH
Brahmaputra River Rafting Expedition
Brahmaputra River rafting involves rafting along the ferocious river Brahmaputra encompassing thick forests, quaint mountain sides and a taste of the local tribal life. The rapids here vary between grade 2 and grade 6 and provide with an experience worth retelling over and over again. The distance covered is 180 Km beginning from Tuting to Pasighat. November through February is considered optimal for rafting here.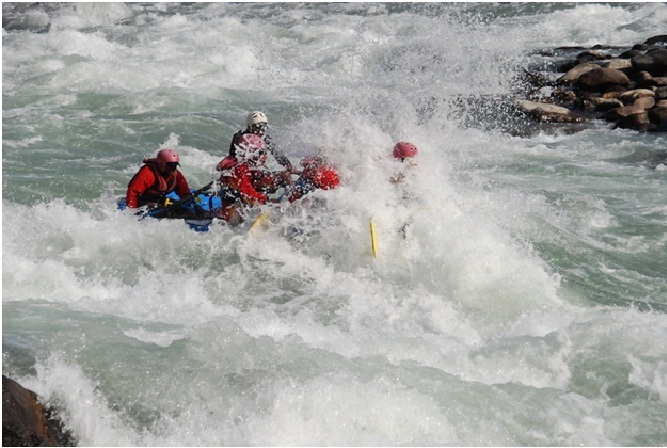 Images Credits : goo.gl/cEBrHO
Kali/Sharda River Rafting Expedition
The Mahakali River in Uttarakhand, also known as the Sharda River offers rafting along the quaint Kumaon villages. The Kali Smash, a seasonal attraction is a shorter rafting trip possible after the monsoon season during the high flow months of September and October offering one of the unforgettable rafting experiences.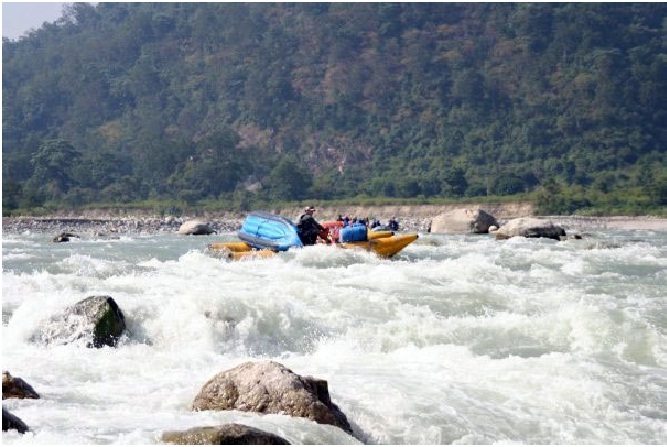 Images Credits : goo.gl/QzuFBf
Rafting in Tattapani
Tattapani is located in Shimla along the banks of river Sutlej and signifies 'Hot water' in the local language, a name originated due to the presence natural hot water springs at 65 degree Celsius temperature. Rafting in Tattapani is ideal for nature lovers and experience seekers and offers the perfect combination of adventure and scenic beauty. A stretch of 12 Km from Chaba to Tattapani and another of 24 Km from Malgi to Chaba are the rafting expeditions offered.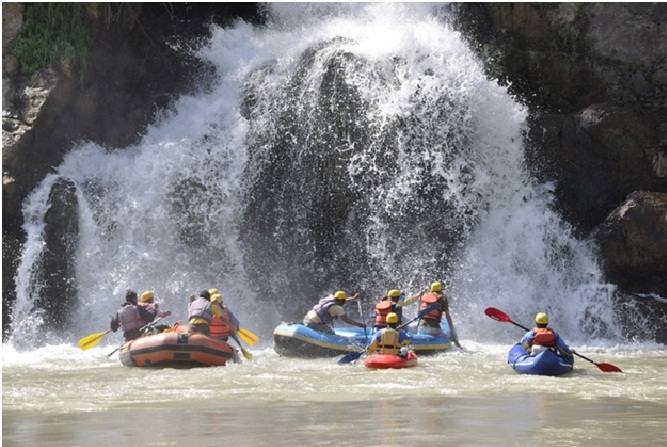 Images Credits : goo.gl/SBXwQv
Alaknanda River, Uttarakhand
Among one of the most difficult and challenging sites, the Alaknanda River said to be the second largest tributary of the mighty Ganga offers rapids of grade 4 and 5 and covers a stretch of 25 Km. the ultimate river rafting place for rafting enthusiasts is the stretch between Rudraprayag and Chamoli offering some of the most cherished memories of river rafting.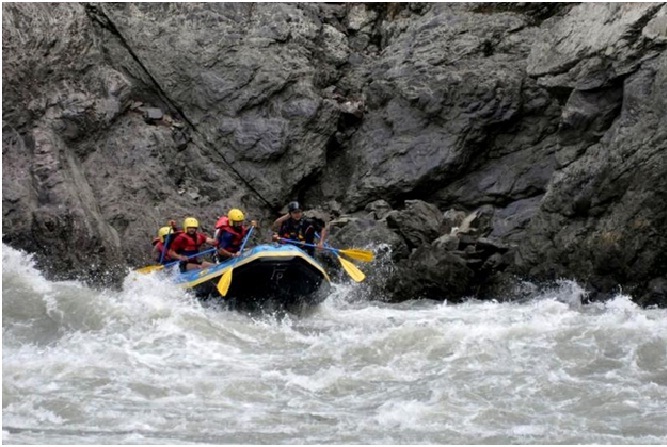 Images Credits : goo.gl/rIvuHJ
Teesta River Rafting
Flowing through Darjeeling and Sikkim, Teesta River with its turbulence offers a multitude of whirlpools and rapids of varying intensity to make for an exciting rafting expenditure. The ideal time for rafting here is from late winter to early summer and covers a challenging 309 Km of rafting at the point where the Teesta meets the Rangit.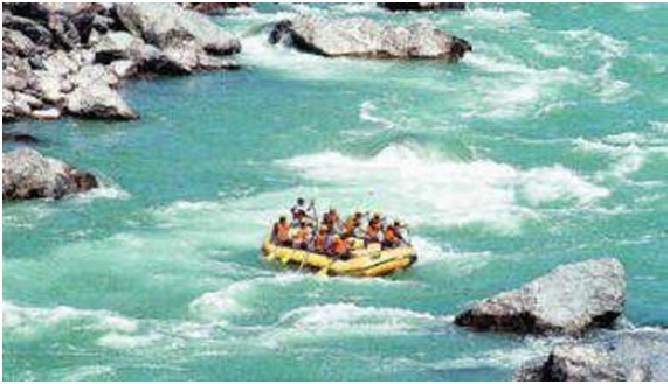 Images Credits : goo.gl/6kZ546
River rafting in Coorg
Coorg in Karnataka is one of the best places for river rafting in South India. River rafting in Coorg offers rafting in river Barapole which is most exciting during the monsoon months of June to September. The river offers varying degree of rapids and is challenging when the river is at its turbulent best.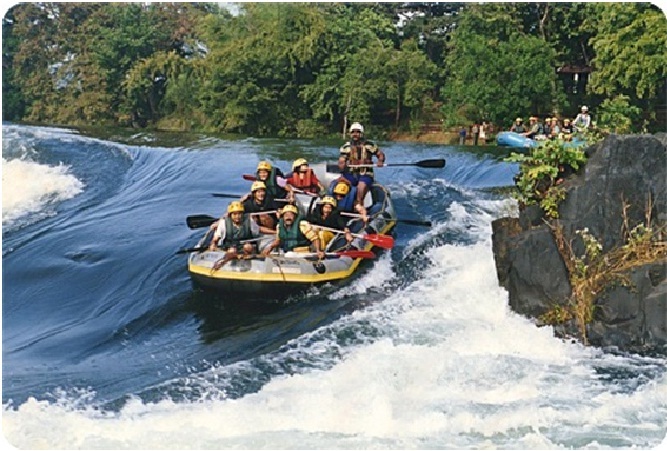 Images Credits : goo.gl/CpZ5bZ
White Water Rafting in Goa
White water rafting in Goa is one of the lesser known adventure activities of Goa, but no less when it comes to the adrenaline quotient. Two rafting routes are available, one, a 10 Km stretch comprising of grade 2 and 3 rapids with lots of waves and bounces offer for an exciting family adventure and 6 Km stretch for more advanced rafters. The first stretch Mahdei is available from July to September and the Tilari River Gorge is active from October to April depending on rainfall and dam releases.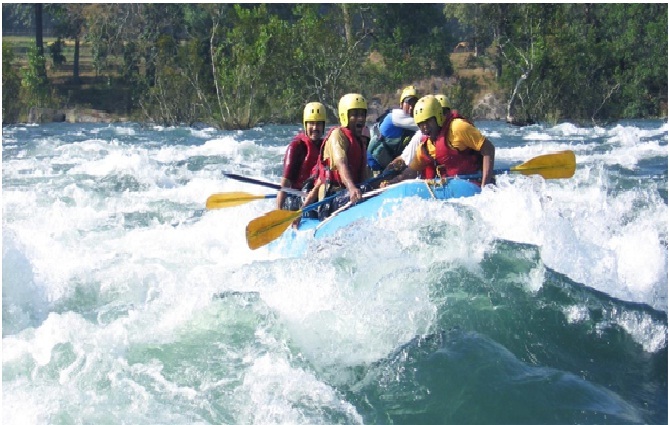 Images Credits : goo.gl/Z8d1Jj
Rafting in Darjeeling
Rafting in Darjeeling along the Teesta and Rangeet Rivers is for the brave hearts. The rafting expenditure covers a stretch of 309 kilometers of river turbulence with some very exciting rapids beginning at Triveni flowing down south to Sivoke through the coronation bridge that connects the north eastern states with the rest of the country. Except for the monsoon months of July through September, all other months are ideal for rafting in this area.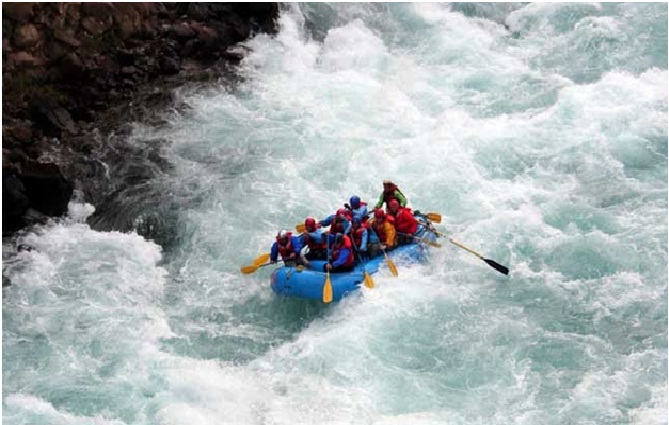 Images Credits : goo.gl/PDvm3Q
Rafting in Keylong, Himachal Pradesh
Rafting in Keylong involves rafting along the waters of river Chenab/Chandrabhaga comprising of grade 2, 3 and 4 rapids. Keylong is a quaint little town located in the highway between Manali and Leh. The river Chenab comprises two rafting routes, a 90 Km stretch between Koksar and Tandi and a 70 Km stretch between Darcha and Udaipur. Interspacing enticing rapids and calm stretches make for a fun expenditure and can ideally be visited between April and June.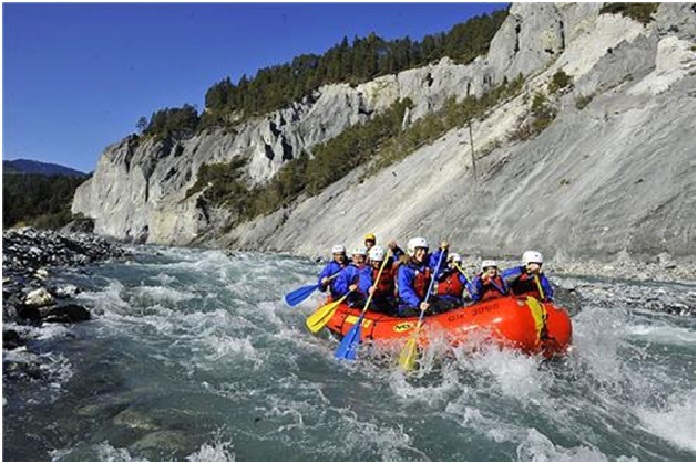 Images Credits : goo.gl/F2MzOx
Rafting in Dhandeli, Karnataka
Dhandeli, perched at an altitude of 1549 feet and nestled between the mighty Western Ghats is a small industrial town. The river Kali in Dhandeli makes for one of the best places for rafting for beginners and amateurs covering a 12 Km stretch comprising of grade 2 and 3 rapids. The best rafting season here is from November to June.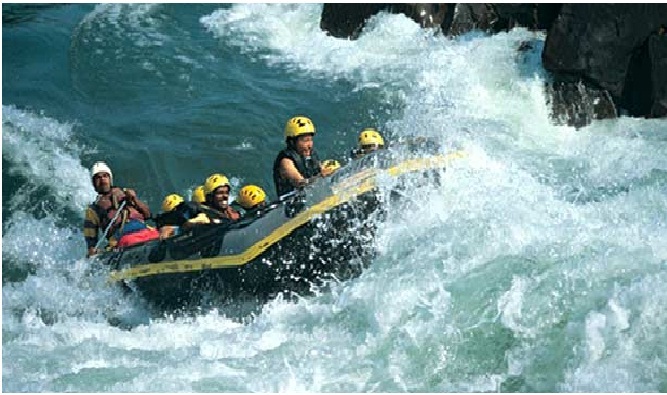 Images Credits : goo.gl/i4w5OY
Rafting in Bhalukpong, Arunachal Pradesh
Situated at a short distance from Guwahati, Bhalukpong offers rafting along the Kameng River which has its origin in Tawang from a glacial lake and merges with the Brahmaputra in Tezpur and flows as the Jia Bhoroli River in Assam. The river has grade 3 and 4 rapids and deep gorges fringed by hills on all sides, rainforests and wildlife sanctuaries. The best season for rafting here is in the months of November, December, February and March.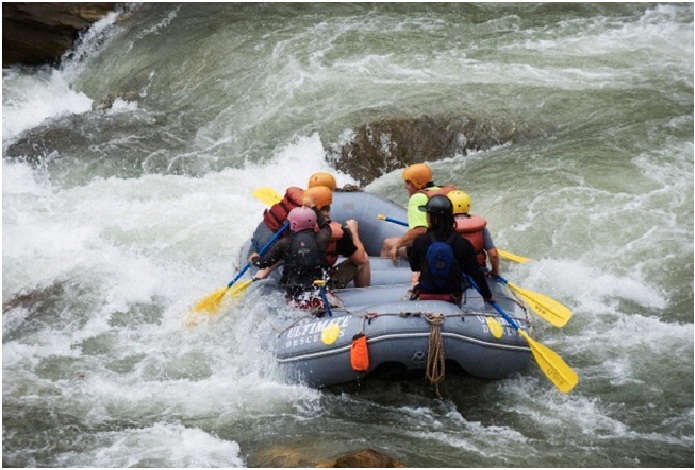 Images Credits : goo.gl/NWmkEk
Rafting in Tezu, Arunachal Pradesh
Tezu is situated within a three hours drive distance from Dibrugarh, Assam. Rafting in Tezu involves rafting in Lohit River which is called the upper Brahmaputra and comprises challenging, grade four and above rapids catering to veteran rafters. Ideal season for rafting is from the month of November through March and serves as the entry point for rafting in the Brahmaputra.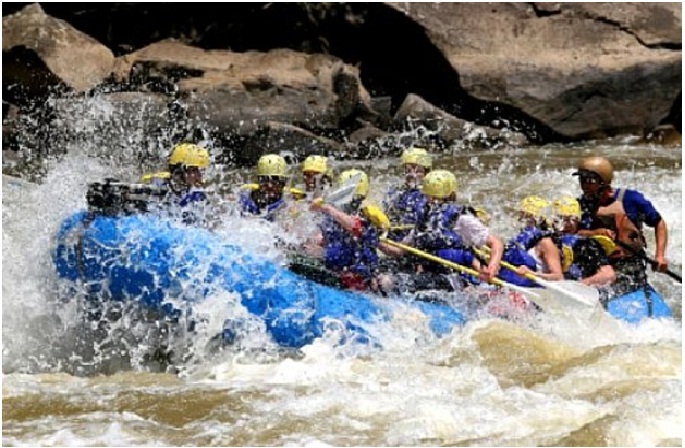 Images Credits : goo.gl/K94Qkh
For More Rafting Information:
River Rafting In Rishikesh – A Thrilling Way To Relax And Rejuvenate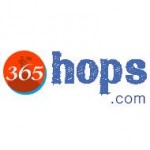 Comments
Comments