Millions of years ago the Indian tectonic plate collided with the Eurasian plate, thus giving birth to the mighty Himalaya's. Since then, its mysterious beauty has been alluring people from all over the world. Running from Northwest to Southeast, it spreads bordering India and Tibet.
"Why do you want to climb Everest?"
"Because it's there" – George Mallory
Uttarakhand being one of the states blessed with these massive snow capped mountains is a heavens adobe. Professional climbers and mountaineers went on several expeditions in the past and explored the hidden beauty of Uttarakhand. Valley of Flowers was also a result of one such exploration. However, it's not easy to just choose a peak and climb it. Several permit needs to be obtained and not all the peaks are open to be climbed.
I have listed down peaks in Uttarakhand, all 6000+ meters and open to be climbed.
Abi Gamin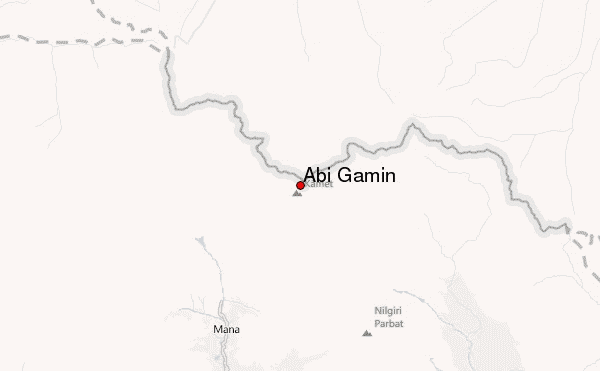 Abi Gamin (also known as Ibi gamin) stands at an impressive height of 7,355 m. It lies on the northern border of Chamoli district of Uttarakhand. Mt. Abi Gamin is the 10th highest peak in Uttarakhand. It is connected with Mt. Kamet which is just 2 kms away. A high saddle known as Meade's Col, 7,138 m separates Abi Gamin from Kamet. After numerous failed attempts, a small Anglo swiss expedition team successfully conquered it in 1950. In 1988 a 17 year old Indian child became the youngest climber to summit Abi Gamin, and that too without oxygen! There are in total 3 climbing routes – North east, south west and North west ridge.
How to Reach – Joshimath – Markari – Nitti – Sapukaharak – Nand – Kharak – Base camp – CI – CII- CIII and CIV rhen Summit.
Kamet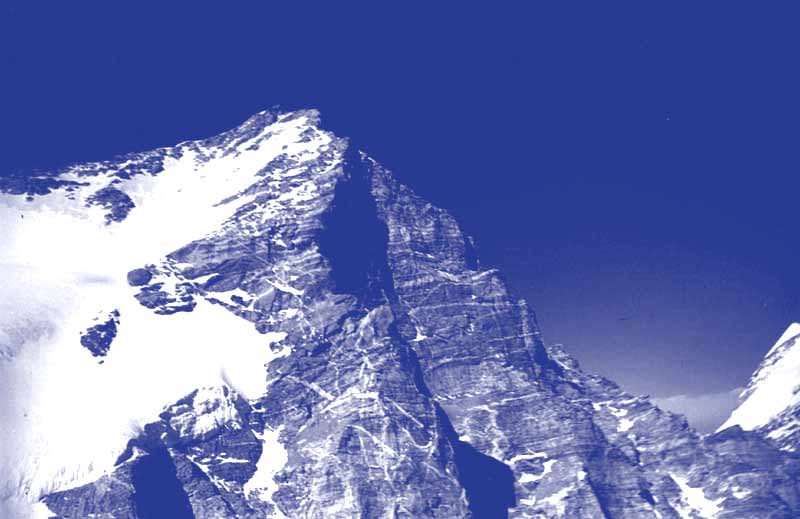 Kamet is a big brother of Mt. Abi Gamin. At 7,756 m, it is the 2nd highest peak in Uttarakhand and 3rd highest in India. Worldwide, it is ranked 29th highest. In appearance, it resembles a giant pyramid topped by a flat summit area with two peaks. Compared to other Himalayan peaks, the position of Kamet is remote as it is near to Tibet. It also receives a great deal of wind from the Plateau. However, by modern standards, it is a relatively straightforward ascent for such a high mountain. The route to the top involves steep gullies, a rock wall, and several glacier climbs. It normally requires 5 camps to be placed, and final climb involves steep snow.
Nandadevi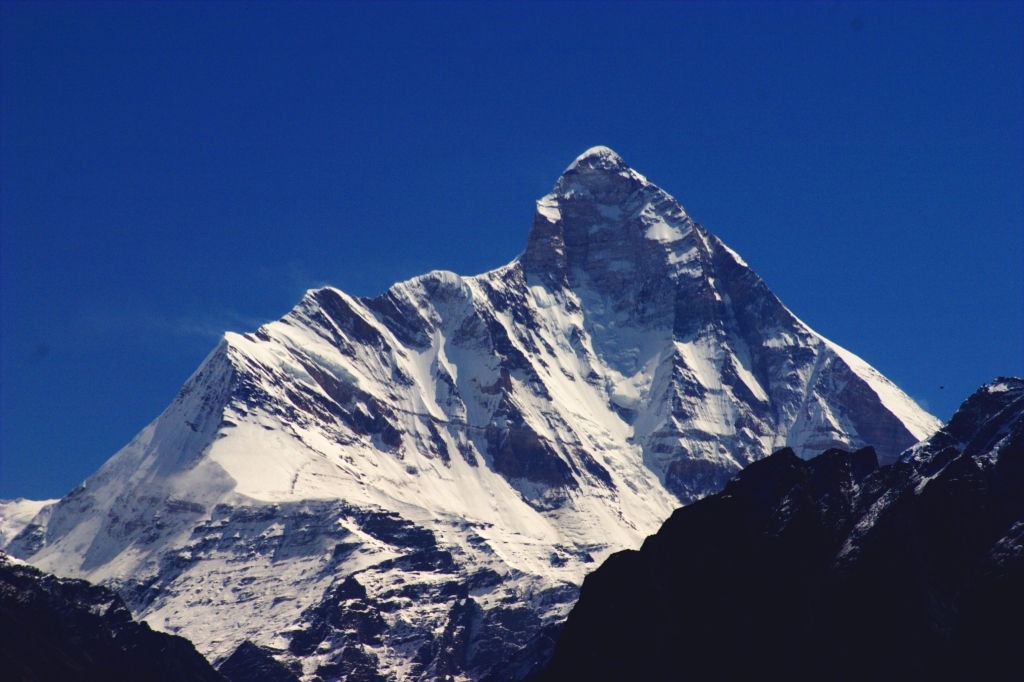 The goddess of peaks, Nandadevi, is the second highest peak at 7,816 m in India. Nandadevi literally means Bliss giving goddess. It is regarded as the goddess of Income for the localities. The Nanda Devi is situated in the Garhwal Himalayas region in the state of Uttarakhand. The main summit stands guarded by a barrier ring comprising some of the highest mountains in the Indian Himalayas. To protect its fragile eco system, Nanda devi and its surroundings – The Nanda Devi Scantuary – was closed for locals and climbers alike. It is declared as a UNESCO world heritage site.   The peak was first climbed in 1936 by a British – American group.
Mana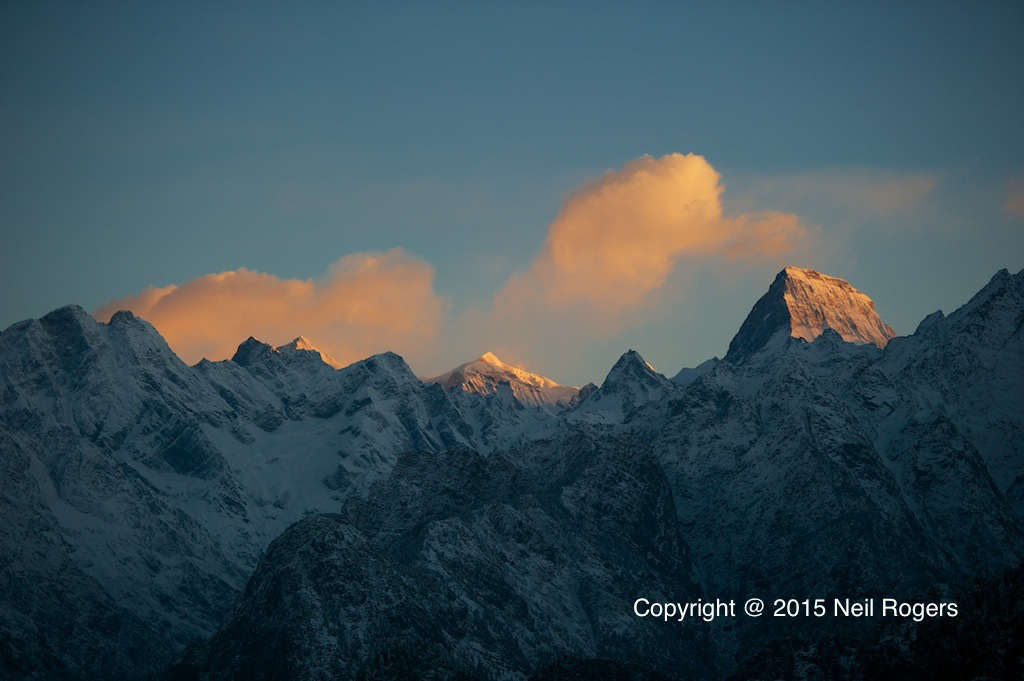 Mana is one of those Himalayan peaks which is linked by a ridge, Kamet, connecting Abi Gamin and Mukut Parbat is another. You get a breathtaking view of Mana from Badrinath. MANA IS located 36 km north of the Badrinath shrine, beyond Joshimath in Garhwal Himalaya. Rising at an alluring height of 7,274 m into the sky, the mountain stands proudly like a soldier guarding on the Indo – Tibet border. There are two known approaches to Mana peak; one is the eastern approach through East Kamet glacier and the other is the southern approach through Nagthuni and Banke Kund glacier. Frank Smythe was the first person to get the privilege to stand on the peak of Mana via the southern approach in 1937.
Chaukhamba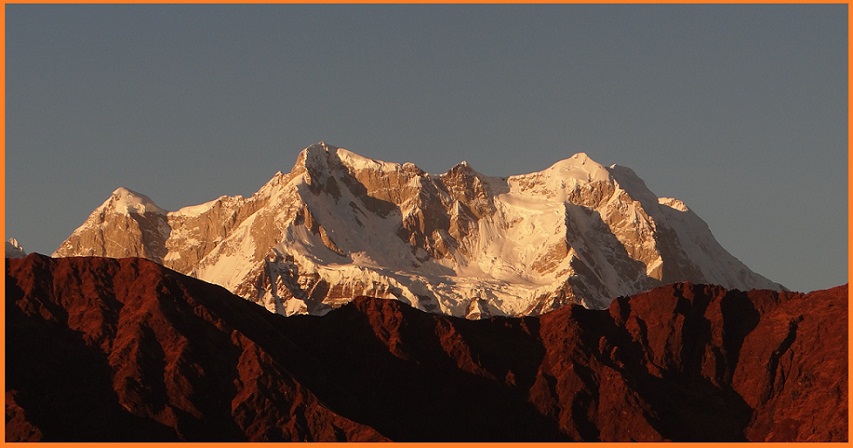 When the early morning rays of the sun fall on the white and brown peak of Mana, it's a sight to behold. The color of the slopes suddenly changes into red and orange. It is hard to differentiate between the clouds and fog hovering around. A panoramic view of 1500 m can be seen. Chaukhamba is a four-pillar shaped gigantic peak of the Garhwal Himalayan range towering at an altitude of 7,138 meters. Chaukhamba I was first climbed on 13 June 1952, by Lucien George and Victor Russenberger. There are 5 climbing routes in total.
Satopanth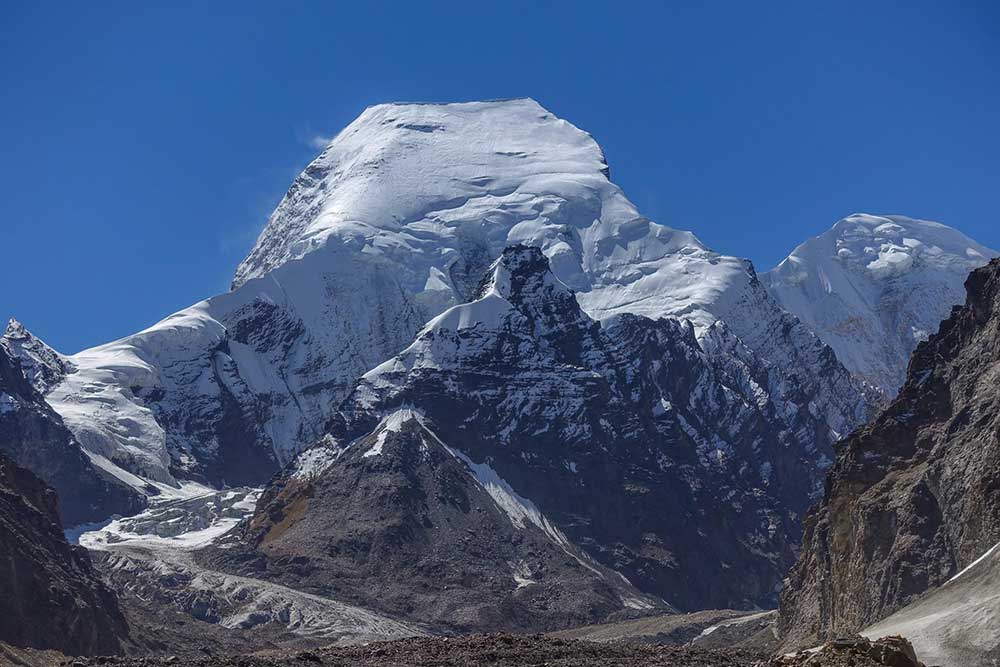 Satopanth means 'The True Path'. The 7000m peak goes through a complex glacier approach, high angled snow slopes and knife edge ridge, before the final section to the summit. The location is remote and the weather is extreme. Views of Thalay Sagar, Shivling and the terrifying granite pillars of Bhagirathi III, are enough to humble even the most seasoned climber. Mt. Satopanth serves as a good introduction to technical climbing. Climbers have been exposed to the use of crampons, fixed ropes and jumar climbing. People who want to climb the world's highest peak, Mt. Everest, Climb on Satopanth first as a preparatory trip. Mt. Satopanth was first ascended by a Swiss team in 1947.
Trishul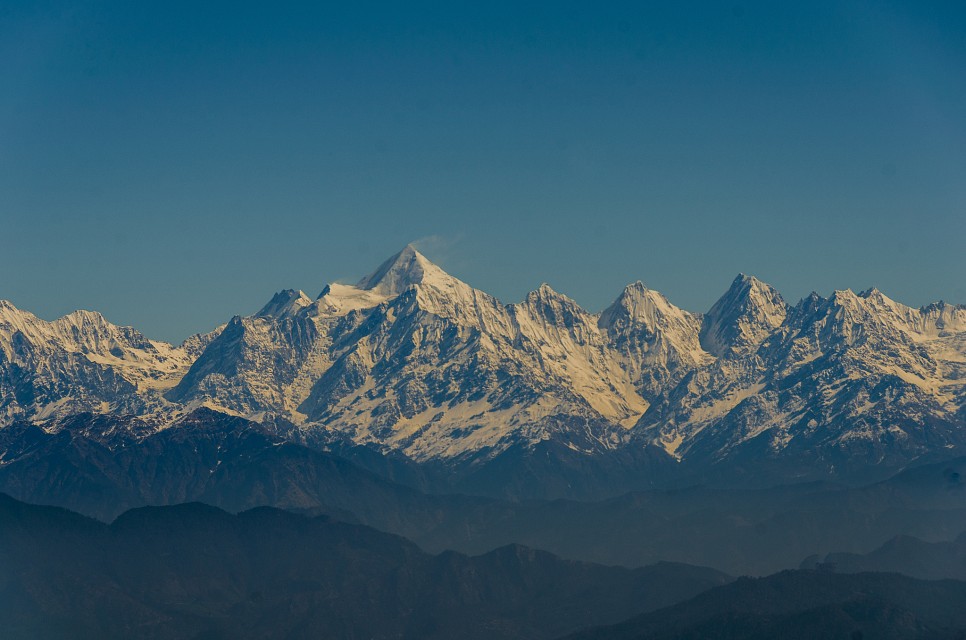 Trishul is one of the most famous and challenging climbs for a mountaineer. Trishul is a group of 3 mountain peaks in the western Kumaun region of Uttarakhand. Trishaul I stand highest at a height of 7120m. The 3 peaks resemble a trident, Trishul, a weapon of Lord Shiva. Trishul forms the southern corner of the ring of peaks on Nanda Devi Sanctuary. The main peak Trishul I was first climbed in 1907. The moments of Sunrise and Sunset on these peaks are just breathtaking. Trishul Mountains can be accessed via the routes of Almora, Kausani, Garur, Gwaldam, Debal, Bagargad, Wan, Bedini Bugyal, Kelva Vinayak, Roopkund and Trisul.
Kalanka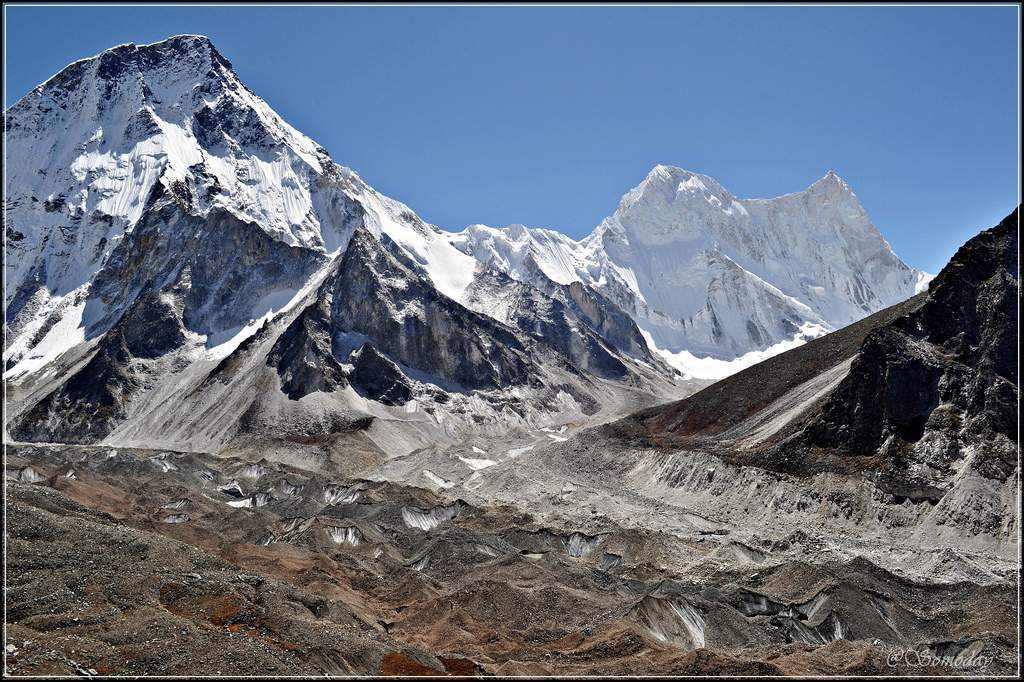 A surface like moving sea, body like crushed cloth and white snow covers the deserted grey peak of Kalanka. Kalanka is a well known peak located in the inner part of the Nanda Devi Sanctuary. It lies in the mountain ranges of the Himalayas in the Garhwal region. At an impressive height of 6,931m, this peak is not easy to achieve! The trek passes through over the high bridge and glaciers. Jolly Grant Airport in Dehradun is the nearest airport. The nearest railhead is Rishikesh, while transportation via road is available till Joshimath.
Kunti Bandar
There is not much information available about Kunti Bandar. Kunti Bandar stands at an impressive height of 6,895 Mts. It comes under the Nanda Devi Biosphere reserve. The Nanda devi Biosphere reserve was declared a UNESCO world heritage site. It is closed for locals and climbers alike. It starts from Joshimath, a 62km drive to Malari. Malari to Kalakhal- 7 km. trek (second halt) base camp.
Chang Bang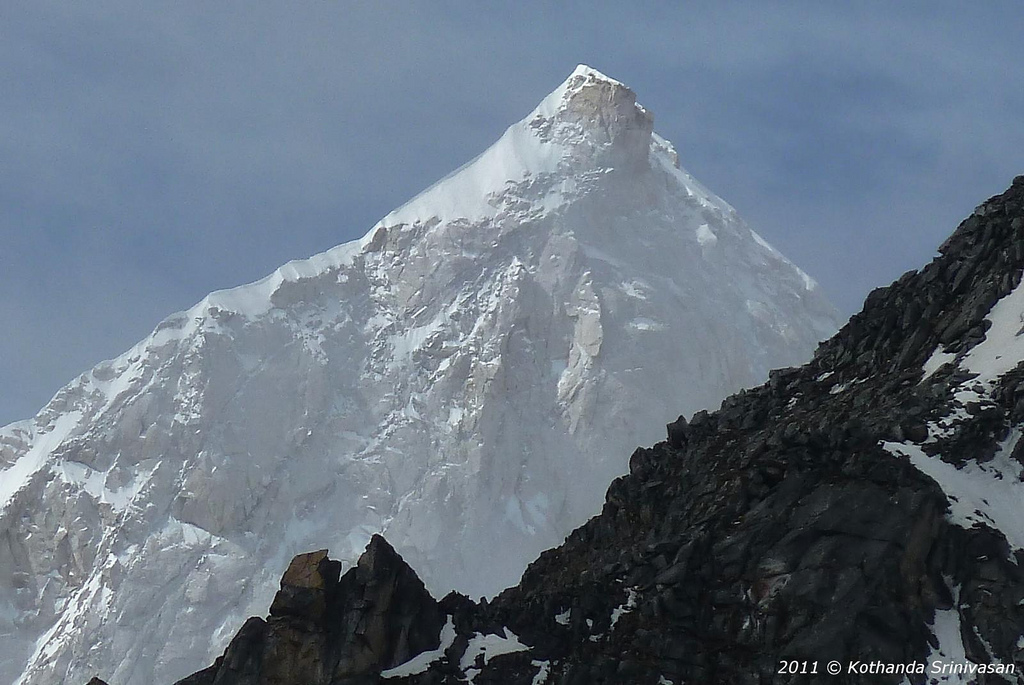 Changbang is a mountain situated in Chamoli district of Uttarakhand. It is among the northern wall of peaks of Nanda Devi Sanctuary. It does not have a high topographic prominence, being slightly lower than its near neighbor peaks. One unique feature of this peak is that it has steep rocky climb. This attracts many climbers. Famous mountaineer Chris Bonington and Lt. col Balwant Sandhu climbed this peak for the first time in 1974.  It has 4 climbing routes in total. Southwest ridge, Southeast ridge, South ridge and North face.
Panwali Dwar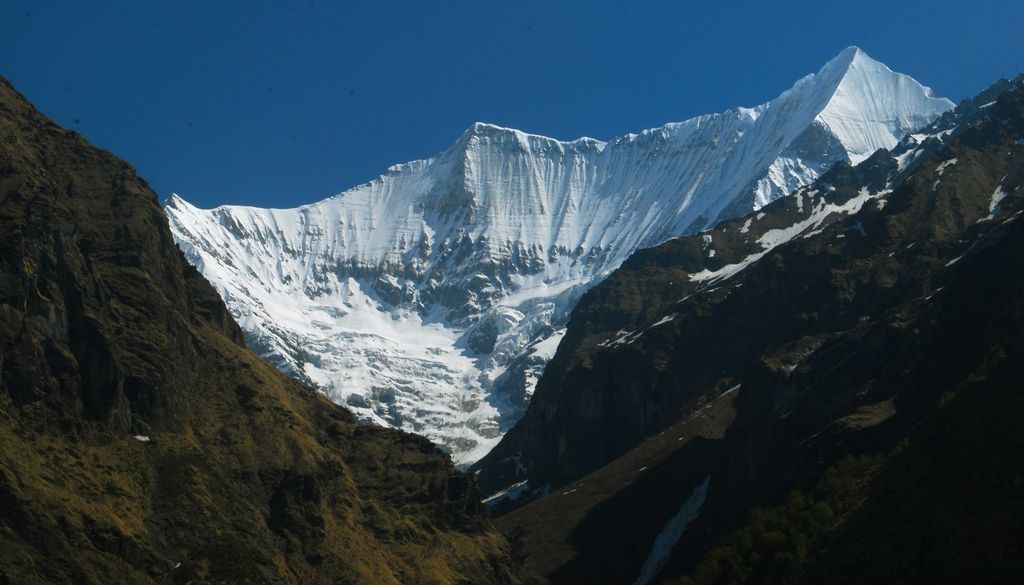 Panwali Dwar is a pin shaped snowy mountain located in the Nanda Devi range of Uttaranchal. Panwali Dwar is placed in the mountain ranges of the Himalayas in the Garhwal region. This peak is particularly a bit difficult near the summit, as compared to other peaks. Winky was the first Britisher lady who ascent on this peak.
Route - Song(RH) – Khati – Dwalio – Phukia – Base Camp – C – I,C – II and summit .It stands at an elevation of 6663 m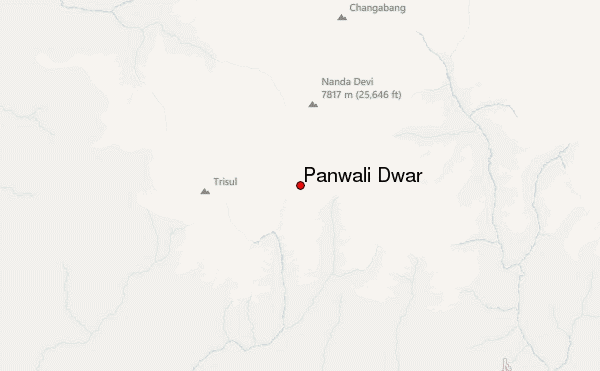 Bandarpunch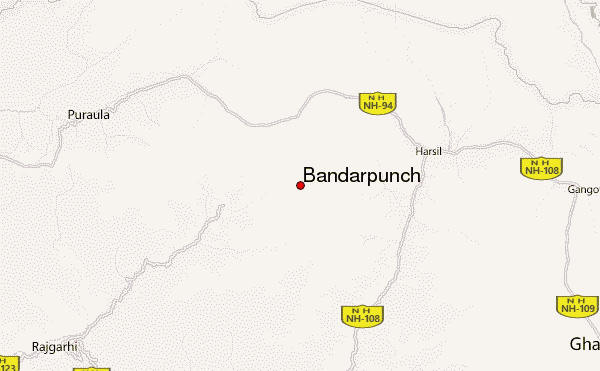 Bandarpunch is a mountain among the Garhwal division of the Himalayas, in the Indian state of Uttarakhand. It is also widely known as Bandarpoonch, which literally means "Tail of the monkey". This is a reference to Hanuman, the monkey god and a mighty warrior. Bandarpoonch massif has 3 peaks – hite peak, Kalanag peak and Black peak. It is part of the Sankari Range and lies within the Govind Pashu Vihar National Park and Sanctuary. It is a major watershed for the headwaters of the Yamuna River. Maj Gen Harold Williams led the first successful climbing expedition in 1950. The first team to summit Bandarpoonch Peak comprised legendary Mountaineer Tenzing Norgay.
Vasuki Parbat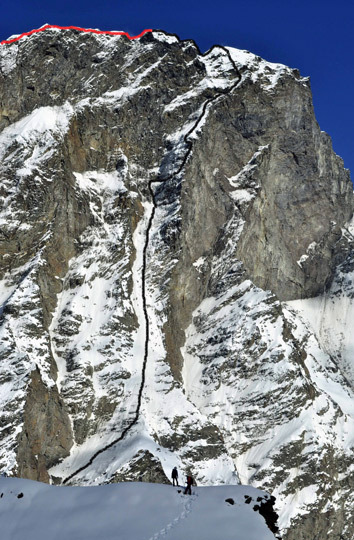 The Vasuki Parbat is a 6792 m high mountain in the Himalayas of Uttarakhand. The mountain is located in the Gangotri Group of the western Garhwal Himalaya. A ridge runs from Vasuki Parbat south to the 6,702 m high South Summit and then westwards to Bhagirathi I (6856 m). The 7075 m high Satopanth is 4.9 km south-east. The Vasuki Parbat was first climbed on October 2, 1973 by members of the Indo-Tibetan Border Police under L. P. Semwell. British alpinists Malcolm Bass and Paul Figg reached the summit ridge after nine days on the face, and traversed the serpentine crest over the top and down the northwest ridge, returning to base camp in a round trip of 10 days.
Nanda Ghuti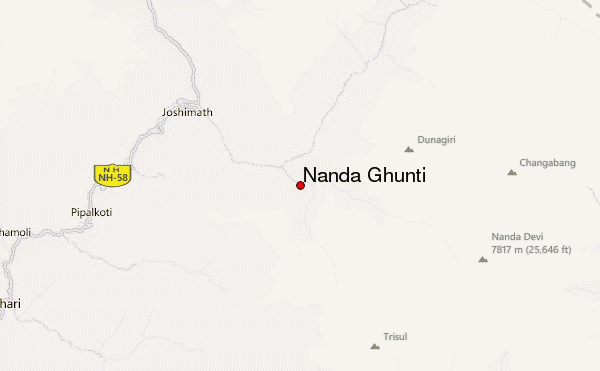 Nanda Ghunti is a 6,309 m high mountain in Garhwal, India. It lies on the outer rim of the Nanda Devi Sanctuary. A Swiss team under André Rochmade made the first ascent in 1947 via the East Ridge. The first Indian ascent was made in 1960. Travelers get a clear view of Nanda Ghunti and Trishul en route to Roopkund in the Himalayas. Nanda Ghunti is one of the major peaks of The Nanda Devi Biosphere Reserve. It elevates at a height of 6309m.
Swargarohini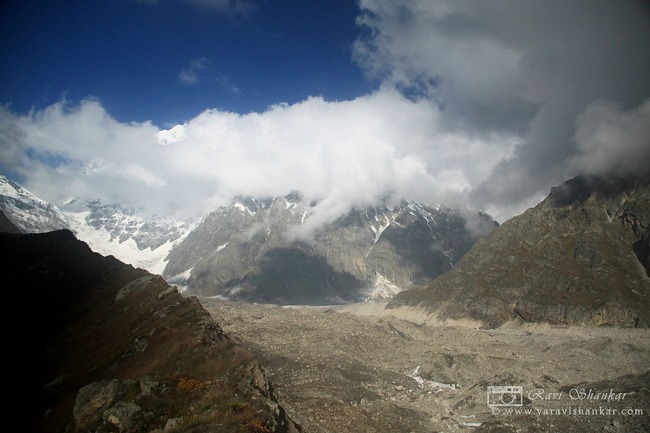 Swargarohini lies in the Uttarkashi District of the northern Indian state of Uttarakhand, west of the Gangotri group of peaks. It comprises four separate peaks; Swargarohini I is the main peak. Swargarohini I is notable for its dramatic local relief. For example, its north face drops 2,000 metres in less than 2 kilometers of horizontal distance, and its south face achieves the same drop in less than 3 kilometers. This makes it a steep and challenging climb. Swargarohini I have two summits, east and west. The east summit is given an elevation of 6,247 m, slightly lower than the west summit.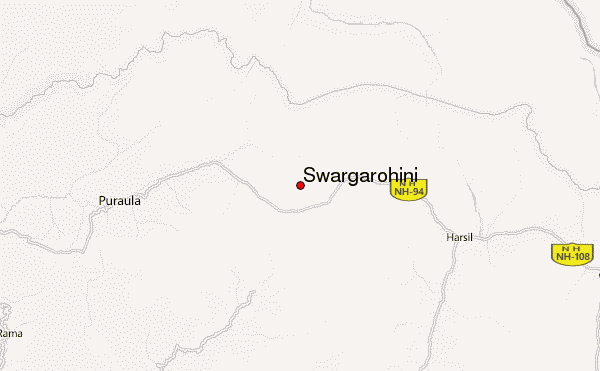 LAMPAK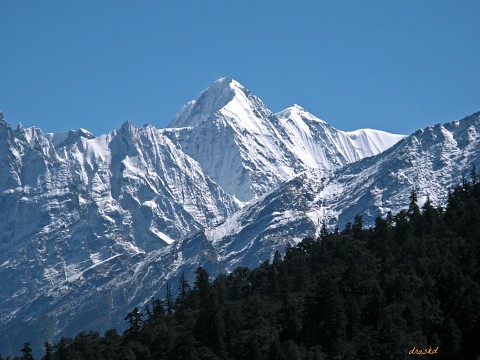 Lampak lies south of the Girthi Ganga in the Eastern Garhwal. Lampak has 2 different peaks, Lampak I and Lampak II. Lampak I is a virgin peak and had earlier defeated attempts by expeditions from Scotland, paramilitary and Army teams. The technical standards of Lampak peak-I match the peaks like Changabang. Lampak II is a major technical ascent. A 10-member team from the Punjab Police, led by PM Das, climbed both Lampak peaks in 2003.  The expedition established base camp at 4,700m in the Kala Kharak to the west of the mountains, and then a higher camp at 5,127m, from which both peaks could be attempted. Further camps were then on both Lampak I and II.
Ronti Peak
Setting out from Nanda Prayag, ascending the Nanda Kini valley, and crossing the Humkum Gala (17000), Peter Aufschnaiter and George Hampson reached Ronti peak for the first time in June of 1995. The climb up the snowy west slopes of the summit peak of Ronti was somewhat complicated by a number of small hidden crevasses. Ronti peak stands at an altitude of 6063 m. It lies on the outer rim of the Nanda Devi Sanctuary, Uttarakhand.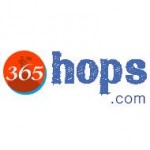 Comments
Comments