"It's a conical pinnacle upside down
It stands freely with pride and glory
A stairway cuts right through its greenery
The mystic fog slowly flies behind it
The sight of it makes you travel back in time
It makes you curious to wonder about its existence
Because such a thing is a jewel of history"
Kalavantin Durg, little did I know about this pinnacle. So when a friend of mine asked me, I instantly roped in few more friends along with me. I had to raise my bum early morning at 4 to catch the gigantic electronic caterpillar (train) from Andheri. There were 3 more friends along with me. Realizing we were running out of time, I made everyone run like tails on fire to catch the train. By the time we reached the platform, the train already started moving and we missed it! So again, I made everyone run to catch the missed train from an alternate line changing trains thrice and then finally reaching Panvel 30 minutes late. I am sure my mom and sister might have got a lot hiccups that day!
We met our 30 people strong trek group and caught the local Rickshaw called Tuk-Tuk. The journey was through the remote countryside with fading mountains draped in lush greenery. Every house had such huge farm lands that city people like us would envy these simple villagers. The cool climate and continuous breeze tempted me to pop out my head out and enjoy the moment. We played few small games to pass our time in a Tuk-Tuk since it was a long journey.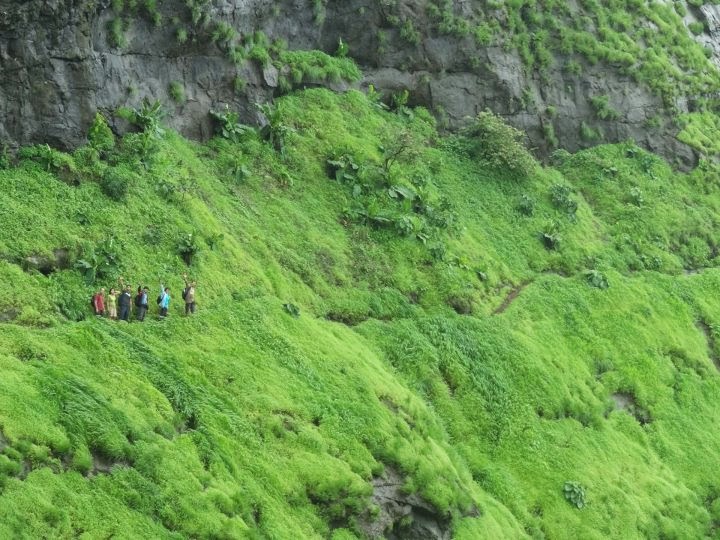 We reached our base village, and without wasting any time in introduction session we started our trek. Since we started late, the searing heat made sure to get us exhausted at the very start of the trek. Since this trek is popular, there were lots of young colleges going trekkers. The cloud played hide and seek with us. As soon as we felt a few sprinkles of rain drops, the whole crowd regardless of who knows who, shouted in synonyms with excitement. But the rain god decided to tease us for a little while. So it did not rain and the same process continued for at least 3 4 times.
As we were climbing the elevation, I could see the cluster of houses in while color like Lego toys. It was surrounded by a clear patch of farm lands. The climb slowly became steeper and people were getting fast exhausted. With occasional rains, I got drenched without realizing it! We reached on a beautiful meadow called Prabalmachi. This is the point where you can go for 2 different treks from 2 different sides.
We were supposed to go to Kalavantin Durg, the other being Prabal Gad from where you can see the magical Kalavantin Durg. Prabalmachi opens to a beautiful valley from where winds flow so strongly that you can't even stand properly. The sudden drop of the cliff is scary as you stand near the edge to adore this beauty. The bright sunlight piercing through dark clouds made a dramatic sight on the lush green landscape. The dreamy illustration of nature was alluring.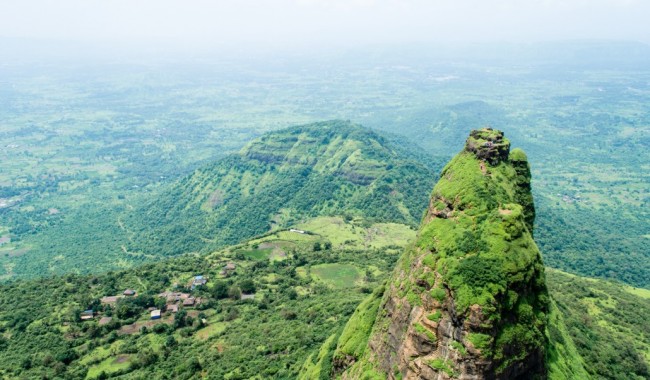 Everyone were enjoying the moment with numerous photos and food sharing, suddenly our leader staring in one direction  shouted in a crescent voice No, No, No! We instantly looked towards that direction and saw a bag rolling down the cliff. The bag dropped deep down the jungle! It was my friend Rizwan's bag. We instantly made a small group of people and left to search for the bag down, leaving others to wait up. Traversing through dense jungles, narrow paths, slippery rocks and risky terrain for 2 hrs we finally found the bag! All the stuffs were scattered here and there since it got dropped from a height. We returned after collecting whatever they could and we resumed our journey. We went through the quiet village of Prabalmachi to start the trek for Kalavantin. The uneven rock cuts stairs where little tricky to climb through. The crowd was so much that we had to wait in line, but we reached to the top in less than 30 mins. The last rock patch of Kalavantin Durg is the hardest part with its 90 degree climb. Its height was around 150ft.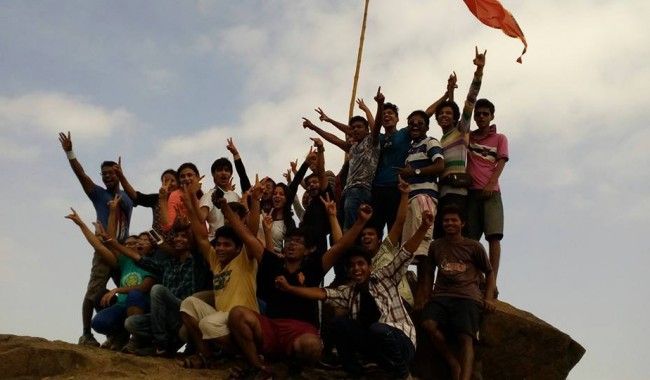 A lot of people were climbing it through rope but seeing it I was somewhere little scared. But I was pretty determined to climb it. When my turn came I was clueless about how to climb as everyone where staring at me from behind. I searched for a patch, hooked my hand and pulled my body up. That gave me the perfect start for the climb. Thank god I had learned pull-ups in my gym days. As I stand on the top of Kalavantin, I get a sense of pride while staring at the vast plains and mountains of the Western Ghats. The 360 degree panoramic view melted my heart. I thanked god for giving me a chance to witness such beauty of Nature.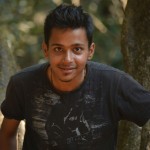 Comments
Comments