There are too many cliché articles about winter destinations surfing on internet. But to the matter of fact, all theses destinations mentioned have tremendous potential to visit them in winter considering weather, crowd, facilities and its unique experiences to offer. Previously, people use to visit international destinations extensively. But now the trend is changing and Indians are willing to explore its neighbor and other places in India itself. This is no surprise that lot of destinations in India is yet to be discovered. Slowly but steadily, tourism in India is a growing market.
Kerala, Where The World Slows Down
The leisurely backwaters and the thriving greenery, "Gods own country" yea everyone knows that!!! But what you might not is that Kerala is considered as one of the best destinations around the world on various platforms.
Winter season simply gives freedom to travel around compared to summer or monsoon. Kerala offers a lot of unique festivities and participatory events in winter. Kochi Carnival, KalpathiRatholsavam of Palakkad and KuttikkolThampurattyTheyyam are few big festivals that paint the winters of Kerala. The food is nutritious and healthy. Low on oil and fats, it is rather steamed than fried. The traditional food is undoubtedly digestive and tasty.
Laidback Beaches And Hills – Munnar, Alappuza backwaters, Wayanad, Idukki hill station, Poovar, Kumarakom, Cherai Beach, Varkala beach.
Adventure – Paragliding at VagamonHillstation, trekking at Anamudi&Neliyampathy.
Nature And Wild life - Eravikulam National Park, Periyar National Park.
Goa, The Party Capital
Goa is an all time favourite destination for not just Inida's but also the foreigners. From Silent Street and empty beaches in monsoon, the party capital turns into a colorful paradise of people, beach, art, music and dance in winter. Even after getting highly commercialized and getting extensively exploited for decades, Goa still holds its old charm.
Goa has lot to offer in water adventure sports. Scuba diving, kayaking, parasailing, jet skiing and lot more. Goa Carnival, this is something that one should not miss in mid of November. This week long fair have loads thingsto offer. If you are aParty animal then you must go to Sunburn or Supersonic fest. For the shopaholics, Saturday night market is a paradise! The hippie ambiance makes it more unique. Whether you are good with luck or not, try going to a casino cruise experience its luxury! One doesn't simply call it the Las Vegas of India.
Just be aware of overpriced hotels and restaurants during that time of the year. Make your bookings well in advance, for the place is jam packed during the winter months.
The Spiritual Journey To Varanasi
There are some people who travel for adventure; some go for backpacking, while others embark on a spiritual journey. Varanasi, the ghats of holy ganges is a bustling affair with gods. Slowdown with a boat rides and witness the amazing landscapes washed in the riots of colors.
A boat ride at dawn from DashashwameghGhat to Harishchandra promises a story to every curious eye.  It is believed that death in the city of Varanasi will bring salvation, making it a major center for pilgrimage. Take the road less travelled and go to Sarnath to check out ancient stupas of Buddha. The grand aarti at Dashashwameghghat is a very different experience. Backpacking Tour Varanasi Banaras
Karnataka, The Land Of Hills, Beaches And Waterfalls
Karnataka has rich biodiversity of Western Ghats. It offers endless number of trekking opportunities around Bangalore. Winter's can be extreme in the night. But the weather otherwise is perfect to visit the state. Karnataka has some interesting ancient monuments, hipster beaches and gigantic waterfalls.
Nature And Wildlife Trail : Jog falls – Aghumbe – Chickmagalur – Dubare –Coorg – Bandipur
Historic Trail – Shravanabelagola – Halebeedu – Hampi (try adding Gokarna) – Badami – GolGumbaz – Bidar
Auli is probably one of the best places to be visited in winter. The elevation goes from 2,500 to 3,000 mts! But don't worry, the Oak and Deodar forest aroundprevent excess wind chills. The drive till its base, Joshimath, offers beautiful landscapes on the way. Surrounding mountains of Nanda Devi, Trishul, Kamet, ManaParvat, etc. stand tall with pride and adore the place. Off course, the snow skiing has to be done if you are there, and no denying in that, but there a part of Auli which is relatively unexplored. GursonBugyal is an under rated meadow that finds hardly the crowd that it deserves! The silence of the air will fill your soul with peace and happiness. And last but not the lease, the Gondala ride offers spectacular aerial view of the place.

Rann of Kutch needs no introduction. The idea of Rann Utsav (festival) by Gujarat tourism draws crowd every year in winter from all over the India. Though the tents are extremely expensive, one can stay in Bhuj for cheaper options or get a complete package by tour operators. Watching white dessert during sunset is a heavenly experience. If you happen to visit the place during Full moon night then you should know that you are the lucky to witness it! KaloDungar, Mandvi beach, Dholavira, Lakpath, India bridge are few of the interesting places to visit around. The ones who are looking for an empty desert experience should head to the rather unexplored side of Kutch called 'The Little Rann of Kutch'. Backpacking Tour To Rann Of Kutch
Andaman, The Perfect Alternate To An International Destinations
We Indian's should take pride in having such beautiful islands as a part of our own country. The unbelievable clean water and rich marine life makes it hard to believe that you are not on a foreign land! People who are lucky may also get to witness the majestic bioluminescence! There is a festival in January called Island Tourism festival that on should look forward to. Starting form 6th Jan, the festival hosts various talented artists locally and nationally. Music, Art, shopping and a lot more fun!
An interesting thing I discovered is about Glass Bottom Boat Ride. If you fear from getting inside the water then this is a perfect alternative to Scuba. You have to basically just sit back and watch the transparent glass below to observe the marine life underneath. Few other exciting activities include trekking at from Mt to Madhuban via Kala Patthar, Exploring the Limestone Caves in Baratang, light & sound show at Port Blairandand off course, Scuba Diving!

Jim Corbett, National Parks Are Not Just About Tigers
Jim Corbett is a treasure of Animals and birds. The temperature could dip up to 4 degree, but days are normally pleasant. Winter is the best time to visit this place simply because it opens up only between Novembers to June.  Jim Corbett happens to be the first national park to be established in Asia. There are several zones where jeep safaris are allowed to sight the wildlife.  One of the unique ways of going for a safari here is riding on an elephant.
Tigers, elephants, Asiatic Black Bear, Sloth Bear, Barking Deer, otters are few of the animals that are commonly spotted here. This place is also a paradise for bird lovers as it houses over 600 species of birds. Getting an accommodation in Dhikala rage will ensure maximum chances of tiger spotting.
Shimla, The Queen Of Hills
There is nothing as such to visit in Shimla, yet, there are lots of things to do. Shimla receives heavy amount of snowfall during winters. Its close proximity to Delhi and the bearable climate makes it all time favourite for tourist and couples. The snow might slightly restrict the moments of getting around, but playing with the ice is a joy in itself. Narkanda and Kurfi are good for snow play.
One can learn Skiing on its slopes conducted by HPTDC. But a rare and unique sport is Ice skating which can be experienced here. There are some people who visit this place for its colonial charm, while others visit for its grand luxury hotels like Wildflower hall. Shimla gives ample of opportunities for trekking around.
Dharamsala and Mcleodganj, The 2 Names Of One Place
Dharamshala and Mcleodganj are basically same as they are located next to each other. The moment you enter Dharamshala, everything changes, the climate, serenity, the Buddhist vibe and the hipster ambiance. Dharamshala has become lot more touristy these days, but thankfully there isfewer crowds during winters.  It snows here during this time and the temperature tends to dip below -1 °C. Remember to carry lots of woolens and protection against chilly winds.
Nestled in the Daulandhar range of Himalaya, Dharamsala is renowned as the seat of Dalai Lama and the Tibetan Government in Exile. Trek to Triund and camp under the million stars. The sunset and sunrise looks breathtaking from here. If you want to go off the tourist trail, then visit MaharanaPratapSagar. Adventure Kids Camp at Dharamshala
Gangtok, The Place Of Music And Nightlife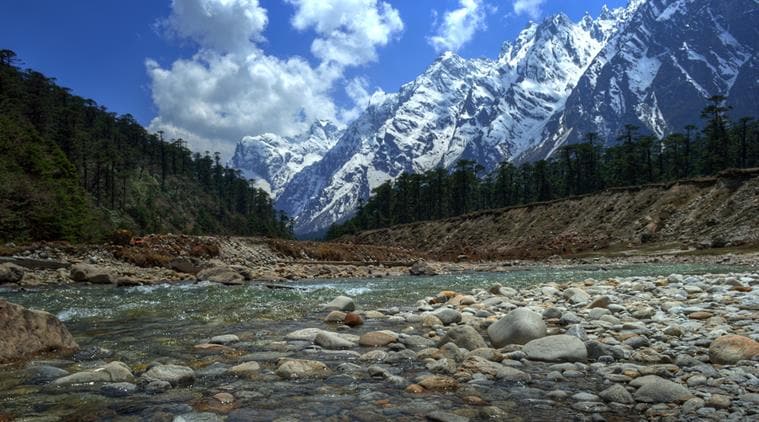 The capital city of Sikkim is best visited in winters. The alluring beauty of Gangtok will captivate you. Though situated at a far end on a hill top, this place has the immense potential to explore the places around.  Due to the location, it also serves as a must sought after destination for trekkers, rafters, nature lovers and others as well. At first one might regret the decision of arrive at such a spine chilling place, but its heartwarming hospitality and the misty sight of the snowcapped mountains rising high above will make you embrace the place gracefully. The forest covered valleys and nature trails, all covered in blankets of fog and snow will bring out the adventurer in you. One must get its bird's eye view from the rope way. Night here has its own life. You will find music at every nook and corner of the city. This place well deserves to be in the bucket list. Oh! And don't forget to experience riding on a Yak. Green Peak Trekking Trail Of Sikkim
Nainital:
Nainital is one of those tourist places that have got extremely exploited in the last few decades, and yet it still holds its original charm. The lifeline of the place, Nainital Lake looks surreal to the naked eye. The gentle landing of the snow flakes, solidarity time with the snowcapped mountains around and the adrenaline rush of skiing on its slope, you can't ask for more!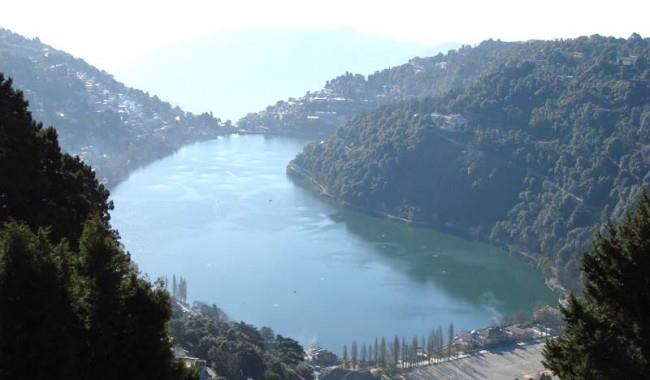 The snow view point is probably the best place to visit at Nainital. Located at a height of 2,270 mts, it could be reached by cable car or motorable road. It commands panoramic views of major peaks like Nanda Devi, Nanda Kot and Trishul. But be aware that every hour you spend here is chargeable! If you are a trek enthusiastic then you should consider Lands end, Naina peak or Tiffin top. Nainital Corbett Mountain Biking
Kashmir, If There Is Paradise On Earth, It Is Here!
The recent unrest has hit the tourism industry hard. I had gone there for a month at the time of riots and believe me, I felt completely safe there. It is safe to say that Kashmir people know the best in terms of hospitality. Kashmir has a whole new story to reveal in winters. The mystic green mountains turn into a plain white carpet of snow. Destination's like Gulmarg, Aru gets flocked by snow lovers and adventurers. It has one of the best slopes for skiing. J&K tourism are opening new destinations for tourists to visit. Backpacking India Offbeat Jammu And Kashmir
Aaomharedesh, Rajasthan!
Rajasthan is heavily flocked by tourists in winter, especially foreigners. The forts and Palaces of Rajasthan are so huge that it can take you whole day to explore its nooks and corners. You can experience staying in royal forts as many of them are turned into hotels for tourists. The sight of old eyes crowned with colorful turbens drowned in their own puffing smoke of hukka, and the wrinkles of women wearing endless metals carrying water will make you adore them!  There are so many places to see in Rajasthan that it can take you a month to cover them all. If you are fond of haunted places then you must go the Bhangar fort, Karnimata temple and chandbawri. Jaipur, Jodhpur, Jaisalmer, Udaipur, Bikaner, are few of the touristy places in the state. Rajasthan Backpacking Trips
DilwalokiDelhi
Delhi experiences extreme weather. So the Sumer goes up to 50 degrees while winters can dip up to 5 degree. But that shouldn't stop you from exploring the deep and important history of Delhi. Forts like, Red fort, Qutubminar, Humayun's tombare well maintained and are worth to explore. The Akshardham temple and Lotus temple are so massive and beautiful that you will forget to go inside and adore its architecture from outside all day. The lip smacking food at chandnichowk can overpower your appetite!
Khushboo Gujarat Ki
Gujarat Tourism has well promoted its state. There are lots of destinations to explore in Gujarat. To start with, make Ahmedabad your base and visit the places around like – Rani-ki-vav, Modhera Sun Temple, Lothal, Vadodara, and off course, Ahmedabad city itself. Then head towards city of Junagadh and explore places like – GirnarParvat, Mohabbatmakbara,  Gir forest, Somnath, Diu, Palitana. To be honest, many of the monuments are not well maintained. But said that, it is still worth visiting Gujarat!
The Love/Hate Relationship With Mumbai
Mumbai experiences very stable weather at all time of the year. So even in winters, the temperature will hover around 15 degrees least! British left behind a very adorable town of South Bombay to this city. Every heritage structure has its own story to reveal! The best way to explore the city is on cycle! Yes, you heard that right. Simply hire a cycle from Colaba and embark on a journey through historical monuments. Visit the beautiful promenade of Marine Drive and enjoy the Sunset.
If you love adventure then you should go for trekking and camping around Mumbai. Contact 365hops for more details on trekking and camping.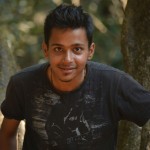 Comments
Comments